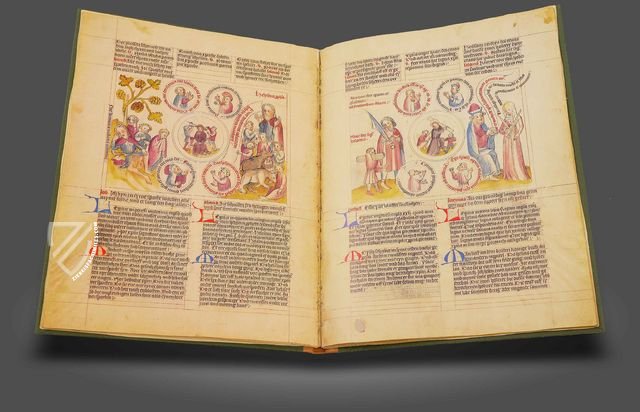 Biblia Pauperum
Part 1: North Hessen (Germany); Part 2: Bamberg (Germany) — Part 1: Second quarter of the 15th century; Part 2: 1349 and ca. 1400
Commissioned by Friedrich von Hohenlohe, the Prince-Bishop of Bamberg ca. 1425

Created in two parts: the first in North Hesse with the second completed in Bamberg ca. 1500

Corresponding scenes from both Testaments were executed in vivid Gothic illumination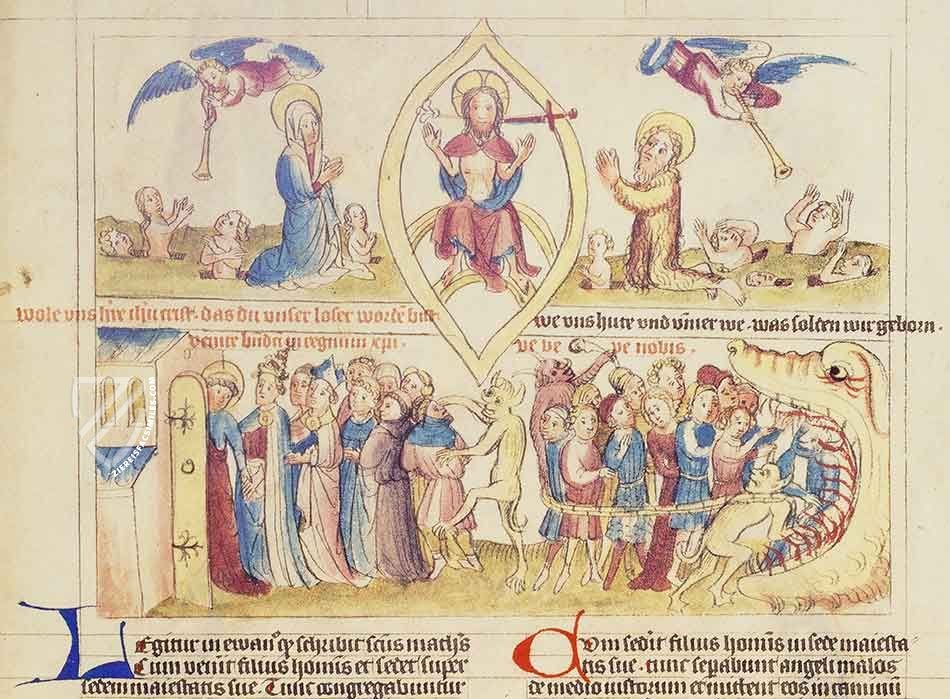 Biblia Pauperum
Alternative Titles:
Bible of the Poor
Biblia picta
Armenbibel
Short Description
The Biblia Pauperum is a codex which originates from 15th century Germany. The work was commissioned by the prince-bishop of Bamberg. It contains understandable and artistically appealing pictures that depict chosen scenes from the Old and New Testaments.
Biblia Pauperum
The Biblia Pauperum, which depicts the events of the Old and New Testaments in 50 picturesque miniatures, is to be found in the Vatican Library. This codex was commissioned in the 15th century by Friedrich von Hohenlohe the prince-bishop of Bamberg. The "Paupers' Bible" consists of two parts, of which the first part was created in Northern Hesse in the second quarter of the 15th century. The second part of the Bible arose between 1349 and 1400 in Bamberg. Consisting of 66 pages in all, the manuscript shows important scenes from the Bible in the finest Gothic book art.
What is a Paupers' Bible?
A medieval Paupers' Bible, Biblia Pauperum in Latin, is a collection of picked scenes from the Old and New Testaments. Normally, a Paupers' Bible shows a visual depiction of one of the events in the life of Jesus Christ from the New Testament on every page. These scenes were framed mostly by four images that showed either people or scenes from the Old Testament. The Old Testament scenes were arranged around the central depiction from the New Testament and were thus set in relation to one another. The Bible stories were depicted in a purposeful, salvation-historical nexus. Pauper's Bibles were less expensive than complete Bible codices, hence the term.
A Pleasingly Simple Style
The Bamberg Paupers' Bible originates from the aim to familiarize the community with the Bible through vivid pictures. The majority of the population in the Middle Ages could neither read nor write. The book painter, who illuminated the work, designed his miniatures to be easily understandable and appealing. He chose luminous colors for his figures and positioned the pictures of the Old and New Testaments so that the interrelated stories were easily understood. The miniatures were supported by clarifying text passages, which were adorned with colored initials.
Codicology
Alternative Titles

Bible of the Poor




Biblia picta




Armenbibel

Size / Format

Part 1: 46 pages; Part 2: 20 pages / 36.2 × 27.5 cm

Date

Part 1: Second quarter of the 15th century; Part 2: 1349 and ca. 1400

Epochs

Style

Genre

Script

Gothic Textura

Illustrations

Full- and half-page miniatures illustrate the entire text

Content

Richly illustrated Paupers' Bible
1 available facsimile edition(s) of "Biblia Pauperum"
Biblia pauperum Facsimile
Biblia pauperum Facsimile
1 volume: This facsimile is not complete. Part 1 reproduced in the color facsimile only.
Publisher

Belser Verlag – Zurich, 1982

Commentary

1 volume (106 pages) by Karl-August Wirth
Language: German

More Information

Reproduction of the entire original document as detailed as possible (scope, format, colors). The binding may not correspond to the original or current document binding.
Matching Works
Codex Millenarius
Created around the year 800 at Mondsee Monastery and in use for more than 1000 years: The masterfully illuminated Carolingian Gospels from Kremsmünster
Experience More
Gospels of Otto III
Golden miniatures and a famous portrait for the Emperor: an opulently decorated Ottonian masterpiece from the famous scriptorium of the Reichenau monastery
Experience More
Matching Background Articles