Caspar Strohmayr - Practica Copiosa
Description
Caspar Strohmayr - Practica Copiosa
Caspar Stromayr was a surgeon and ophthalmologist who practiced in the city of Lindau on Lake Constance and whose groundbreaking surgical textbook from 1559 left a lasting impression on early modern medicine. His progressive textbook primarily addressed hernia surgery and related procedures but also includes a section with one of the earliest ophthalmological works written in the German language. This section addresses ailments such as cataracts and recommends treatments while vigorously criticizing the incompetence and charlatanism of his contemporary ophthalmologists. The paper manuscript is illustrated by artful yet accurate miniatures created with a wonderfully rich color palette, making it one of the earliest and most splendidly adorned work of its type. It remained unbound after the death of Stromayr and was acquired by the city of Lindau in 1577, at which point it was finally bound, but in the wrong order with some texts interlocked. After falling into oblivion for centuries, the work was rediscovered in 1909 and was republished in 1925.
Codicology
Type

Size / Format

588 pages / 20.0 x 28.5 cm

Origin

Date

1559

Epochs

Style

Genre

Language

Illustrations

Many colored illustrations in plates

Content

Textbook of surgery and ophthalmology

Artist / School

Author: Caspar Strohmayr
Detail Picture
Caspar Strohmayr - Practica Copiosa
Lancing an Abscess
Although the treatment of hernias is the primary topic of this book, related procedures are also depicted, in this case the incision and draining of an abscess. While the surgeon and his assistants are depicted with looks of concern and concentration, the patient has a serene expression of relief on his face, a feeling that is known by anyone who has ever had a boil lanced. Each of the figures has distinct, individualized facial features that are accentuated by skillful shading.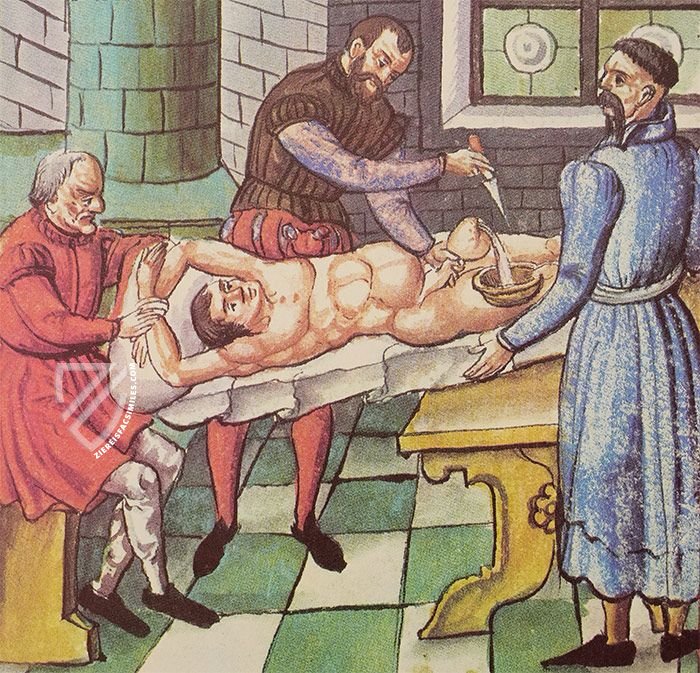 Single Page
Caspar Strohmayr - Practica Copiosa
Author Portrait
Caspar Stromayr (d. 1566/67), who was born into a family of surgeons in Augsburg, is the author of this richly illustrated surgical manual, but also wrote one of the earliest works on ophthalmology in the German language. In it, he describes possible causes and options for the treatment of cataracts while decrying the charlatanism of contemporary ophthalmologists.
Stormayr's portrait makes the reason for his interest in ophthalmology: an otherwise handsome young man dressed in a blue shirt and lace collar with curly brown hair, high cheekbones, and a dimpled chin has an abnormal left eye, which is swollen, red, and has a large cataract over its lens. Despite his affliction, the talented surgeon looks calmly and confidently out from the page.