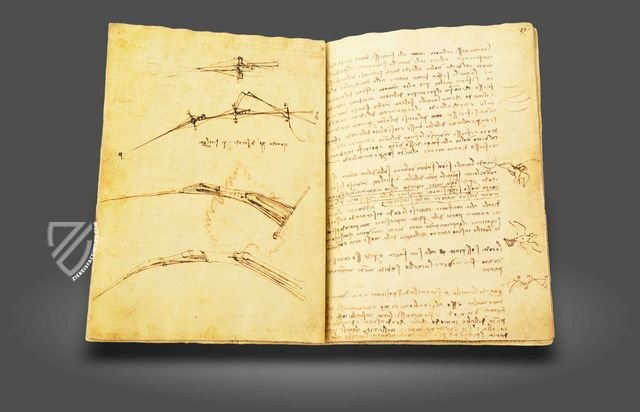 Codex on the flight of birds
Italy — 1505–1506
Leonardo da Vinci's (1452–1519) personal notebook of his observations and research concerning the flight of birds

Physical, anatomical, and other considerations are accompanied by many of his masterful drawings

Da Vinci's studies explore gravity and the influence of weight taking wind, movement, and anatomy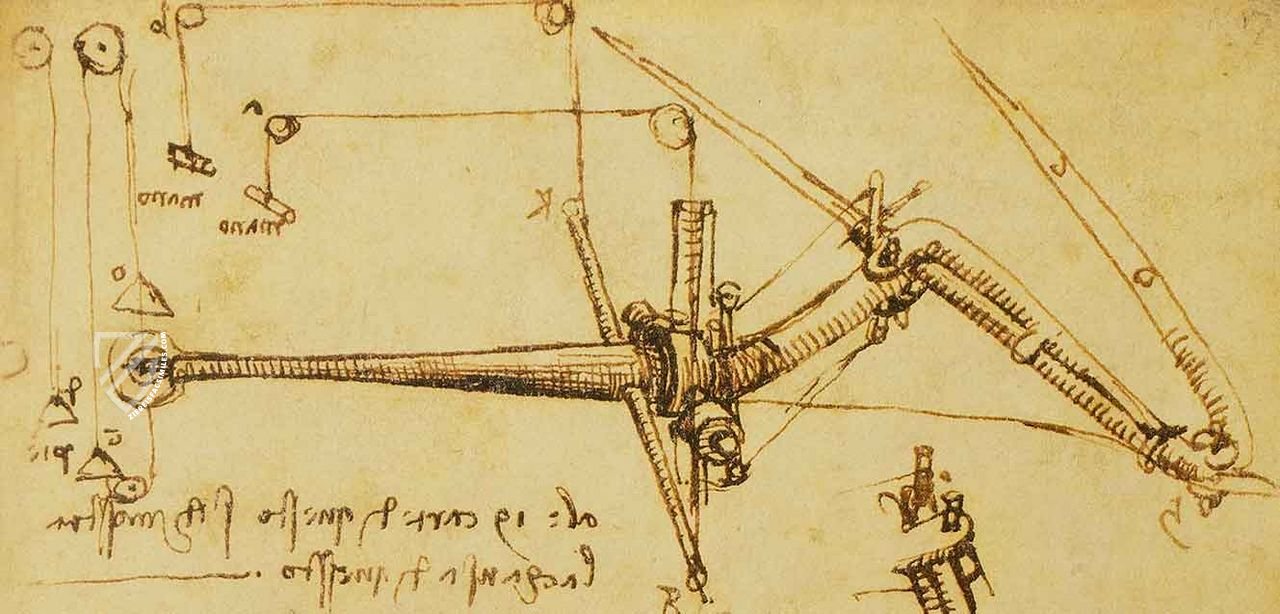 Codex on the flight of birds
Alternative Titles:
Il Codice sul volo degli uccelli
Codex über den Vogelflug
Codex über den Flug der Vögel
Códice sobre el Vuelo de los Pájaros
Short Description
Leonardo da Vinci the gifted natural scientist is brought back to like in this special artifact: his personal notebook with observations and research into the flight of birds, the famous Codice sul volo degli uccelli. Originating from the years 1505–6, Leonardo's notebook presents a detailed work on the phenomenon of the flight of birds under physical, anatomical, and other considerations, accompanied by many of his masterful drawings. A true gem of Leonardo research!
Codex on the Flight of Birds
Leonardo da Vinci (1452–1519) is considered to be the most important universal genius of the Italian Renaissance. He busied himself not only with the visual arts, but was also especially passionate about researching natural phenomena. This passion has been transmitted to today in numerous written and graphical pieces of evidence. A particularly interesting and beautiful example thereof is a notebook, which is stored today in the Biblioteca Reale in Turin: the famous Codex on the Flight of Birds.
Research into one of Mankind's Dreams
To this day, it is one of mankind's dreams to simply spread one's wings and float weightlessly through the air like a bird. One of the first people to concern himself with the actual fulfilment of this dream in reality was Leonardo da Vinci. For him it was no reverie, but rather an interplay of physics, weather phenomena, and anatomy that had to be explored. He recorded his observations and thoughts regarding this research in the year 1505–6 in a notebook about the flight of birds.
The Flight of Birds in Drawings and Writings
Leonardo observed the flight paths of birds and thus followed his studies of gravity and the influence of weight taking wind, movement, and anatomy into account. These statements are accompanied by numerous drawings, which record Leonardo's observations and conclusions in complicated schematic representations. Leonardo pursued plans for a flying machine with moveable "wings" that was supposed to be based on the operating principles of the flight of birds. His studies of this theme were studied in turn by aviation pioneers like Otto Lilienthal and the Wright Brothers. This research into the flight of birds was appended with notes about the mechanics, botany, architectural plans, and water studies for the gardens of Charles d'Amboise's villa.
Codicology
Alternative Titles

Il Codice sul volo degli uccelli




Codex über den Vogelflug




Codex über den Flug der Vögel




Códice sobre el Vuelo de los Pájaros

Type

Size / Format

34 pages / 21.3 × 15.4 cm

Origin

Date

1505–1506

Epochs

Style

Language

Artist / School

Leonardo da Vinci (1452–1519)
4 available facsimile edition(s) of "Codex on the flight of birds"
Matching Background Articles
Leonardo da Vinci

Leonardo da Vinci left behind such a wealth of notebooks that these thousands of pages leaves one asking: is there...

Experience more

Renaissance

What does the word "Renaissance" bring to mind for you? Art, science, and culture of course! It was a "rebirth" and...

Experience more

16th Century

When did the Middle Ages end and the Early Modern Period begin? Most agree it was sometime in the course of the 16th...

Experience more