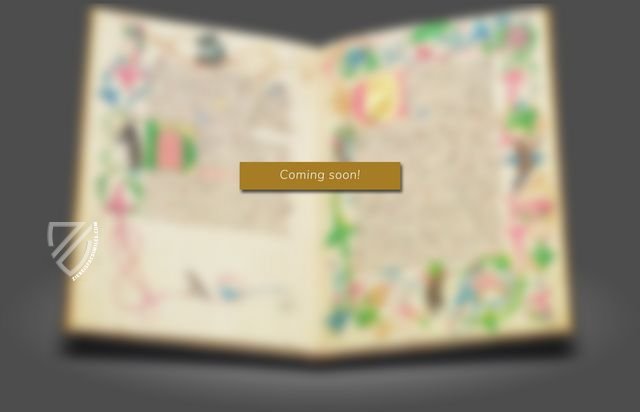 Dante Urbinate
Federico da Montefeltro (1422–82), Duke of Urbino was a great soldier and Renaissance humanist in equal measure

The Duke's library comprised one of the greatest manuscripts collections of the 15th century, exceed only by the Vatican

The magnificent and gold-decorated miniatures originate from Guglielmo Girardi
Dante Urbinate
Alternative Titles:
Il Dante urbinate della Biblioteca Vaticana
Short Description
Dante Alighieri's Divina Commedia is one of the most significant and influential literary works ever written worldwide. This outstanding Dante manuscript was once part of the spectacular library of the dukes of Urbino before making its way into the famous Bibliotheca Apostolica Vaticana and features exceptionally expressive miniatures.
Dante Urbinate
The Divine Comedy by Dante Alighieri (1265–1321) is a magnum opus of medieval literature as well as the cornerstone of the modern Italian literary tradition. Following its completion in 1320, Dante's crowning achievement was presented in numerous splendidly illuminated manuscripts, including the one at hand today. Known as the Dante Urbinate, it was created by Guglielmo Girardi at the behest of Federico da Montefeltro (1422–82), Duke of Urbino, between the years 1478 and 1480 at the ducal court. The Duke's library comprised one of the greatest manuscripts collections of the 15th century and has survived to the present largely intact. This collection is protected today within the holdings of the Vatican Library because of an order issued on August 7th, 1657 by Pope Alexander VII (1599–1667). Also known by its shelf mark, Urbinate Latino 365, the work is a highlight of this famous collection, distinguished for its vivacious colors and neatly written text by the scribe Matteo Contugi. Scenes from the Inferno and Purgatory sections are noteworthy for their exceptional emotional impact, distinguishing this work as an exemplar of the artistic conception typical of the Renaissance.
Codicology
Alternative Titles

Il Dante urbinate della Biblioteca Vaticana

Style

Genre
1 available facsimile edition(s) of "Dante Urbinate"
Il Dante urbinate della Biblioteca Vaticana Facsimile
Il Dante urbinate della Biblioteca Vaticana Facsimile
1 volume: Exact reproduction of the original document (extent, color and size)
Publisher

Biblioteca Apostolica Vaticana (Vaticanstadt, Vaticanstadt) – Vatican City, 1965

Limited Edition

1990 copies

Commentary

1 volume by Luigi Michelini Tocci, Giorgio Petrocchi and Mario Salmi
Language: Italian

More Information

Reproduction of the entire original document as detailed as possible (scope, format, colors). The binding may not correspond to the original or current document binding.
Matching Works
Tuti-Nama
How a parrot keeps a young lady from committing adultery: moralizing texts and risqué miniatures from the Mughal period
Experience More
Matching Background Articles
Literature

Much like today, medieval readers were looking for stories full of excitement and adventure that would take them out of...

Experience more

Renaissance

What does the word "Renaissance" bring to mind for you? Art, science, and culture of course! It was a "rebirth" and...

Experience more

14th Century

How could a century of endemic warfare, famine, and the Black Death produce great minds like Petrarch, Boccaccio, and...

Experience more