Divine Comedy - Codex Altonensis
Description
Divine Comedy - Codex Altonensis
The Codex Altonensis is an extraordinarily artful manuscript of the Divinia Commedia by Dante Alighieri, the cornerstone of Italian literature and one of the most important and influential texts of the Middle Ages. Work on the manuscript began sometime in the second half of the 14th century but was abandoned ca. 1410, which left it in a state of progress that allows art historians an inside look into the production process. Although the third part, Paradiso, was left unfinished, Inferno and Purgatorio are masterfully illuminated including a terrifying full-page miniature of Lucifer. The presence of different scripts indicates that a team of scribes were responsible for the text, which was neatly written in two columns consisting of 36 lines at most.
Codicology
Alternative Titles

Göttliche Komödie - Codex Altonensis




Divina Commedia: Codex Altonensis




Codex Altonensis of the Divina Commedia

Size / Format

284 pages / 33.0 × 24.5 cm

Origin

Date

1350–1410

Epochs

Style

Genre

Language

Script

Italian Gothic minuscule

Illustrations

Nearly 300 Miniatures

Artist / School

Dante Alighieri (1265–1321) (author)
---
Available facsimile editions:
Detail Picture
Divine Comedy - Codex Altonensis
Flight from Hell
Virgil and Dante begin their escape by climbing feet-first down Satan's ragged fur and when they reach his genitals, they pass through the center of the universe and gravity from the Northern Hemisphere of land to the Southern Hemisphere of water. The miniature depicts the confusion initially experienced by Dante when Virgil begins to climb "upward" toward the surface at the antipodes and he initially believes they are returning to Hell. They finally emerge from a narrow chasm under a starry sky.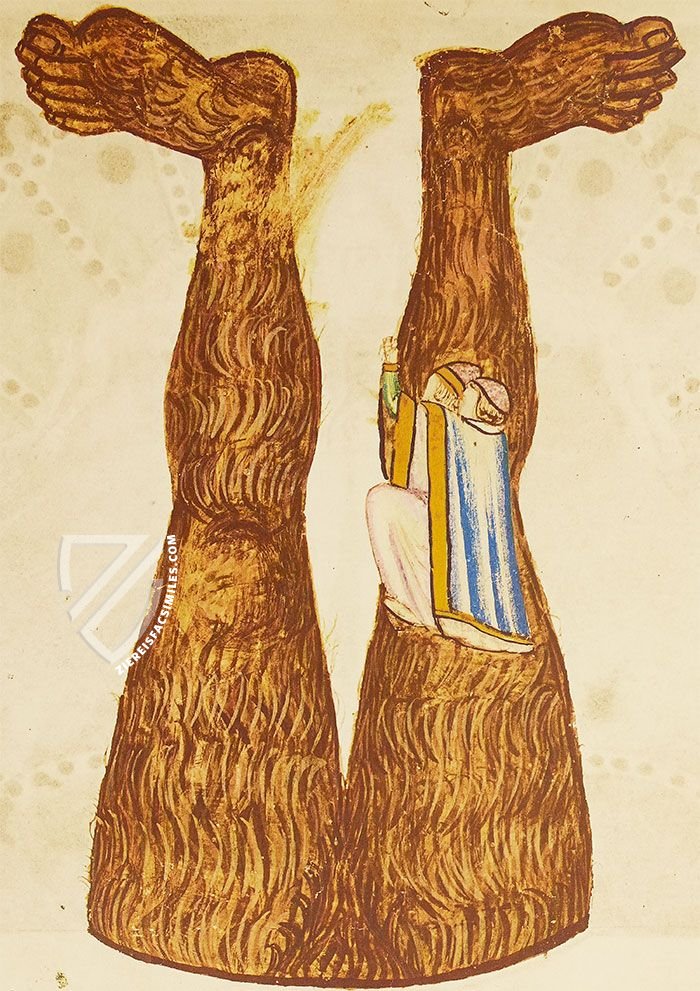 Single Page
Divine Comedy - Codex Altonensis
Lucifer
Dante depicts the fallen Angel of Light who once tried to usurp God's power as being frozen in ice at his midsection; he is slobbering, wordless, and receives the same punishments in Hell as the rest of the sinners. Lucifer has three faces with three mouths, a perversion of the Holy Trinity, but still retains the six wings he had when he was counted among the seraphim.
Each mouth chews on a prominent traitor: Brutus and Cassius dangle with their feet in the left and right mouths as punishment for betraying Julius Caesar while Judas, the ultimate betrayer, has his head gnawed by the central, most vicious mouth as his back is continuously flayed by Lucifer's claws. Dante and Virgil are shown climbing down his fur as they begin their flight from Hell.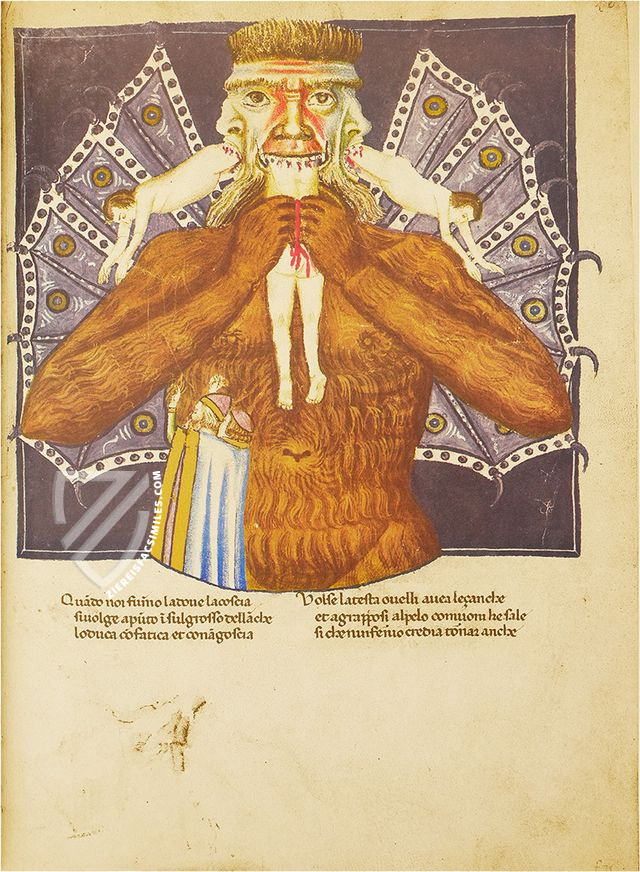 Facsimile Editions
#1

Divina Commedia: Codex Altonensis

Limited Edition:

600 copies

1 volume: Exact reproduction of the original document (extent, color and size)

Reproduction of the entire original document as detailed as possible (scope, format, colors). The binding may not correspond to the original or current document binding.
You might also be interested in:
Blog articles worth reading