Fleur de vertu
Description
Despite the fact that the identity of its author is still debated, the Flower of Virtue is a collection of moralizing texts that enjoyed great popularity and was translated into numerous languages including French, German, Spanish, Catalan, Russian, Armenian, and Croatian. The text was originally written in strongly dialectical Italian under the title Fiore di virtù between 1310 and 1323 by "Brother Tommaso", theorized to be Tommaso Gozzadini (1260–1329), a Bolognese notary. It consists of 35 chapters juxtaposing a series of virtues and vices, each associated with an animal in the manner of a bestiary, while also presenting the views of various philosophers or Bible quotes on the subject. This gorgeous manuscript from ca. 1530 is a French translation of Fleur de vertu by François de Rohan (1480–1536), Bishop of Angers, Archbishop of Lyon, and Primate of France. It is adorned by 48 gorgeous miniatures in the French Renaissance style and countless fine initials in red, blue, and gold.
Codicology
Alternative Titles

Il Fior di Virtù




Le Livre nommé Fleur de vertu, translaté d'italien en françoys, par François de Rohan

Type

Size / Format

182 pages / 23.0 × 16.0 cm

Origin

Date

Ca. 1530

Epochs

Style

Genre

Language

Content

French translation of the Italian work Il Fior di virtù, written between 1310 and 1323 by a certain brother Tommaso. It contains a collection of texts for moral edification.

Artist / School

Maître de François de Rohan
Facsimile Editions
#1

Fleur de vertu
Commentary:
1 volume by Marie-Françoise Damongeot-Bourdat
Language: Spanish

1 volume: Exact reproduction of the original document (extent, color and size)
Reproduction of the entire original document as detailed as possible (scope, format, colors). The binding may not correspond to the original or current document binding.
You might also be interested in: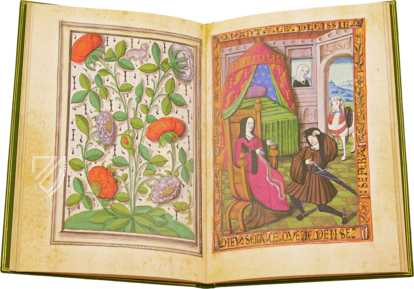 Book of Lovers
France – Beginning of the 16th century
Romantic walks, intimate embraces, and lively dance scenes: courtly love in the 16th century, grandly depicted in full-page miniatures and carefully selected colors
Experience More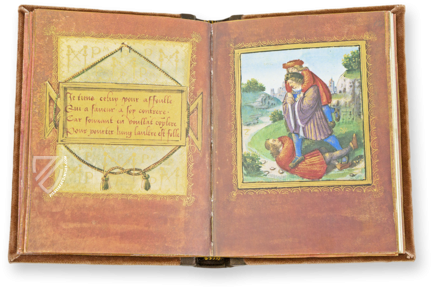 Blog articles worth reading