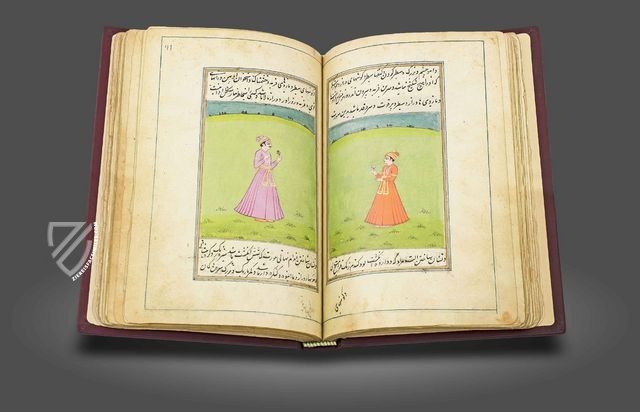 Ladhdhat al-nisâ - The pleasures of women
Near East — 18th century
This 18th century codex by the Persian scribe Pandit Kokkoka is oriented on Indian texts on the art of love

The text is adorned with 51 miniatures and the author gives detailed citations of his sources on every page

The text divides women into four groups, which are then described along with various aphrodisiacs
Ladhdhat al-nisâ - The pleasures of women
Alternative Titles:
Lazzat al-nisâ (El placer de las mujeres)
Die Lust der Frauen
Il piacere delle donne
Le plaisir des femmes
O prazer das mulheres
Short Description
The Pleasures of Women is a codex that was made by the Persian author Pandit Kokkoka in the 18th century. It is a guidebook, which is oriented on traditional Indian textbooks on the art of love. The work is decorated with 51 lovely miniatures.
Ladhdhat al-nisâ - The Pleasures of Women
The Indian tradition of textbooks about the art of love yielded some masterly manuscripts, of which the Kama Sutra is probably the most famous and widely reproduced edition. The Pleasures of Women is a codex from the Persian scribe Pandit Kokkoka, who oriented himself on the teachings of the Indian school. The manuscript is illustrated with 51 colorful miniatures.
The Indian Art of Love
Numerous guides about the art of love were created in ancient and medieval India. These were mostly concerned with various problems that could occur during lovemaking. Pandit Kokkoka's work divided the female sex into four different groups. He described at what days and times each type of woman is most likely to become romantically inclined. Additionally he dedicates himself to the description of various aphrodisiacs and herbal remedies that should strengthen virility.
A Centuries-Old Tradition
What is special about the Kokkokas codex is that the author cited on each page all sources that he had used for his work. Among them are some texts that had already been composed in the time period from 200 to 300 years after Christ and no transcript of which exists today. With his work, Kokkoka founded a completely new genre of love treatise. His manuscripts were translated into numerous languages. The naïve, playful miniatures in pastel colors, which mostly show people making love, make the manuscript particularly appealing.
Codicology
Alternative Titles

Lazzat al-nisâ (El placer de las mujeres)




Die Lust der Frauen




Il piacere delle donne




Le plaisir des femmes




O prazer das mulheres

Type

Size / Format

200 pages / 22.5 × 16.0 cm

Origin

Date

18th century

Epochs

Style

Language

Illustrations

51 miniatures

Artist / School

Author: Pandit Kokkoka
1 available facsimile edition(s) of "Ladhdhat al-nisâ - The pleasures of women"
Lazzat al-nisâ - El placer de las mujeres
Lazzat al-nisâ - El placer de las mujeres
1 volume: Exact reproduction of the original document (extent, color and size)
Publisher

M. Moleiro Editor – Barcelona, 2014

Limited Edition

987 copies

Binding

Leather

Commentary

1 volume
Language: Spanish

More Information

Reproduction of the entire original document as detailed as possible (scope, format, colors). The binding may not correspond to the original or current document binding.
Matching Background Articles
Islamic

Are you interested in the history of philosophy, mathematics, astronomy, alchemy, cartography, and medicine? Islamic...

Experience more