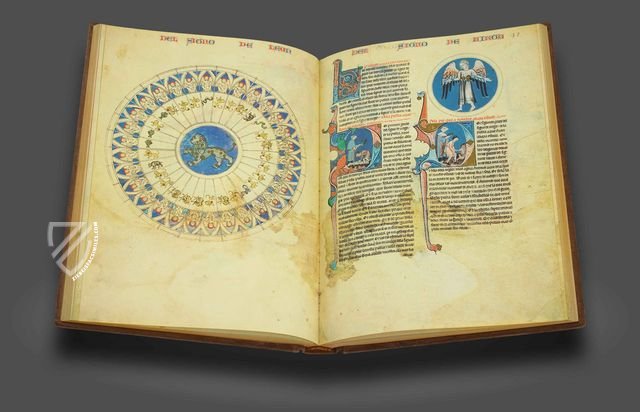 Lapidary by Alfonso X the Wise
Spain — 1253
King Alfonso X of Castile (1221–1284) earned his epithet 'the Wise' because of his enthusiasm for the arts and sciences

His treatise addresses the magical and medical effects of gems and stones in connection with astrology

Originating ca. 1253, it contains luminous miniatures, historiated initials, and astrological tables
Lapidary by Alfonso X the Wise
Alternative Titles:
Primer Lapidario del Rey Alfonso X El Sabio
Lapidarium von König Alfons des Weisen
Lapidario del Rey Alfonso X
Short Description
King Alfonso X of Castile earned his epithet 'the Wise' because of his enthusiasm for the arts and sciences. A special testimonial to his fame as a scholar can be found in the manuscript from 1253 known as the Lapidary by Alfonso X the Wise. This treatise by the King is concerned with the magical and medical importance and effect of gems and other stones in connection with astrology. The gorgeous manuscript in El Escorial presents this work adorned with exuberant splendor!
Lapidary by Alfonso X the Wise
Zodiac signs, constellations, heavenly bodies and their movements: the science of astrology was an ambitiously practiced field of research. Theories both new and forgotten were thought out and investigated with respect to ancient authors before they were finally recorded in precious manuscripts. The connection with minerology was a particular area of this work with astrological phenomena. In the so-called lapidaries – scientific treatises on this theme – the importance and effect of stones and gems and their relationship to astrology was recorded.
The Learned King as Author
Even King Alfonso the Wise occupied himself with this field of research lying between astrology and the natural sciences. The Castilian King Alfonso X (1221–1284) earned his epithet because of his fame as a scholar. He was an enthusiastic scholar and poet, who came into contact with numerous new fields of knowledge through the Moors in particular. Alfonso X not only founded a school for translators in Toledo and was a patron of art and science, but was also himself the author of a few papers and books. As a result, his thematic areas ranged from history, cosmology, and philosophy to astronomy and mathematics.
A Gorgeous Manuscript between Art and Science
The manuscript with the Lapidary by Alfonso X the Wise originated in 1253. Having said this, the impressive parchment manuscript amazes not only with of its substantial scholarly content, but also with its exceptionally beautiful artistic design. The exuberant illumination consists of luminously colorful miniatures, which visualize the theories in gorgeously ornamental depictions, e.g. with astrological tables. Additionally, artful historiated initials can be found with gorgeous scenic depictions, and at the beginning of the manuscript, there is a miniature of its presentation to the King.
Codicology
Alternative Titles

Primer Lapidario del Rey Alfonso X El Sabio




Lapidarium von König Alfons des Weisen




Lapidario del Rey Alfonso X

Size / Format

94 pages / 40.2 × 29.1 cm

Origin

Date

1253

Epochs

Style

Language

Script

Gothic Quadrata Gothic Rotunda Gothic Semiquadrata

Illustrations

638 colorful miniatures and initial letters

Content

A summa of Greek, Hellenistic and Arabic treatises probably compiled by the royal physician and prominent astronomer Yehuda ben Moshe

Previous Owners

King Philip II of Spain (1527–1598)
Don Diego de Mendoza
1 available facsimile edition(s) of "Lapidary by Alfonso X the Wise"
Lapidario de Alfonso X el Sabio Facsimile
Lapidario de Alfonso X el Sabio Facsimile
1 volume: Exact reproduction of the original document (extent, color and size)
Publisher

Edilan – Madrid, 1982

Limited Edition

1500 copies

Binding

Brown suede leather

Commentary

1 volume (256 pages) by Jose Luis Amorós Portolés and Ana Domínguez Rodríguez
Language: Spanish

More Information

Reproduction of the entire original document as detailed as possible (scope, format, colors). The binding may not correspond to the original or current document binding.
Matching Works
Uranographia
An Early Modern bestseller: Johann Elert Bode's masterful star atlas with terrific depictions of the universe
Experience More
Matching Background Articles
Gothic

Gothic illumination is some of the most spectacular and iconic imagery of medieval art and first emerged in Northern...

Experience more

13th Century

Despite ongoing religious wars and the threat of Mongol invasion from the East, this is a time of great personalities,...

Experience more

Astronomy / Astrology

Do the constellations capture your imagination the way they did the imaginations of medieval star-gazers? These beautiful...

Experience more