Officium Beate Marie Virginis Ross. 198
Description
Officium Beate Marie Virginis Ross. 198
This fine specimen from the golden age of French illumination is a book of hours dedicated to the Virgin Mary containing the text of the Officium Beate Marie Virginis. It is adorned by 21 magnificent miniatures with colorful, highly detailed filigree tendril frames highlighted with gold except for one: a full-page miniature with an architectural frame depicting the Triumph of Fame from Petrarch's Trionfi that appears at the beginning of the calendar section. The French master illuminator Jean Colombe is credited with creating this gorgeous image program ca. 1480. "Ross. 198" refers to its erstwhile owner, Giovan Francesco de Rossi, whose collection was donated to the Society of Jesus in 1855 before being transferred to the Jesuit College in Vienna in 1877 and was finally donated to the Vatican Library in 1921.
Codicology
Alternative Titles

Offizium der Jungfrau Maria Ross. 198

Origin

Date

ca. 1480

Epochs

Style

Genre

Language

Script

Gothic

Illustrations

21 full-page miniatures; decorated initials

Content

Book of Hours with a calendar and prayers for private devotion

Previous Owners

Giovan Francesco de Rossi (1796–1854)
Detail Picture
Officium Beatae Mariae Virginis of Maria Antonietta of Savoy
Baptism of Jesus
Jesus stands in the River Jordan as John the Baptist, kneeling on the right bank in rough clothing, pours water over his head. An angel stands on the left bank and holds Jesus's robes while also acting as a witness to this important event. The Holy Trinity is represented by God the Father, who looks down from the sky, the white dove of the Holy Spirit, who descends in a shower of golden rays, and Jesus, who stands as the bottom with a ray nimbus. A cool blue-green landscape serves as a backdrop.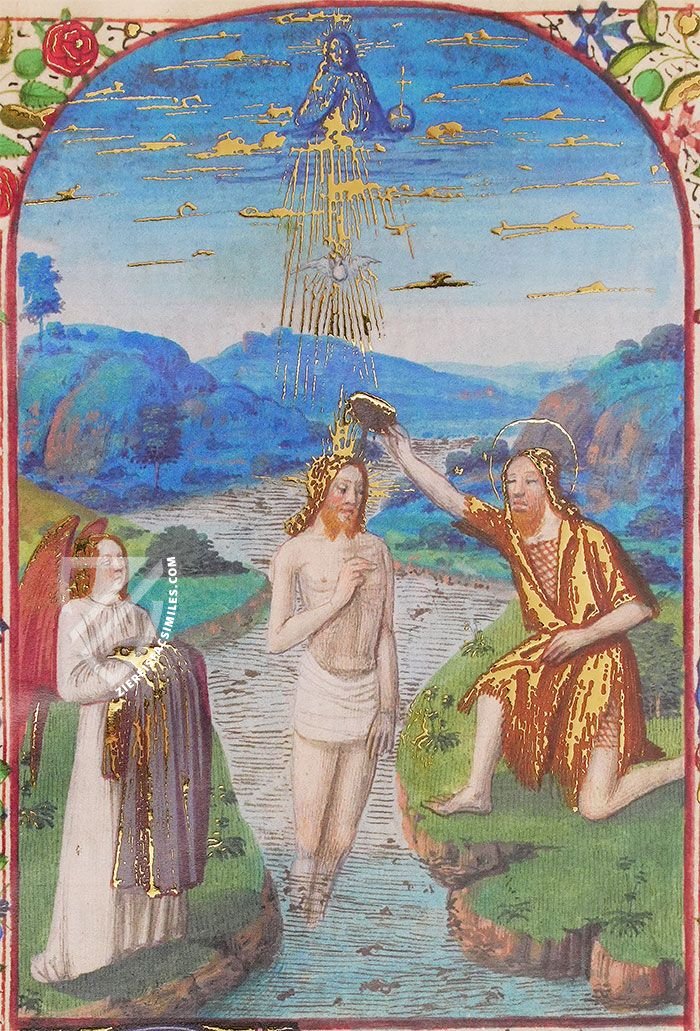 Single Page
Officium Beatae Mariae Virginis of Maria Antonietta of Savoy
Pentecost
According to the Book of Acts, the Holy Spirit descended upon the Apostles and other followers of Jesus Christ while they were in Jerusalem celebrating the Feast of Weeks. The word Pentecost come from the Greek for "fiftieth" because the holiday is celebrated fifty days after Easter and as such is a "moveable feast".
Gold has been used generously on the page to highlight the clothing of the figures, their halos, and even the frame. Both the architecture and the arrangement of the Apostles create a perspective that is focused on the Virgin Mary, above whom the white dove of the Holy Spirit appears. This scene is set within a wonderfully colorful floral frame and the large "D" initial features a checkerboard pattern with blue and red flowers.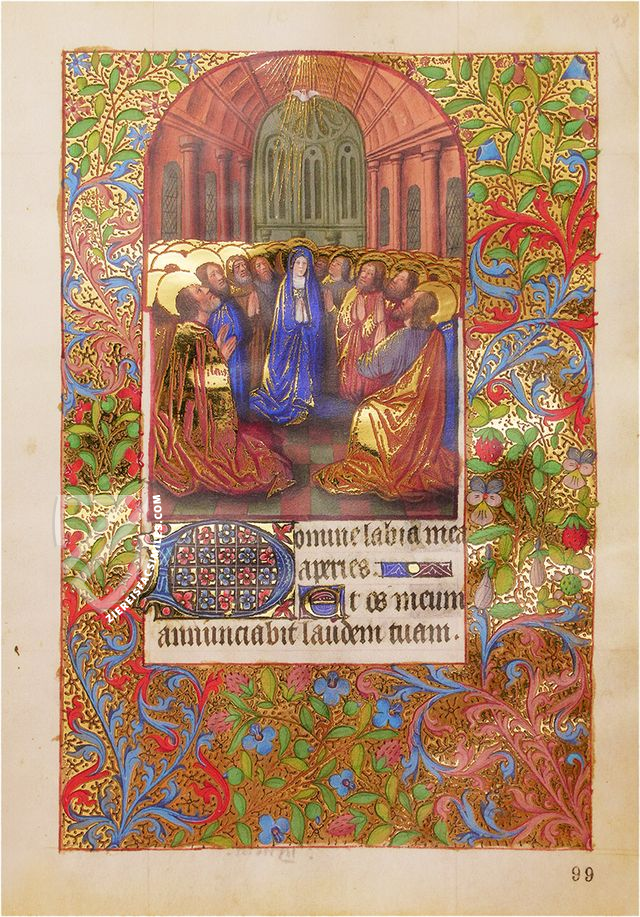 Facsimile Editions
#1

Officium Beate Marie Virginis Ross. 198

Publisher:

Imago

– Castel Guelfo

1 volume: Exact reproduction of the original document (extent, color and size)

Reproduction of the entire original document as detailed as possible (scope, format, colors). The binding may not correspond to the original or current document binding.
You might also be interested in:
Blog articles worth reading