Old English Hexateuch
Description
Between 1025 and 1050, the first English vernacular translation of the Hexateuch, the first six books of the Hebrew Bible, was undertaken by a team of Anglo-Saxon monks under the supervision of Abbot Ælfric of Eynsham. Seven manuscripts with the translation survive to the present, the most famous of which is the richly illuminated codex stored in the British Library under the shelf mark Cotton MS Claudius B.iv. The so-called "Old English Hexateuch" was compiled at St. Augustine's Abbey in Canterbury and other texts in both Latin and English were appended to the manuscript during the 12th century, often using blank spaces left for miniatures that were never executed. The text is adorned by 394 pen and ink drawings containing 550 scenes including 12 full-page miniatures at various stages of completion. Scenes from the Old Testament are thus set in the everyday life of Anglo-Saxon England, making it an important historical source on contemporary life.
Codicology
Alternative Titles

Altenglischer Hexateuch

Size / Format

312 pages / 32.5 × 21.5 cm

Origin

Date

Second quarter of the 11th century and second half of the 12th century

Epochs

Genre

Script

Insular minuscule
---
Available facsimile editions:
Facsimile Editions
#1

The Old English illustrated Hexateuch
Commentary:
1 volume by Charles R. Dodwell and Peter Clemoes
Language: English
1 volume: This facsimile is not complete.
Partially colored reproduction of the entire original document with 312 black and white plates and five color plates. The pages are presented on a larger white background. The binding may not correspond to the original or current document binding.
You might also be interested in: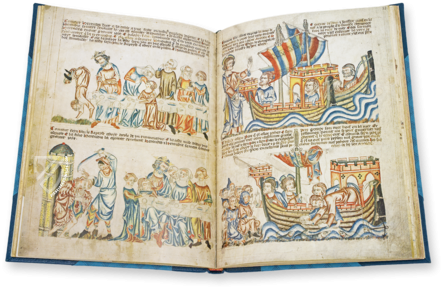 Holkham Bible
London (United Kindgom) – ca. 1327–1335
Each page illustrated: 231 scenes from the Old and New Testaments, embedded in the bustle and impressive architecture of medieval London
Experience More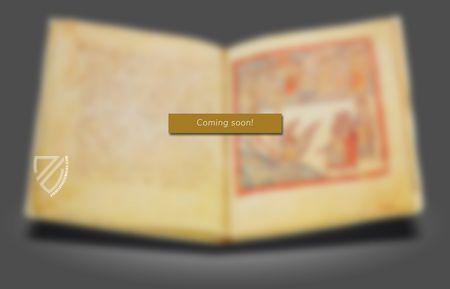 The Bury Bible
Abbey of Bury St. Edmunds (Cambridge, United Kindom) – ca. 1135
A grand 12th century English Bible from the hand of Master Hugo that blends the Byzantine, Romanesque, and early Gothic styles
Experience More
Blog articles worth reading