Passionale Abbatissae Cunegundis
Description
Passionale Abbatissae Cunegundis
The Passionale Abbatissae Cunegundis (English: Passional of Abbess Kunigunde) was created sometime between 1312 and 1321. It is named after its patron, the Benedictine Abbess Kunigunde of Bohemia, daughter of King Ottokar II of Bohemia. Considered to be a monument of Czech culture today, the manuscript is an anthology of various mystic treatises concerning the Passion, two of which were authored by the Czech Dominican friar Kolda of Koldice. The Prague canon and priest in St. George's convent Beneš served as the scribe and possible illuminator of the manuscript, which is noteworthy inter alia for containing the oldest surviving depiction of the Bohemian coat of arms in color.
Codicology
Alternative Titles

Pasional abatyse Kunhunty




Pasionál Přemyslovny Kunhuty

Size / Format

74 pages / 30.0 × 25.0 cm

Origin

Date

1313–1321

Epochs

Style

Genre

Language

Script

Gothic
---
Available facsimile editions:
Facsimile Editions
#1

Pasionál Přemyslovny Kunhuty = Passionale Abbatissae Cunegundis

Publisher:

Odeon

– Prague, 1975

Commentary:

1 volume
Language: Czech

Abstracts in French, German and Russian

1 volume: Exact reproduction of the original document (extent, color and size)

Reproduction of the entire original document as detailed as possible (scope, format, colors). The binding may not correspond to the original or current document binding.
You might also be interested in:
Codex of Vyšehrad
Probably Bohemia (Czech Republic) – 1085
Created by a group of highly talented Regensburg illuminators: a masterfully illuminated Gospel Book celebrating the coronation of Duke Vratislaus II as the first King of Bohemia in 1085
Experience More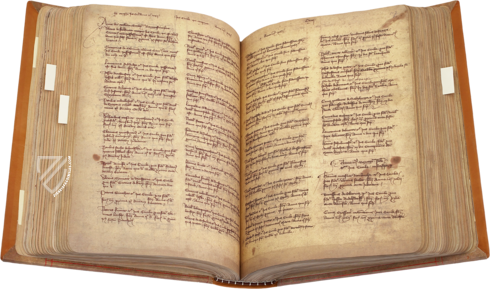 Liber Vetustissimus
Prague (Czech Republic) – 14th to 16th century
The continuously recorded contemporary history of Prague: the oldest preserved chronicle from Central Europe with the most important events in the dazzling history Prague during the 14th to the 16th centuries
Experience More
Blog articles worth reading