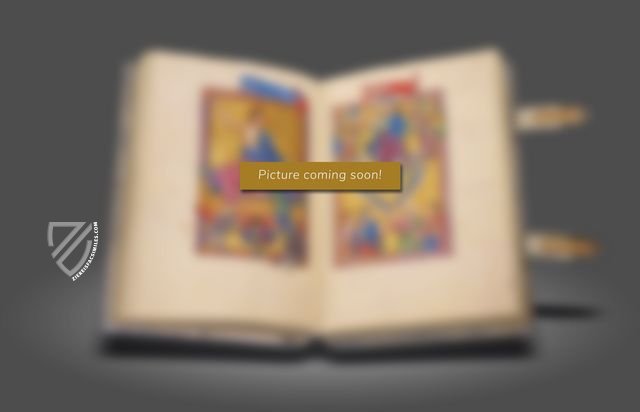 Prayer Book of Georg II of Waldburg
Swabia (Germany) — 1476
Georg II von Waldburg (1430-82) was a Swabian nobleman and imperial steward

This splendid prayer book was made for he and his wife Countess Anna von Kirchberg (ca. 1436-84)

The comprehensive illumination of the manuscript includes images inter alia of the Arma Christi
Prayer Book of Georg II of Waldburg
Alternative Titles:
Waldburg-Gebetbuch
Gebetbuch Georgs II. von Waldburg
Codicology
Alternative Titles

Waldburg-Gebetbuch




Gebetbuch Georgs II. von Waldburg

Size / Format

122 pages / 17.5 × 13.2 cm

Origin

Date

1476

Epochs

Style

Genre

Language

Script

Gothic Textualis

Illustrations

46 richly adorned and partly gilded and silvered miniatures; Countless decorated initials
1 available facsimile edition(s) of "Prayer Book of Georg II of Waldburg"
Waldburg-Gebetbuch Facsimile
Waldburg-Gebetbuch Facsimile
1 volume: Exact reproduction of the original document (extent, color and size)
Limited Edition

600 copies

Binding

Tooled leather binding

Commentary

1 volume by Hansmartin Decker-Hauff, Wolfgang Irtenkauf and Gerhard Konzelmann

More Information

Reproduction of the entire original document as detailed as possible (scope, format, colors). The binding may not correspond to the original or current document binding.
Matching Works
Wenceslas Bible
Made in the famous Wenceslas workshop in Prague: a mammoth bible in German with 646 fantastic miniatures for the German emperor
Experience More
Matching Background Articles
Books of Hours

What is a book of hours? A prayer book for personal use based upon the "offices" or official prayers that were to be said...

Experience more

Prayer Books

Interested in a personal glimpse into the personality of a famous medieval figure? Prayer books were small codices...

Experience more