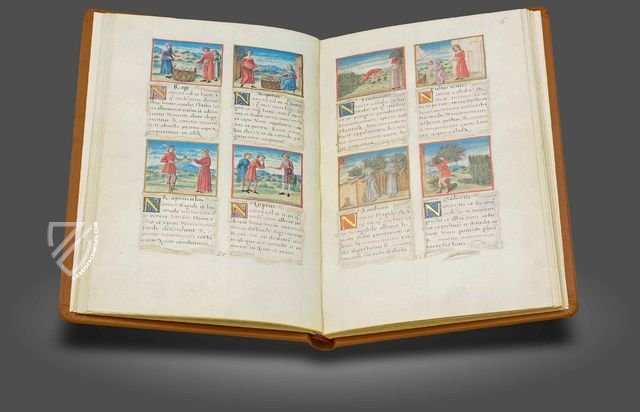 Tacuinum Sanitatis
Vienna (Austria) — Around 1490
The *Tacuinum Sanitatis* is a translation of an 11th century medical text by Ibn Butlan

The Vienna Codex reproduced here is the most comprehensive and well-ordered collection of recipes for "home use" of all previously known illustrated *Tacuina Sanitatis* manuscripts

Each of its 82 pages displays 4 miniatures which accompany and illustrate the text
Tacuinum Sanitatis
Short Description
Arab doctors were highly prized in the West during the Middle Ages. Since the great libraries of the East were spared the fate of their western counterparts, medical knowledge from antiquity had not only been preserved but improved. The Tacuinum Sanitatis is a translation of an 11th century medical text by an Arab doctor named Ibn Butlan, Codex Vindobonensis 2396 is one of these beautifully adorned manuscripts. This particular Tacuinum Sanitatis is the most extensive and neatly arranged collection of recipes for domestic use. It contains cures and remedies that are still useful today, as well as general advice on leading a healthy life, with each page of the manuscript displaying four miniatures that serve as a visual aid to the instructions.
Tacuinum Sanitatis
The Codex Vindobonensis 2396 is categorized as a Tacuinum Sanitatis manuscript, a book on health arranged in tabular form. This book form goes back to the so-called Taqwin As-Sihha, a medicinal work written by the Arab physician Ibn Butlan who lived and worked in Baghdad during mid–11th century. The Arabic original version was later translated into Latin, probably on the request of King Manfred of Sicily (r. 1258–1266).
294 Stunning Miniatures
Our Tacuinum Sanitatis is the most extensive and neatly arranged collection of recipes for domestic use. Each of its 82 pages displays 4 miniatures which accompany and illustrate the text. In addition to some highly interesting healing methods that are still in use today, the reader will also find extremely amusing passages of text. According on the classical wisdom of Plato and Aristotle, matter was thought to consist of four elements, the equivalent of the states of aggregation we talk about in physics today. These four elements were assigned different qualities: earth, water, air and fire. This theory evolved into the theory of the four humors according to which an illness was assumed to be the result of a disturbance in the fluids of the body, and the curing methods aimed at re-establishing the humoral balance in order to restore health.
As Relevant As Ever
The modern reader will encounter means and methods for leading a healthy life that are still in use today and whose origins in the writings of the old "meysters" have long been forgotten.
Codicology
Size / Format

82 pages / 26.5 × 17.5 cm

Origin

Date

Around 1490

Epochs

Style

Language

Illustrations

4 miniatures on every page, altogether 294 miniatures
1 available facsimile edition(s) of "Tacuinum Sanitatis"
Das Tacuinum Sanitatis
Das Tacuinum Sanitatis
1 volume: Exact reproduction of the original document (extent, color and size)
Publisher

Akademische Druck- u. Verlagsanstalt (ADEVA) – Graz, 1984

Limited Edition

980 copies

Binding

Leather. All folios are cut according to the original.

Commentary

1 volume (184 pages) by J. Rössl, H. Konrad
Language: German

Codicological description by J. Rössl, Vienna. Medicohistorical introduction as well as translation of the text by H. Konrad, Innsbruck. 184 pp.


More Information

Reproduction of the entire original document as detailed as possible (scope, format, colors). The binding may not correspond to the original or current document binding. All folios are cut according to the original.
Matching Background Articles