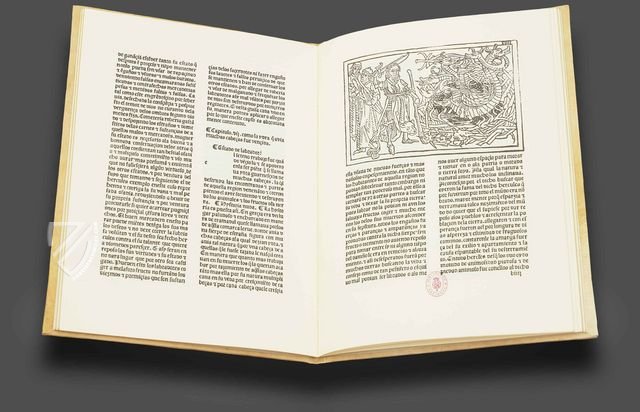 The Twelve Works of Hercules
Zamora (Spain) — January 15, 1483
A synthesis of Greek mythology and Christian allegory meant to inspire virtuous behavior

Written in 1417 by Marquess Enrique de Villena (1384–1434) in Catalan and later translated into Castilian

Printed by Antón de Centenera on January 15th, 1483 in Zamora with 12 engravings, 11 of which survive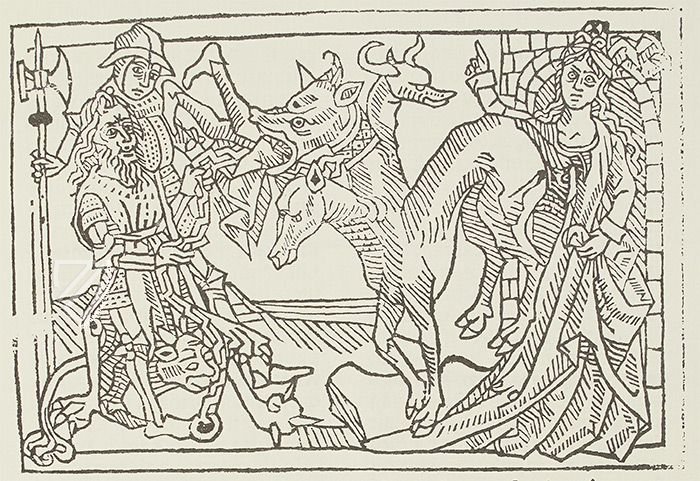 The Twelve Works of Hercules
Alternative Titles:
Die zwölf Werke des Herakles
Los (Doce) Trabajos de Hercules
Short Description
Born the son of Zeus and a mortal woman named Alcmene, Hercules was a Roman hero famous for his great strength and one of the most popular mythic figures both in the Middle Ages and today. As was common for ancient pagan myths, the tale was reinterpreted as a Christian allegory by medieval authors. Written by a Spanish nobleman, this version of the heroic myth was intended to inspire readers to a lead an honorable life.
The Twelve Works of Hercules
Don Enrique de Villena (1384–1434), Marquess of Villena, was a Spanish author, poet, and theologian who also was reputed to be a necromancer. Although belonging to the former royal house of Aragon, his political ambitions were denied him, and so he committed himself as an author. He is most famous for his Los Trabajos de Hércules, the first edition of which was printed by Antón de Centenera on January 15th, 1483 in Zamora. Originally written in Catalan in 1417, he later translated it into Castilian. The work is a synthesis of Greek mythology and Christian allegory filled with moralizing messages meant to inspire virtuous behavior. It is divided into 12 chapters, which are then divided into four parts, respectively. The splendid engravings are from a Spanish artist, but only 11 of the 12 have survived, with the Battle of the Centaurs missing. Nonetheless, this is an exemplary Spanish incunabulum, i.e. a book printed before 1501.
Codicology
Alternative Titles

Die zwölf Werke des Herakles




Los (Doce) Trabajos de Hercules

Size / Format

68 pages / 27.5 × 20.5 cm

Origin

Date

January 15, 1483

Epochs

Style

Language

Script

Gothic

Illustrations

11 woodcuts

Content

Medieval version of the legend of Hercules

Artist / School

Enrique de Villena (author)
Antón de Centenera (printer)
1 available facsimile edition(s) of "The Twelve Works of Hercules"
Los (Doce) Trabajos de Hercules Facsimile
Los (Doce) Trabajos de Hercules Facsimile
1 volume: Exact reproduction of the original document (extent, color and size)
Publisher

Vicent Garcia Editores – Valencia, 1995

Limited Edition

3160 copies

Binding

Parchment binding

Commentary

1 volume by Vicente Escartí Soriano
Language: Spanish

More Information

Reproduction of the entire original document as detailed as possible (scope, format, colors). The binding may not correspond to the original or current document binding.
Matching Works
Glockendon Hours
For Cardinal Albrecht von Brandenburg, a prince of the church of the Reformation: a masterpiece of book illumination by the last great German illuminator, provided with a graphic by Albrecht Dürer
Experience More
Sobieski Hours
A magnificent work by the famous Bedford Master and the Master of the Munich Legenda Aurea: 60 full-page miniatures and more than 400 illustrated scenes for the Countess of Burgundy
Experience More
Matching Background Articles
Mythology

Would you like to follow in the footsteps of heroes from Greek and Roman mythology or serve King Arthur by seeking the...

Experience more

Prophecy

Do you wish to know the unknowable? So did medieval prophets, who attempted everything from predicting the fate of the...

Experience more