Tractatus de Herbis - Egerton 747
Description
Tractatus de Herbis - Egerton 747
Founded during the 9th century in the southern Italian city of Salerno, the Schola Medica Salernitana was the first and most important medical school in Western Europe. It was here that Greek and Arabic medical texts were first translated into Latin before being copied and disseminated across the continent. One of the most popular and influential of these texts was the Tractatus de herbis, a pharmacopeia consisting of 524 chapters combining the knowledge of various other works concerning the medicinal uses of substances derived from plants, animals, and minerals. An exceptionally artistic manuscript of the work originating from Italy ca. 1300 is stored under the shelf mark Egerton 747 in the British Library. It is the oldest surviving and probably the original manuscript of the Tractatus de herbis and for the first time since Late Antiquity, the illustrations of the plants appear to be based on direct observation, probably from a botanical garden. These miniatures have no equal among contemporary works of art – not even panel paintings and murals from the period can rival them.
Codicology
Alternative Titles

Abhandlung über Heilpflanzen - Egerton 747




De Simplici Medicina




Circa instans




Antidotarium Nicolai

Size / Format

147 folios / 36.0 × 24.0 cm

Origin

Date

Ca. 1280–1310

Epochs

Style

Language

Script

Gothic

Illustrations

6 full-page miniatures with titles; Large miniatures throughout the Tractatus de herbis illustrate each plant or substance described; 2 historiated initials; Initials in red and blue; Border decoration

Content

Collection of medical texts: Tractatus de herbis, text on forecasting with a lunar calendar, Antidotarium Nicolai, De dosibus medicinarum, a substitution list in case a certain ingredient is not available, 3 texts on weights and measures, synonyms for pla

Artist / School

Bartholomeus Mini de Senis (scribe)

Previous Owners

Reverend John Josias Conybeare
Sir Frederick Madden
Facsimile Editions
#1

A Medieval Herbal
Commentary:
1 volume by Minta Collins and Sandra Raphael
Language: English

1 volume: Exact reproduction of the original document (extent, color and size) Facsimile and commentary are housed in one volume in this edition, with the commentary printed in a separate section.
Reproduction of the entire original document as detailed as possible (scope, format, colors). The binding may not correspond to the original or current document binding.
You might also be interested in: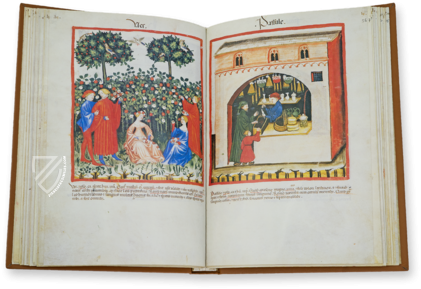 Tacuinum Sanitatis in Medicina
Verona (Italy) – End of the 14th century
Made for an Italian noble family: 206 large miniatures accompanying the text of the famous physician Ibn Butlan with many scenes from everyday life, botany, and medicine
Experience More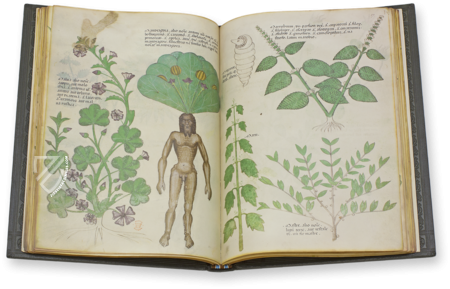 Blog articles worth reading