Velislai Biblia Picta
Description
The Velislai biblia picta, also known as the Velislaus Bible or Velislav's Bible, is a richly illuminated manuscript originating between 1325 and 1349 in Prague. It is a picture Bible, the text of which is limited to titles or brief descriptions of the 747 miniatures on 188 folios illustrating the events of the Old and New Testaments. Most of these images are drawn only in ink, but some have been colored. The codex was created by a team of artists working at the behest of Velislav the Canon, who served as a notary and court scribe for King John I of Bohemia and his son Holy Roman Emperor Charles IV, both of whom established their courts in Prague. Although it does not assume the typical form a Biblia pauperum being more sophisticated and having more images, the manuscript is generally considered as such. Its contents comprise the books of Genesis, Exodus, Daniel, Judges, Judith, and the Book of Revelations as well as various cycles concerning Christ, the Antichrist, and the lives of St. Wenceslas and St. Ludmila of Bohemia.
Codicology
Alternative Titles

Velislav's Bible




Velislaus-Bibel




Velislavova bible




Velislaus bible

Size / Format

376 pages / 30.7 x 24.5 cm

Origin

Date

1325–1349

Epochs

Style

Genre

Language

Illustrations

747 miniatures of biblical scenes

Content

Beginning of the Old Testament, part of the Gospels and the Acts of the Apostles, the entire Apocalypse and the legend of St. Wenceslas
---
Available facsimile editions:
Detail Picture
Velislai Biblia Picta
The Fifth Trumpet
At the sound of the Fifth Trumpet, an angel is given a key to open the bottomless pit, out with which emerges smoke and locusts resembling warhorses armored for war. Their crowned heads have the faces of men and the long hair of women, they have teeth like lions, tails like scorpions, and their wings thunder like charging chariots and horses. Commanded by the angel Abbadon, depicted holding a sword and book, they torment all who do not have the seal of God on their foreheads for five months.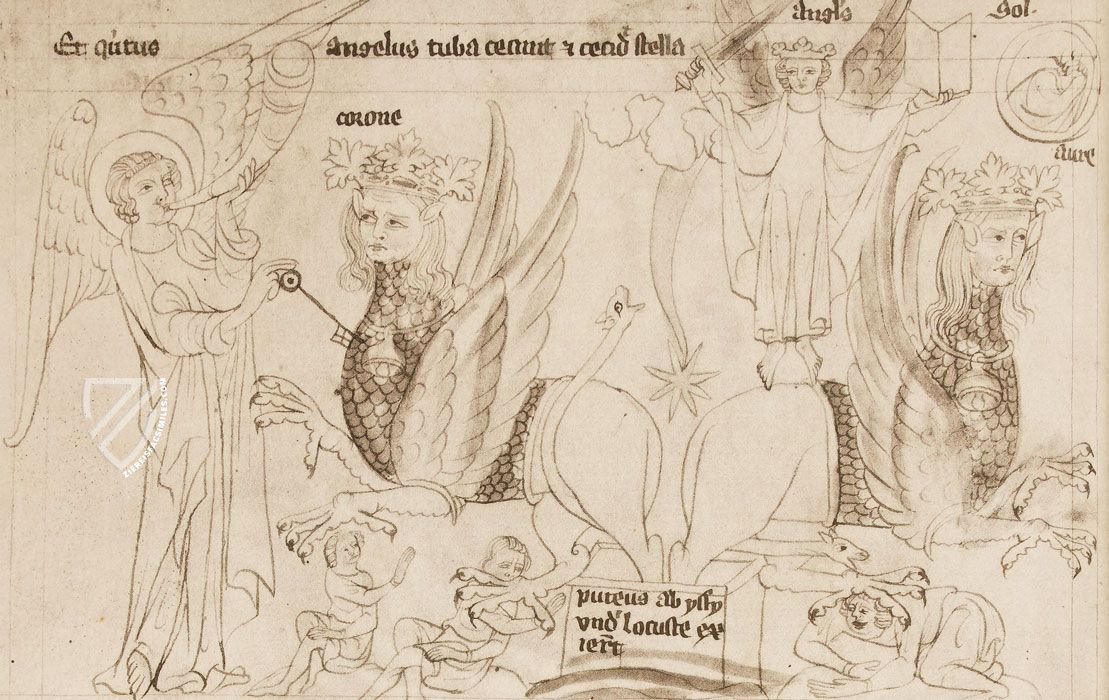 Single Page
Velislai Biblia Picta
Jacob's Ladder
Then he dreamed, and behold, a ladder was set up on the earth, and its top reached to heaven; and there the angels of God were ascending and descending on it. And behold, the Lord stood above it and said: "I am the Lord God of Abraham your father and the God of Isaac; the land on which you lie I will give to you and your descendants." (Gen. 28: 12–13)
The dream of Jacob's Ladder is highly debated among theologians, but it is generally agreed that is represents both the obligations and inheritance of God's chosen people as well as the perpetual intercourse between heaven and earth, which in the Christian context is symbolized by Jesus Christ, who is depicted sitting on top of the ladder with a banderole connecting him to the sleeping Jacob.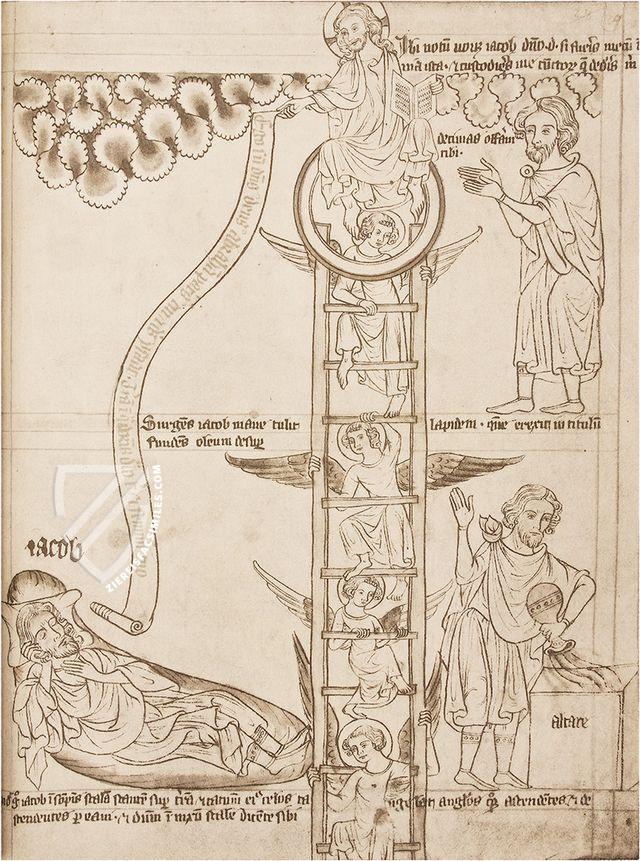 Facsimile Editions
#1

Velislai Biblia Picta

Limited Edition:

970 copies

Binding:

Half leather binding and imitation leather binding (commentary) in cassette

Commentary:

1 volume by Karel Stejskal
Language: English, French, German, Russian, Czech