Verbrüderungsbuch of St. Peter
Description
Verbrüderungsbuch of St. Peter
The Verbrüderungsbuch of St. Peter is an important document of Austro-Bavarian history because it gives the viewer a close-up look at the early days of the Christianization of Salzburg. A fraternity book contains the names of the members of religious orders, secular priests and laymen who joined together in a community of prayer transcending death. The members promised each other mutual help through prayer, celebrations of Mass, and good works. The most famous member of this community was the Irish bishop Virgil, who from 749, 10 years after the foundation of the diocese, shaped the later archbishopric and at the same time presided over St Peter's Abbey. The long series of members begins in 784, the year of Virgil's death, and ends only in the 13th century. Thus, the manuscript today represents a unique ecclesiastical, linguistic, and paleographic testimony.
Verbrüderungsbuch of St. Peter
The Verbrüderungsbuch of St. Peter in Salzburg is a monastic register and one of the oldest and most venerable monuments of Bavarian-Austrian history. It was written ca. 784 in Salzburg and was appended until the mid-13th century, making it the oldest, fully preserved written witness of Christian Salzburg during the time of Bishop Virgil (died 784).
A Christian Fraternity in Salzburg
This famous Codex A 1 from the monastic archives in St. Peter, Salzburg contains the names of diocesan priests and laymen who were members of a spiritual fraternity that sought to obtain spiritual help in this life and after death through prayer, missal sacrifice, and good deeds. However, the manuscript is not only valuable regarding the history of the church, but also served as a unique linguistic and paleographic witness.
A Window into the Medieval Mind
Out of all the codices of this genre, the Verbrüderungsbuch of St. Peter, an archabbey in Salzburg, represents a unique specimen. Its value lays not only in an abundance of important historical, paleographic and linguistic material but moreover an historical theological phenomenon becomes visible; the worldwide Christian attitude of the Archbishop Virgil surfaces, an Irishman in the midst of the Bavarian-Frankish region.
Codicology
Alternative Titles

Verbrüderungsbuch von St. Peter




Verbrüderungsbuch of St. Peter in Salzburg

Size / Format

39 pages / 36.3 × 24.5 cm

Origin

Date

Around 784 – 13th century

Epochs

Style

Language
---
Available facsimile editions:
Facsimile Editions
#1

Verbrüderungsbuch von St. Peter

Commentary:

1 volume (40 pages) by Karl Forstner and Karl F. Hermann
Language: German

K. Forstner, Salzburg. 40 pp. with 30 illustrations. Introductory remarks by K. F. Hermann.

1 volume: Exact reproduction of the original document (extent, color and size)

Reproduction of the entire original document as detailed as possible (scope, format, colors). The binding may not correspond to the original or current document binding.
You might also be interested in: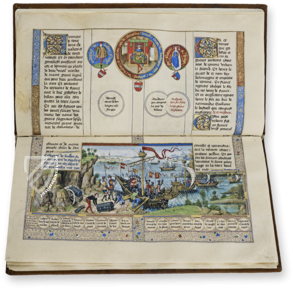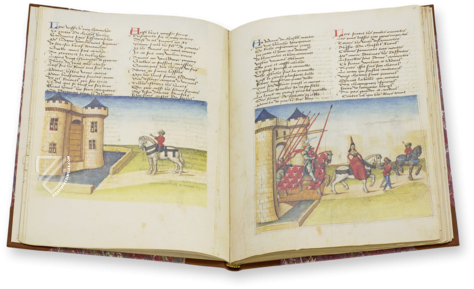 Tournament Book of René d´Anjou
Northern France - France – Around 1446
The splendor of a knights' tournament colorfully illuminated for the King of Naples and Jerusalem: masterful miniatures based on the lost original drawings by Barthélemy d'Eyck
Experience More
Blog articles worth reading