Bible of Marco Polo
Description
Few medieval figures are as popular in the modern imagination as Marco Polo, who travelled with his father into the East, where he came to the court of the great Kublai Khan. His travelogue is full of wondrous stories and represents the first detailed description of China, India, Japan, and other parts of Asia. This Bible, discovered in 17th century China, allegedly once belonged to the famous Venetian, but historians have not been able to confirm this. Nonetheless, it is an extremely rare specimen of a European manuscript that was brought to China in the Middle Ages.
Bible of Marco Polo
This is a truly fascinating Bible that has travelled as far and as wide as its namesake, Marco Polo (1254–1324), whose travelogue telling of his time at the court of Kublai Khan (1215–94) is the most famous in history. Polo does not seem to be a particularly devout man, no more so than any other member of the medieval laity, whose biblical knowledge is greatly exaggerated in the modern mind. Like most people, he simply saw people as Christian and non-Christian, and did not seem to be particularly interested in or judgmental of pagan beliefs. According to Philippe Couplet (1623–1693), a Jesuit missionary from Flanders who spend many years in China, he found this Bible in the home of a wealthy resident of Cham Xo, in Nanking Province who claimed the tattered codex (which was restored in the early 21st century) had belonged to his family for 400 years, since the Yuan Dynasty (1271–1368). Upon his return to Europe, Couplet presented the Bible to the Grand Duke of Tuscany, Cosimo III de' Medici (1642–1723), telling him this pocket Bible made its way to China at the end of the 13th century with Marco Polo. This would mean that it was the only surviving manuscript brought to China between the 13th and 14th centuries by a Latin. Although it makes a good story, there is no tangible evidence that the Bible had actually been owned by Marco Polo. Scholarship indicates the work may have actually been given to the Mongol Emperor of China by a Franciscan missionary sometime in the 13th or 14th century. Nonetheless, the story and the connection to Marco Polo have endured, adding to the charm of this incredible codex, a true unicum!
Codicology
Alternative Titles

La Bibbia di Marco Polo




Bibel des Marco Polo

Origin

Date

13th century

Style

Genre

Language

Script

Gothic Textura Formata

Illustrations

Numerous decorated initials

Content

Old and New Testament
---
Available facsimile editions:
Istituto dell'Enciclopedia Italiana - Treccani
– Rome, 2012
Limited Edition:
350 copies
Facsimile Editions
#1

Bibbia di Marco Polo

Limited Edition:

350 copies

Commentary:

1 volume
Languages: Italian, Chinese

1 volume: Exact reproduction of the original document (extent, color and size)

Reproduction of the entire original document as detailed as possible (scope, format, colors). The binding may not correspond to the original or current document binding.
You might also be interested in: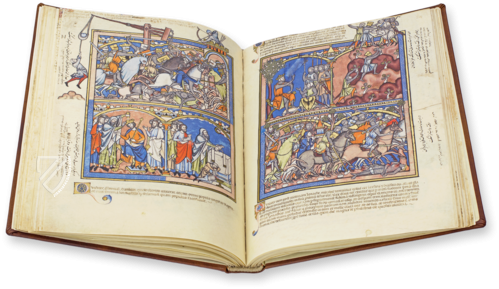 Morgan Crusader's Bible
Paris (France) – Ca. 1250
From King Louis the Saint into the possession of J. P. Morgan in New York via the Shah of Persia: one of the most beautifully illuminated and famous manuscripts of the Middle Ages
Experience More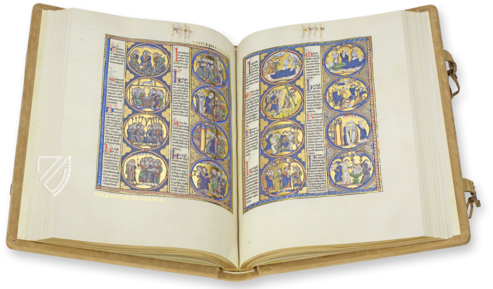 Picture Bible of Saint Louis
Paris (France) – 1226–1234
3 huge volumes, equipped with more than 4,800(!) golden picture medallions for King Louis the Saint: one of the most extensively and magnificently illuminated works in the history of book illumination
Experience More
Blog articles worth reading