Caspar Stromayr - Practica Copiosa
P. I. 46
Stadtbibliothek Lindau (Lindau, Germany)
Description
Caspar Stromayr - Practica Copiosa
Caspar Stromayr was a surgeon and ophthalmologist who practiced in the city of Lindau on Lake Constance and whose groundbreaking surgical textbook from 1559 left a lasting impression on early modern medicine. His progressive textbook primarily addressed hernia surgery and related procedures but also includes a section with one of the earliest ophthalmological works written in the German language. This section addresses ailments such as cataracts and recommends treatments while vigorously criticizing the incompetence and charlatanism of his contemporary ophthalmologists. The paper manuscript is illustrated by artful yet accurate miniatures created with a wonderfully rich color palette, making it one of the earliest and most splendidly adorned work of its type. It remained unbound after the death of Stromayr and was acquired by the city of Lindau in 1577, at which point it was finally bound, but in the wrong order with some texts interlocked. After falling into oblivion for centuries, the work was rediscovered in 1909 and was republished in 1925.
Caspar Stromayr - Practica Copiosa
Caspar Stromayr (d. 1566/67) was a practicing surgeon and ophthalmologist in Lindau on Lake Constance who was the first to differentiate between internal and external hernias. He is believed to have been born to a family of surgeons of Augsburg and practiced his trade in Zurich and Nuremberg before moving to Lindau. There he married Guta, the daughter of Ulrich von Angelburg, another surgeon, in whose practice he probably also worked as a journeyman. This marriage also enabled Stromayr to join the appropriate guild and eventually get partial citizenship in 1561, allowing him to establish his own practice but also requiring him to provide free care for the poor as well as paying high taxes to contribute to the city's defense.
An Unfinished Magnum Opus
His surgical textbook from 1559 focusing on hernias, considered to be an advanced work at the time, features an appendix concerning ophthalmology, one of the earliest works on the subject in German, that describes possible causes of cataracts as well as practical options for treating them. The manuscript presenting his work was created by a scribe and a team of four artists as he was writing it, suggesting he was intimately involved in the creation of the splendid work. Aside from depicting surgical instruments, the mostly full-page miniatures include detailed depictions of contemporary clothing and everyday objects. They thus offer a splendid glimpse of life in the mid-16th century. However, work on the manuscript cuts off abruptly in the middle of some prepared chapters in 1566, so it is assumed that Stromayr died sometime around then or the next year.
The unbound fascicles passed to his father-in-law and were temporarily lent to the Lindau barber Ludwig Oberreit, who left some of his own annotations on the sheets. In 1577, von Angelburg sold the manuscript to the city of Lindau, which had them bound the same year. However, the texts were not organized in the correct order and the ophthalmological text was originally designed as a separate work: the work on hernias was intended as a gift for the Zurich doctor Peter Hafner, while the ophthalmological work was supposed to remain in Lindau.
Codicology
Type

Size / Format

588 pages / 20.0 × 28.5 cm

Origin

Date

1559

Epochs

Style

Language

Illustrations

Numerous illustrative miniatures with a rich color palette, many of them full-page

Content

Textbook of surgery and ophthalmology

Artist / School

Author: Caspar Stromayr (d. 1566/67)
---
Available facsimile editions: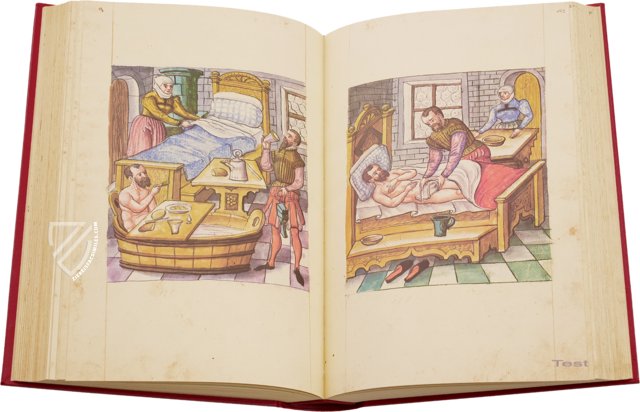 Limited Edition:
895 copies (+ 60 Roman numbered copies)
Detail Picture
Caspar Stromayr - Practica Copiosa
Lancing an Abscess
Although the treatment of hernias is the primary topic of this book, related procedures are also depicted, in this case the incision and draining of an abscess. While the surgeon and his assistants are depicted with looks of concern and concentration, the patient has a serene expression of relief on his face, a feeling that is known by anyone who has ever had a boil lanced. Each of the figures has distinct, individualized facial features that are accentuated by skillful shading.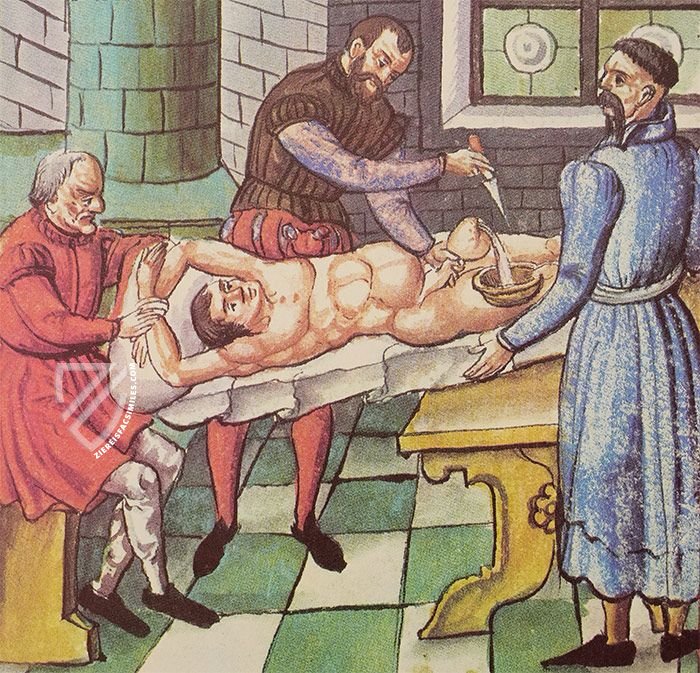 Single Page
Caspar Stromayr - Practica Copiosa
Author Portrait
Caspar Stromayr (d. 1566/67), who was born into a family of surgeons in Augsburg, is the author of this richly illustrated surgical manual, but also wrote one of the earliest works on ophthalmology in the German language. In it, he describes possible causes and options for the treatment of cataracts while decrying the charlatanism of contemporary ophthalmologists.
Stormayr's portrait makes the reason for his interest in ophthalmology: an otherwise handsome young man dressed in a blue shirt and lace collar with curly brown hair, high cheekbones, and a dimpled chin has an abnormal left eye, which is swollen, red, and has a large cataract over its lens. Despite his affliction, the talented surgeon looks calmly and confidently out from the page.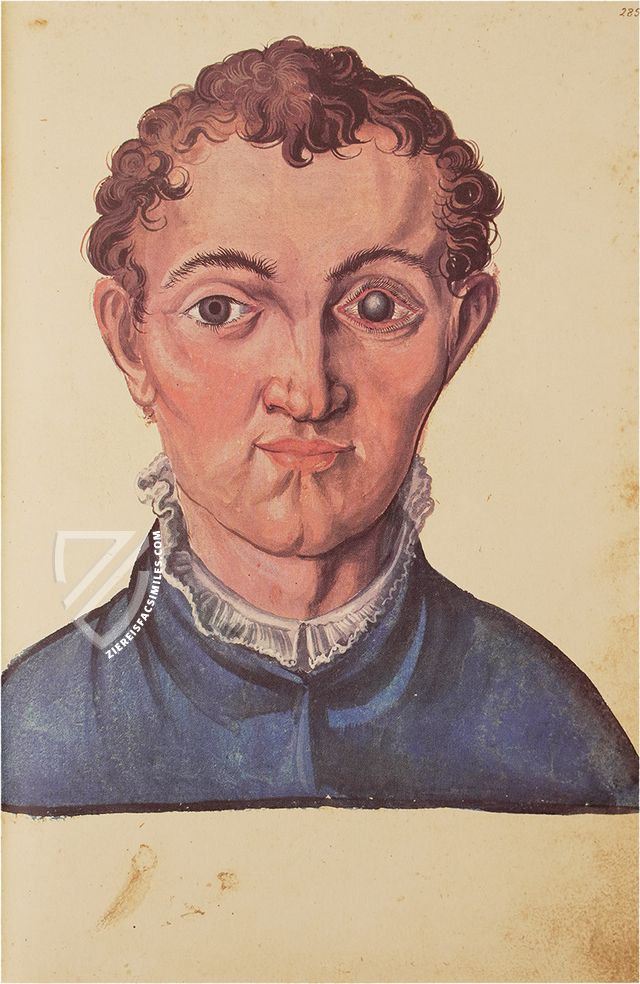 Facsimile Editions
#1

Caspar Stromayr - Practica Copiosa (Luxury Edition)

Limited Edition:

895 copies (+ 60 Roman numbered copies)

Binding:

Bound in red leather in the style of contemporary Renaissance bindings with rich gold ornamentation

Commentary:

1 volume
Language: German

1 volume: Exact reproduction of the original document (extent, color and size)

Reproduction of the entire original document as detailed as possible (scope, format, colors). The binding may not correspond to the original or current document binding.