Codex Laurentianus Mediceus
Description
Codex Laurentianus Mediceus
The individual manuscripts of the Biblioteca Medicea Laurenziana in Florence, which belonged to the historical basic holdings when the library was opened in 1571, are each referred to as Codex Laurentianus. The Codex Mediceus is a 5th century Virgil (70-19 BC) manuscript written in rustic capitals preserved in the Laurentian Library, which contains the Georgics, Aeneid, and part of the Eclogues. A note at the end of the Eclogues records that the manuscript was corrected at Rome by Turcius Rufius Apronianus Asterius, who was consul in 494. The manuscript was recorded in Bobbio in the Emilia-Romagna region in 1467. In 1471, the manuscript found its way into the hands of the Italian humanist Julius Pomponius Laetus (1428-98) who made corrections of his own in red ink. It was first preserved in the Vatican Library, and later purchased by Cosimo I de' Medici (1519-74), the Grand Duke of Tuscany, from the heirs of Cardinal Rodolpho Pio da Carpi (1500-64), a prominent humanist and patron of the arts in his own right.
Codicology
Alternative Titles

Scilicet P. Virgilii Maronis Bucolicorum pars, Georgicorum libri IV et Aeneidos libri XII

Size / Format

221 folios / 22.0 × 15.0 cm

Origin

Date

5th Century

Epochs

Style

Genre

Language

Artist / School

Virgil (author)

---
Available facsimile editions:
Limited Edition:
500 copies
Facsimile Editions
#1

Vergili Medicei simillimum publice phototypice impressum. Codex Laurentianus Mediceus

Limited Edition:

500 copies

Binding:

Vellum binding with brown leather straps and cream leather facings

1 volume: Exact reproduction of the original document (extent, color and size)

Reproduction of the entire original document as detailed as possible (scope, format, colors). The binding may not correspond to the original or current document binding.
You might also be interested in: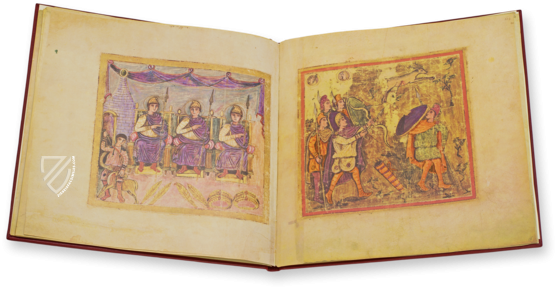 Vergilius Romanus
Rome (Italy) – Around 500
The bridge between the art of antiquity and the Middle Ages: Virgil's famous works in a Late Antique manuscript
Experience More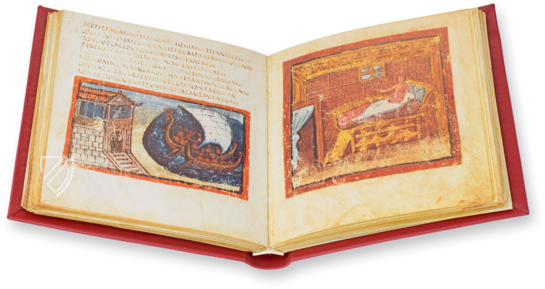 Vergilius Vaticanus
Rome (Italy) – Around 400
Like murals from Pompeii: the oldest Vergil manuscript from antiquity and the most important example of an illustrated book of the period
Experience More
Blog articles worth reading