Conrad Gessner: Vogelbuch
Description
Conrad Gessner: Vogelbuch
The Vogelbuch ( i.e. 'Bird Book') is the third volume of the influential opus magnum of the physician, naturalist and philologist Conrad Gessner (1516–1565): the Historia animalium. In this four-volume Latin compendium, published between 1551 and 1558, the humanist scholar brought together the entire zoological knowledge of his time, aided by his extensive contacts with many other European scholars. For both the text and the remarkable illustrations, he drew on existing works, which is why quite a few mythical creatures appear in the encyclopedia. At the same time, however, it also contains scientific observations and impressively realistic woodcuts, with which Gessner laid a foundation for modern zoology. The first German edition of the Vogelbuch was translated by Rudolf Hüsli (d. 1600) and published by Christoph Froschauer in Zurich in 1557. In this book all birds known at that time, but also other flying animals such as the bat, are comprehensively described in alphabetical order and illustrated by over 200 elaborate and in some cases full-page woodcuts.
Conrad Gessner: Vogelbuch
Conrad Gessner (1516–1565) was a Zurich physician, naturalist and philologist. After studying in Bourges and Paris, he worked as a teacher, professor of Greek language and natural history as well as a physician and continually supplemented his livelihood through scholarly writing. What began pragmatically soon became his passion: Until the end of his life, he pursued studies in natural history and even published a geological treatise in the year of his death – he died of the plague in 1565.
Gessner's Magnum Opus
With the Historia animalium, which was intended to bring together all the zoological knowledge of his time, Gessner not only created his personal magnum opus, but also became the founder of modern zoology, as he gave greater weight to his own observations of nature than to the traditional knowledge of antiquity and the Middle Ages in the four-volume work. However, these still form the basis of the Latin compendium. It is also a reflection of his philological interest: Gessner attached great importance to listing the individual names of the animal species in different languages and mentioning all vernacular variations of their names.
Historia Animalium
Gessner initially published the four extensive volumes on live-bearing quadrupeds (Quadrupedes vivipares), egg-laying quadrupeds (Quadrupedes ovipares), birds (Avium natura) and aquatic creatures (Piscium & aquatilium animantium natura) in Latin. They were published between 1551 and 1558 by Christoph Froschauer in Zurich. In 1587, a further posthumous publication of a fifth volume on snakes was released, which appeared in his estate.
Science and Fantasy
Even the first editions were illustrated with hundreds of woodcuts, which form an important part of the work. While he drew on existing works for most of the illustrations, such as the famous Rhinoceros by Albrecht Dürer or the giraffe from Bernhard von Breydenbach'sPeregrinatio in terram sanctam, he also made some woodcuts himself – 65 in number. Many of the illustrations are purely works of fantasy or were made on the vague basis of verbal descriptions. However, there are also some based on precise observations of nature, which was still an absolute novelty in the 16th century.
The Book of Birds
The entire work quickly became a zoological bestseller, which brought Gessner international fame. Rudolf Hüsli (d. 1600)** translated the third volume of the series into German just two years after its publication. This translation was first published in 1557, also by Christoph Froschauer in Zurich. Here too, the texts, which comprehensively describe all birds and flying animals known at the time in alphabetical order, are supplemented by elaborate woodcuts, some of which are astonishingly naturalistic and come in various sizes.
Codicology
Alternative Titles

Vogelbuch von Conrad Gessner




Vogelbuoch: darinn die Art, Natur und Eigenschafft aller Vöglen, sampt jrer waren Contrafactur angezeigt wirt




Vogelbuch. Faksimile nach der Ausgabe bei Froschauer, Zürich 1557.




Historia animalium




Avium natura

Size / Format

287 pages / 36.0 × 24.0 cm

Origin

Date

1557

Epochs

Style

Genre

Language

Illustrations

More than 200 woodcuts + 1 title page

Content

Descriptions of 316 bird species

Artist / School

Conrad Gessner (author)
Rudolf Hüsli (translator)
Christoph Froschauer (printer/publisher)
---
Available facsimile editions: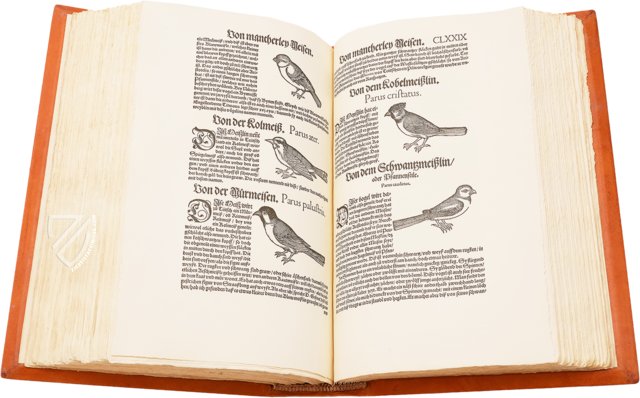 Limited Edition:
35 copies
---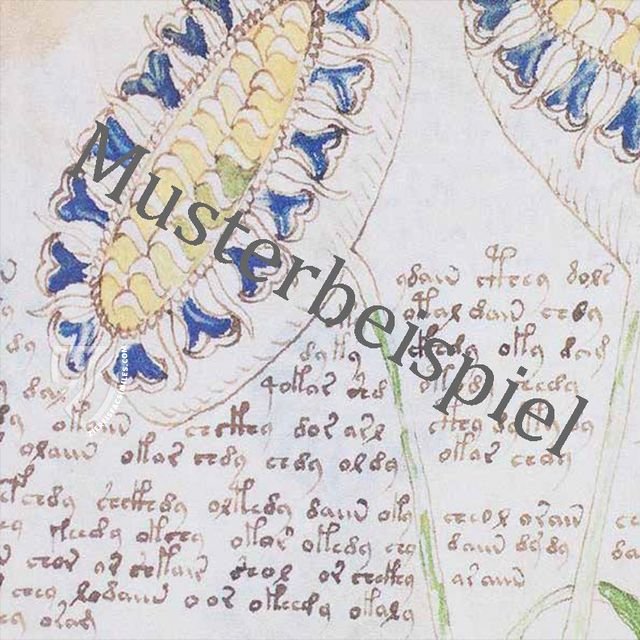 Limited Edition:
350 copies (total printrun 385 copies)
Detail Picture
Conrad Gessner: Vogelbuch
Peacock
This large woodcut shows the "most beautiful of all birds" - the peacock (Latin: Pauo), for which Hüsli uses the spelling "Pfaw", mentioning that elsewhere it is called "Pauw". Depicted is a male specimen standing sublimely on a small, grassy elevation with its tail feathers erect. The bird's extremely detailed and differentiated plumage is remarkable, consisting of the most diverse types of feathers - and without any coloration at all. Another striking detail is the animal's muscular chest, which makes it look all the more imposing.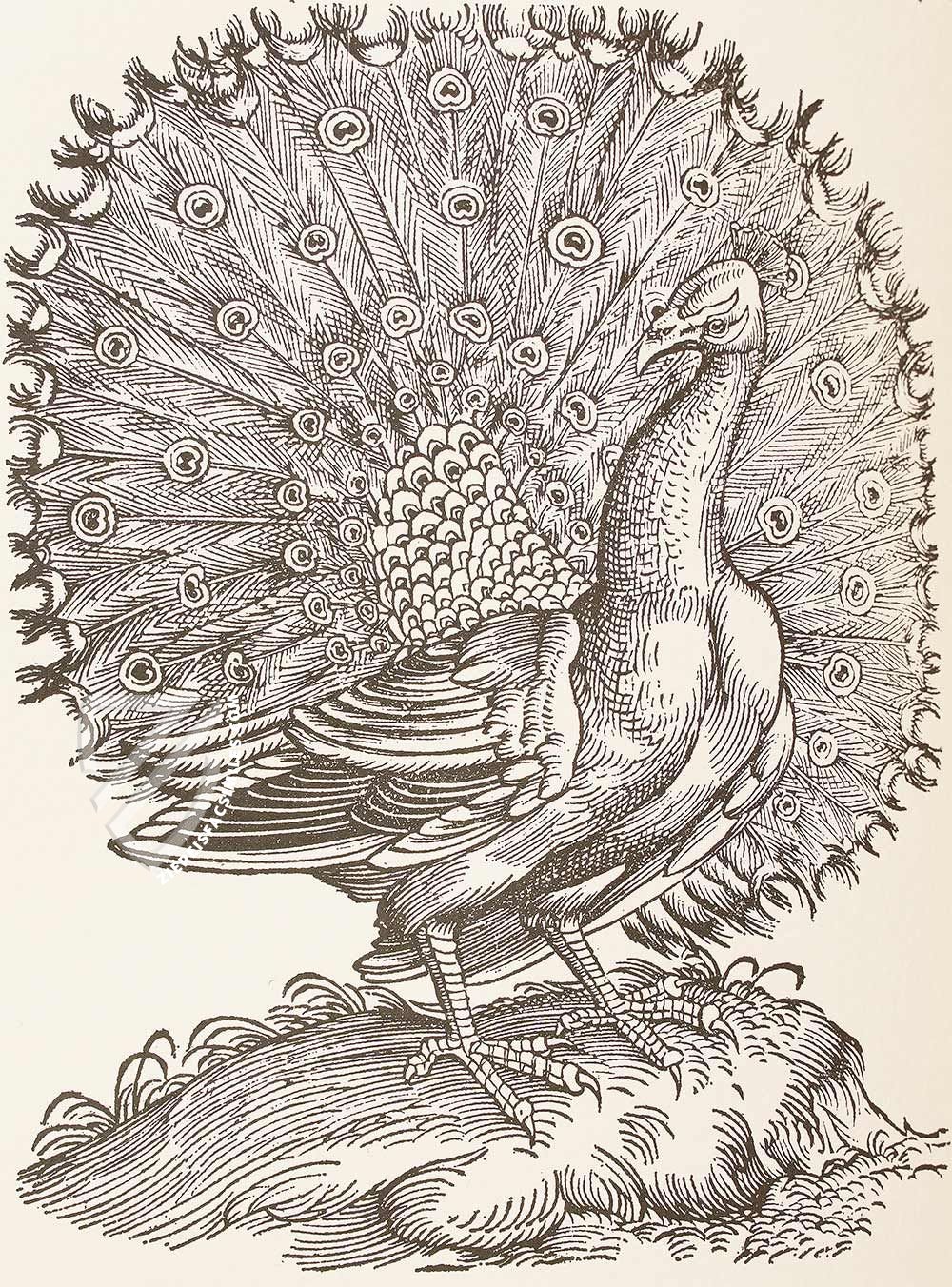 Single Page
Conrad Gessner: Vogelbuch
Great Crested Grebe
This almost full-page woodcut probably shows a Great Crested Grebe, which Gessner still lists as Colymbus maior and for whose genus he finds various vernacular terms: Dücchel, Fluder, and Merchen. The large bird appears strangely staged in the image. The head is bent backwards as if for feather grooming, while the feet stick out to the sides. At the same time, the plumage, especially of the wing, is executed in great detail.
These indications suggest that the woodcut was made from the model of a dead specimen of the species, which was brought into the depicted posture for this purpose – a not uncommon method of animal study in the early modern period. This was certainly possible, as Gessner reports in the accompanying text that the Great Crested Grebe occurs in many Swiss lakes and was traditionally caught with nets in the Greifensee on "Düccheltag" in August.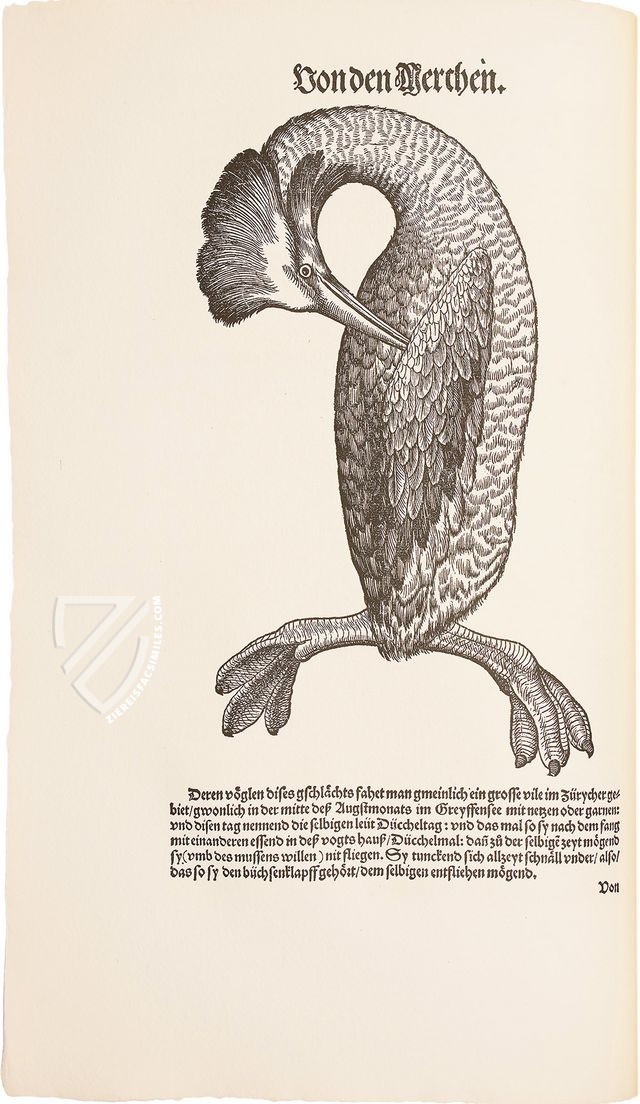 Facsimile Editions
#1

Vogelbuch. Faksimile nach der Ausgabe bei Froschauer, Zürich 1557. (Luxury Edition)

Limited Edition:

35 copies

Binding:

Brown blind tooled leather on wooden boards.

Commentary:

1 volume by Vinzent Ziswiler
Language: German

The commentary volume (enclosed) includes a synoptic index of Gessner's Latin and German bird names and their modern scientific synonyms.

1 volume: Exact reproduction of the original document (extent, color and size)

The luxury edition was printed on a hand press and numbered 1-35. The special paper used was handmade and watermarked.

Special Offer until 01/31/2024 (like new)

3,499

€
---
#2

Vogelbuch. Faksimile nach der Ausgabe bei Froschauer, Zürich 1557. (Standard Edition)

Limited Edition:

350 copies (total printrun 385 copies)

Binding:

Brown blind tooled leather on wooden boards.

1 volume: Exact reproduction of the original document (extent, color and size)

The normal edition was printed on Ingress handmade paper

Facsimile Copy Available!

Price Category: €€
(1,000€ - 3,000€)