Cracovian Almanac for the Year 1474
Description
Cracovian Almanac for the Year 1474
The Almanach cracoviense ad annum 1474 or Cracovian Almanac for the Year 1474 is a broadside astronomical wall calendar written in Latin and the oldest known print in Poland. Produced only twenty years after the invention of the printing press, the single sheet is an incunabulum – an early print predating the 16th century – published by the itinerant Bavarian printer Kasper Straube in 1473 at the beginning of his three-year sojourn in Kraków. Petrus Gaszowiec has been hypothesized as a possible author of the work that, like other almanacs and calendars, lists the holidays of the liturgical year, astronomical data such as planetary oppositions and conjunctions, and medical advice such as the best days for bloodletting. Only a single copy of the work has survived to the present, which is stored in the Jagiellonian University Library.
Codicology
Alternative Titles

Calendarium Cracoviense




Almanach Cracoviense ad Annum 1474




Najstarszy druk krakowski




Stareĭshee krakovskoe pechatnoe izdanie




Oldest Cracow incunabulum




Typus fundationis academiae cracoviensis

Size / Format

1 leaf / 37.0 × 26.2 cm

Origin

Date

1474

Epochs

Style

Genre

Language
---
Available facsimile editions:
Facsimile Editions
#1

Almanach Cracoviense ad Annum 1474: Facsimile

Commentary:

1 volume
Languages: English, Polish, Russian

1 volume: Exact reproduction of the original document (extent, color and size)

Reproduction of the entire original document as detailed as possible (scope, format, colors). The binding may not correspond to the original or current document binding.
You might also be interested in: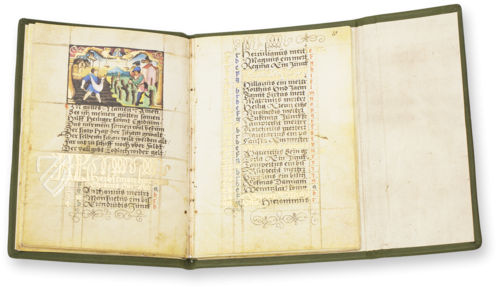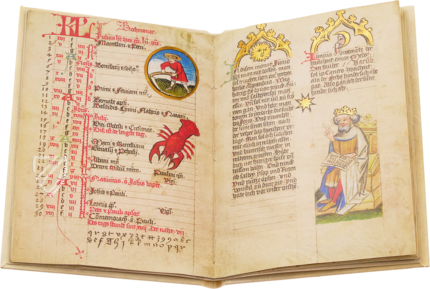 Medical and Astrological Almanac
Southern Alsace (France) – Ca. 1445
Health tips and nutritional advice from the 15th century: a colorfully illuminated calendar manuscript with golden accents as a guide through everyday life in the Middle Ages
Experience More
Blog articles worth reading