Divine Comedy - Florence-Milan Manuscript
Description
Divine Comedy - Florence-Milan Manuscript
Jacopo della Lana wrote one of the oldest and most highly regarded commentaries on the Divine Comedy by Dante Alighieri, which is presented alongside the work itself in this fine Gothic Italian manuscript. After centuries of being divided between two libraries in Florence and Milan, the fine vernacular manuscript has been reunified in its original form.
Divine Comedy - Florence-Milan Manuscript
Almost 700 years after it was created, the precious codex known as the Dante Riccardiano-Braidense, is being united into a single, complete codex after having been long divided into two fragments. It is one of the finest artifacts in the literary tradition of Dante Alighieri (1265–1321) and is named after its respective repositories in Florence's Biblioteca Riccardiana and Milan's Biblioteca Nazionale Braidense. Jacopo della Lana (ca. 1290 – ca. 1365), called "Lanèo", authored one of the first and most highly acclaimed commentaries on the Divine Comedy ca. 1323–28, and thus not long after Dante's death. His commentary enjoyed immediate and lasting success due to its use of vernacular Italian as opposed to Latin, which was more prevalent at the time. Entire passages of Lanèo's commentary were later incorporated into the so-called Ottimo Commento or "Excellent Commentary". The popularity of the commentary can be attested to by the hundreds of surviving manuscripts containing it, including this fine specimen of Gothic Italian illumination, which originated ca. 1350.
Codicology
Alternative Titles

Il manoscritto Riccardiano-Braidense della Commedia di Dante Alighieri




Göttliche Komödie - Codex Riccardiano-Braidense




Dante Riccardiano-Braidense

Size / Format

572 pages / 33.0 × 21.0 cm

Origin

Date

Ca. 1350

Epochs

Style

Genre

Language

Script

Gothic Textura Rotunda

Artist / School

Jacopo della Lana
---
Available facsimile editions: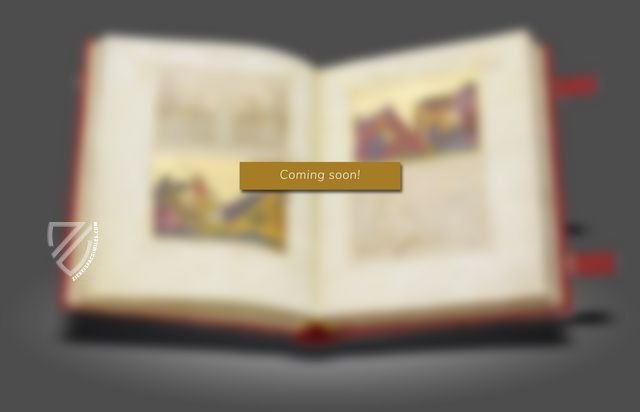 Salerno Editrice
– Rome, 2007
Limited Edition:
599 copies
Facsimile Editions
#1

Il Manoscritto Riccardiano-Braidense della Commedia di Dante Alighieri

Limited Edition:

599 copies

Commentary:

1 volume by Mirko Volpi and Arianna Terzi
Language: Italian

1 volume: Exact reproduction of the original document (extent, color and size)

Reproduction of the entire original document as detailed as possible (scope, format, colors). The binding may not correspond to the original or current document binding.