Divine Comedy - Hamburg-Altona Manuscript
MS N.2 Aa 5/7
Bibliothek des Gymnasiums Christianeum (Hamburg, Germany)
Description
Divine Comedy - Hamburg-Altona Manuscript
The Divine Comedy - Hamburg-Altona Manuscript is an extraordinarily artful manuscript of the Divinia Commedia by Dante Alighieri, the cornerstone of Italian literature and one of the most important and influential texts of the Middle Ages. Work on the manuscript began sometime in the second half of the 14th century but was abandoned ca. 1410, which left it in a state of progress that allows art historians an inside look into the production process. Although the third part, Paradiso, was left unfinished, Inferno and Purgatorio are masterfully illuminated including a terrifying full-page miniature of Lucifer. The presence of different scripts indicates that a team of scribes were responsible for the text, which was neatly written in two columns consisting of 36 lines at most.
Divine Comedy - Hamburg-Altona Manuscript
The prestigious Gymnasium Christianeum in the Altona district of Hamburg was founded in 1738 by King Christian VI of Denmark and Norway (1699–1746). Thanks to various donations and acquisitions, its library had already grown to 10,000 volumes in the early 19th century, and numbers over 27,000 volumes today including some important early prints and medieval manuscripts. One of the gems of that impressive collection is the so-called Codex Altonensis, which is ranked among the most richly illuminated manuscript copies of the Divine Comedy by Dante Alighieri (ca. 1265–1321) and was added to the library's collections in 1768. Although the illumination in the gouache technique is incomplete, the miniatures are incredibly well executed and entertaining and the paints that were applied more than 600 years ago still possess a freshness and luminosity that make this manuscript so significant.
Dante's Vision
In his epic, Dante takes the reader with him on an adventurous journey of a very special kind. Together with the Roman poet Virgil (70-21 BC), he traverses Hell, ascends the mountain of Purgatory, and finally enters Paradise. In doing so, each stage is in turn divided into nine concentric rings. During this excursion, he meets approximately 600 souls from mythology, poetry, and history, who have to endure various punishments in Hell or dwell in Heaven, each in accordance with their own deeds. The story of the Divine Comedy is a personal vision of Dante's full of symbol and allegories, a philosophical fiction that is vividly told in spite of the abstract story. Dante played on man's primal fears, brought past events to life, and slipped in contemporary theological insights. The impressive epic astounds through its figurative language, its irony, and its striking comparisons; it remains one of the most important works of world literature to this day.
A Tax Saving Scheme?
Johann Peter Kohl (1698–1778) had been active as a professor in St. Petersburg before he retired with an annual pension of 200 rubles in 1727 and moved to Hamburg. There he continued to pursue his interests as an independent scholar, which included collecting books. However, his new home in the Hanseatic city also came with high taxes, which he was loath to pay, so his eyes were drawn north across the Elbe to the city of Altona, which was then part of the Kingdom of Denmark. Kohl petitioned the Danish King offering to donate his magnificent library to the Gymnasium Christianeum and move to Altona in exchange for being exempt from taxes for the rest of his life. The request was granted and the so-called Donum Kohlianum, consisting of 18 manuscripts as well as 52 larger and 466 smaller volumes, was handed over on the 2nd of May 1768.
A Mysterious Gem
Although the Dante manuscript at hand was the most precious and important piece in the collection, virtually nothing is known about its origins other than that the idiosyncrasies of the language and imagery point to Bologna. There is evidence of the hands of three illuminators in the work: one worked on the Inferno while the other two collaborated on the Purgatorio and the Paradiso remained unillustrated. Ten pages appear to be missing, leaving 142 goatskin folios that have been preserved with mild wear and a few burn holes that have been patched. This indicates that the manuscript was both used often and stored correctly over the centuries.
Codicology
Alternative Titles

Göttliche Komödie - Codex Altonensis




Divina Commedia: Codex Altonensis




Codex Altonensis of the Divina Commedia




Divine Comedy - Codex Altonensis

Size / Format

284 pages / 33.0 × 24.5 cm

Origin

Date

1350–1410

Epochs

Style

Genre

Language

Script

Italian Gothic minuscule

Illustrations

Nearly 300 Miniatures

Artist / School

Dante Alighieri (1265–1321) (author)
---
Available facsimile editions:
Detail Picture
Divine Comedy - Codex Altonensis
Flight from Hell
Virgil and Dante begin their escape by climbing feet-first down Satan's ragged fur and when they reach his genitals, they pass through the center of the universe and gravity from the Northern Hemisphere of land to the Southern Hemisphere of water. The miniature depicts the confusion initially experienced by Dante when Virgil begins to climb "upward" toward the surface at the antipodes and he initially believes they are returning to Hell. They finally emerge from a narrow chasm under a starry sky.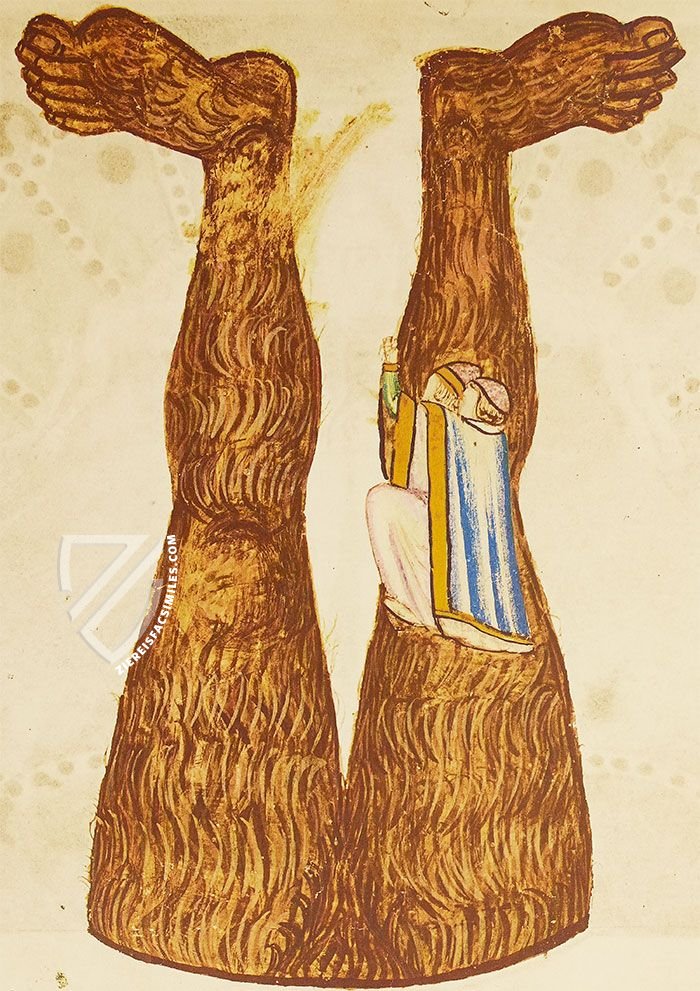 Single Page
Divine Comedy - Codex Altonensis
Lucifer
Dante depicts the fallen Angel of Light who once tried to usurp God's power as being frozen in ice at his midsection; he is slobbering, wordless, and receives the same punishments in Hell as the rest of the sinners. Lucifer has three faces with three mouths, a perversion of the Holy Trinity, but still retains the six wings he had when he was counted among the seraphim.
Each mouth chews on a prominent traitor: Brutus and Cassius dangle with their feet in the left and right mouths as punishment for betraying Julius Caesar while Judas, the ultimate betrayer, has his head gnawed by the central, most vicious mouth as his back is continuously flayed by Lucifer's claws. Dante and Virgil are shown climbing down his fur as they begin their flight from Hell.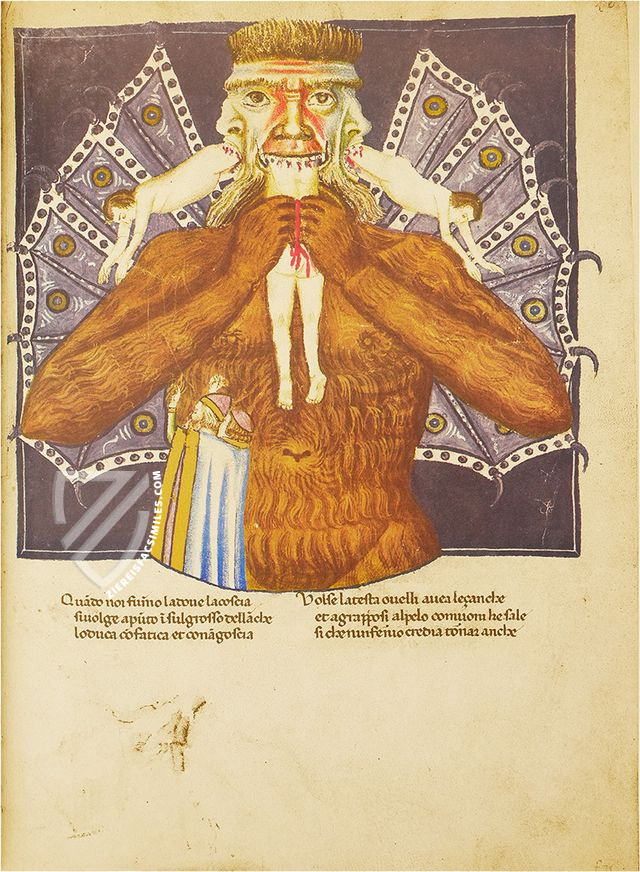 Facsimile Editions
#1

Divina Commedia: Codex Altonensis

Limited Edition:

600 copies

1 volume: Exact reproduction of the original document (extent, color and size)

Reproduction of the entire original document as detailed as possible (scope, format, colors). The binding may not correspond to the original or current document binding.
You might also be interested in:
Blog articles worth reading