Divine Comedy of Sandro Botticelli
Description
Divine Comedy of Sandro Botticelli
The Divine Comedy with illustrations by Sandro Botticelli originates from between 1480 and 1490 in Florence and was commissioned by Lorenzo di Pierfrancesco de' Medici (1463–1503). This significant work of world literature was and continually is received in the visual arts. The breathtaking illustrations of this edition are counted among the most famous works by Botticelli.
The Divine Comedy of Sandro Botticelli
One of the most important works in world literature originates from the period between 1307 and around 1321 in Italy. The Divine Comedy, also known by its Italian title Divina Comedia, is simultaneously the first and most famous Italian piece of literature. Dante Alighieri composed this timeless tale. The work has been adapted into countless films and musical pieces, paintings and illustrations, sculptures and architecture, and even a video game has been inspired by the Divine Comedy. Hardly any other literary work from the Middle Ages has had such an influence. The world famous painter Sandro Botticelli made a total of 92 pen and ink drawings, which adorn this edition of the Divine Comedy and belongs among the master's greatest artworks.
Immortal Literature
The story of the Divine Comedy is a personal vision of Dante's as he represents Hell, Purgatory, and Paradise. It is a tale full of symbol and allegories, a philosophical fiction that is vividly told in spite of the abstract story. Dante played on man's primal fears, brought past events to life, and slipped in contemporary theological insights. The impressive epic astounds through its figurative language, its irony, and its striking comparisons. Even if everyone does not understand this staggering fiction, the Divine Comedy has nonetheless remained one of the most important works of world literature to this day.
Botticelli's Illumination
Botticelli was one of the significant painters of the Early Italian Renaissance. Today, his paintings hang in the most important art museums in the world. His picture cycle of the Divine Comedy originates from between 1482 and 1503 at the behest of Lorenzo di Pierfrancesco de' Medici (1463–1503). These 92 illustrations are counted among his most famous works. In technical perfection, the pen and ink drawings exemplify the events, people, and fable-like creatures of the Divine Comedy. The edition of the epic with Botticelli's illustrations was commissioned by the Renaissance Prince Alfonzo de Medici and originates from between 1480 and 1490. This inestimably valuable manuscript exists today in the Vatican Library.
Codicology
Alternative Titles

Dante Alighieri's Divine Comedy




Divina Commedia con illustrazioni di Sandro Botticelli




Dantes Divina commedia mit den Illustrationen von Sandro Botticelli




Die Göttliche Komödie mit Illustrationen von Sandro Botticelli

Size / Format

184 pages / 63.0 × 27.0 cm

Origin

Date

1480–1490

Epochs

Style

Genre

Language

Script

Humanistic Rotunda

Illustrations

92 drawings, 4 of which are completely illuminated

Patron

Lorenzo di Pierfrancesco de' Medici (1463–1503)

Artist / School

Dante Alighieri (1265–1321) (author)
Sandro Botticelli (ca. 1445–1510) (illuminator)
Nicolaus Mangona (scribe)

Previous Owners

Queen Christina of Sweden (1626–89)
---
Available facsimile editions: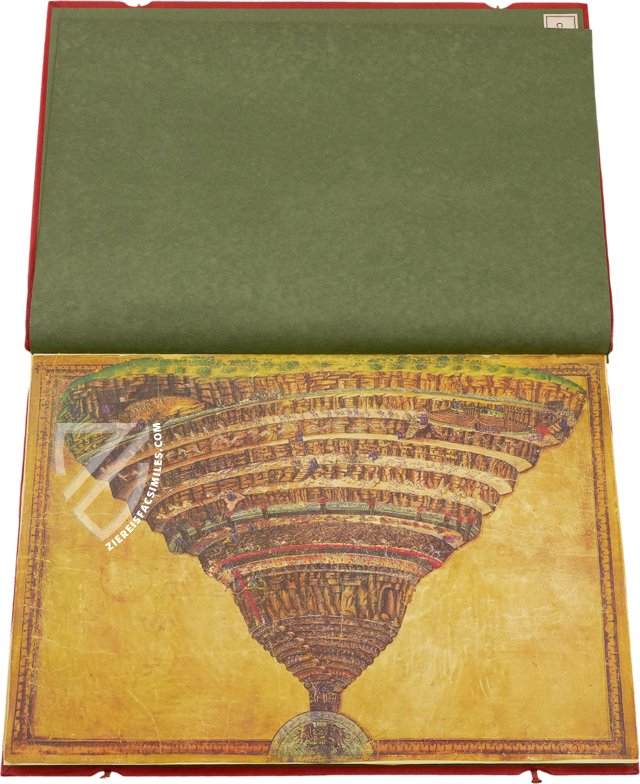 Belser Verlag
– Zurich, 1986
Limited Edition:
500 copies
---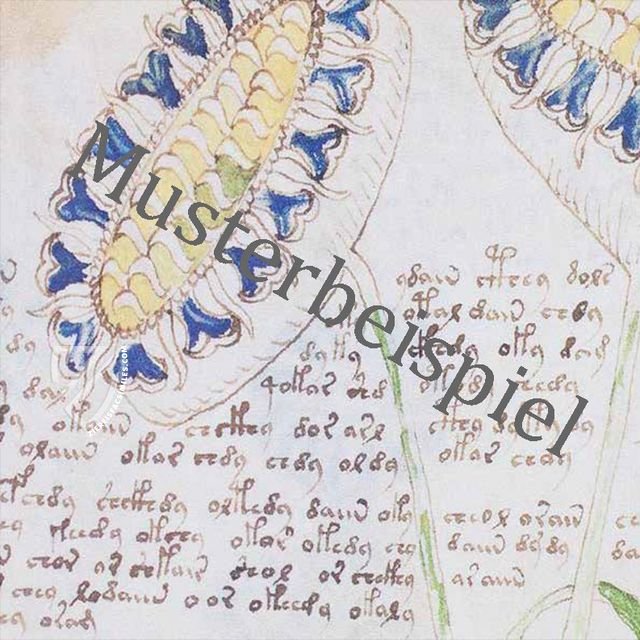 Belser Verlag
– Zurich, 1986
---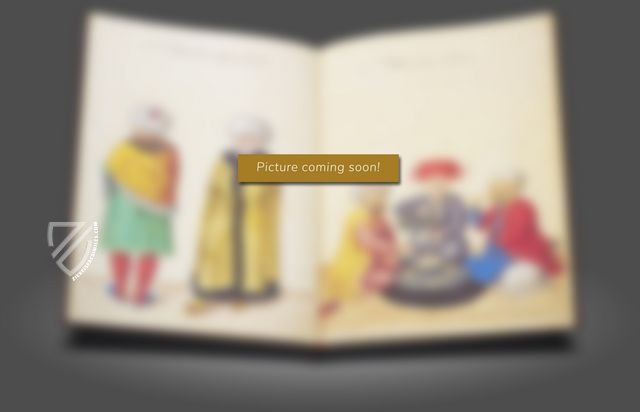 Detail Picture
Divine Comedy of Sandro Botticelli
Lucifer
Botticelli's second drawing of Lucifer from Inferno XXXIV spans two pages and also illustrates the full story of this canto. Aside from depicting Lucifer as a furry monster with bat wings and three heads – each with terrifying visages and two horns – Dante and Virgil are shown progressing through the Ninth Circle towards the center of Hell. The detail of this unfinished miniature is impressive, and one can only imagine how terrifying it would be if it were finished in full color.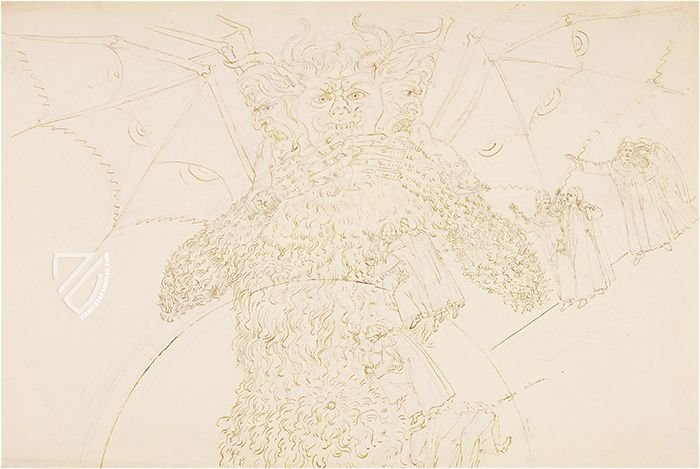 Single Page
Divine Comedy of Sandro Botticelli
Map of Hell
This magnificent full-page miniature presents Hell as an abyss resembling a quarry consisting of nine rings with Lucifer stuck in ice at the center. Although Hell is described in the Bible as a lake of fire, but both Dante and Botticelli conceived of it as a cave created when God threw Lucifer out of Heaven.
The first five rings are reserved for the unbaptized, "good" heathens ignorant of Christ, and those unable to control their lust, gluttony, greed, anger, and revenge. Murderers, suicides, blasphemers, sodomites, and anyone guilty of heresy and violence dwell in the next two rings. The last two rings contain those guilty of fraud and treachery such as witches, thieves, astrologers, seducers, corrupt politicians, alchemists and sowers of discord.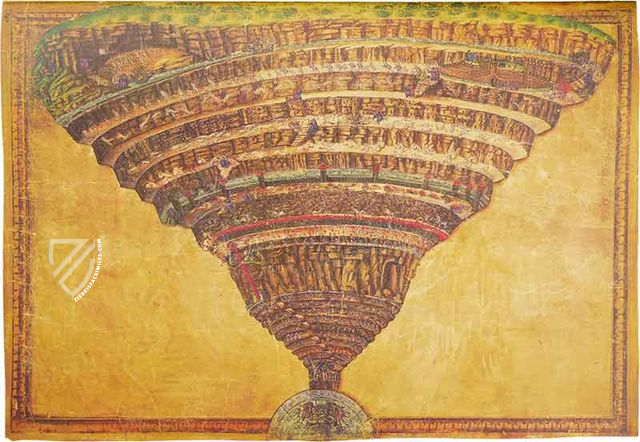 Facsimile Editions
#1

Dantes Divina Commedia mit den Illustrationen von Sandro Botticelli

Limited Edition:

500 copies

Binding:

Brown leather with a decorative linen insert on the cover

Commentary:

1 volume (184 pages) by Peter Dreyer
Language: German

1 volume: Exact reproduction of the original document (extent, color and size)

Reproduction of the entire original document as detailed as possible (scope, format, colors). The binding may not correspond to the original or current document binding.

Facsimile Copy Available!

Price Category: €€€
(3,000€ - 7,000€)
---
#2

Dantes Divina Commedia mit den Illustrationen von Sandro Botticelli (Normal Edition)

Commentary:

1 volume (184 pages) by Peter Dreyer
Language: German

1 volume: Exact reproduction of the original document (extent, color and size)

Reproduction of the entire original document as detailed as possible (scope, format, colors). The binding may not correspond to the original or current document binding.

Facsimile Copy Available!

Price Category: €€
(1,000€ - 3,000€)
---
#3

Divina Commedia Illustrata da Sandro Botticelli

Publisher:

Canesi

– Rome, 1964

Binding:

Grey linen with a red leather spine, corners, and title

Commentary:

1 volume by Salvatore Battaglia, Lamberto Donati and Virgilio Guzzi
Language: Italian

1 volume: This facsimile is not complete.

Reproduction of the entire original document. Botticelli's illustrations are reduced and rendered in black and white. The binding may not correspond to the original or current document binding.

Facsimile Copy Available!

Price Category: €€
(1,000€ - 3,000€)