German Prayer Book of the Margravine of Brandenburg
Description
German Prayer Book of the Margravine of Brandenburg
One of the most beautiful and splendidly furnished manuscripts of German book art was made: the German Prayer Book of the Margravine of Brandenburg. The work was completed in 1520 for the occasion of Susanna of Bavaria's wedding to Casimir, Margrave of Brandenburg-Ansbach and was decorated in strict accordance with her wishes. 47 large-format, impressive miniatures illustrate the text and 214 pages of the manuscript feature frames inspired by Flemish, Italian and German examples. This splendid combination of artistic influences was an early triumph by an Augsburg illuminator named Narziß Renner, who was only 18 years old at the time. Throughout the manuscript, there are hidden indicators of the private life of the young marchioness in its shimmering gold bordures and excitingly life-like and colorful miniatures, including a full-page hunting scene.
German Prayer Book of the Margravine of Brandenburg
A handwritten and illuminated prayer book was created in 1520 at the behest of Susanna von Bayern (of Bavaria). With its extravagant richness of design, it belongs among the most beautiful manuscripts ever composed in Germany. The prayer book was presumably commissioned for the wedding of Susanna with Casimir, the Margrave of Brandenburg-Ansbach, and contains numerous personal allusions to the bride. 47 large-format, impressive miniatures in splendid colors illustrate the German Prayer Book of the Margravine of Brandenburg. The elaborate bordures and marginal decorations, which are set against a background of high-quality glimmering gold, are especially charming. Numerous colorful large initials with colorful backgrounds further ennoble this private devotional book.
The Niece of the Kaiser
Susanna von Bayern, a niece of Kaiser Maximilian, already came into contact with the works of important German artists at a young age. Her uncle was considered to be a great patron of the arts and some of the most important painters and book illustrators worked at his behest. Among them were Albrecht Dürer, Lucas Cranach, and Hans Holbein. Maximilian was also the best man at the wedding of his niece in Augsburg in 1518. Susanna was a pious young woman of firm religious conviction who was nonetheless vivacious. She loved nature, enthusiastically participated in the noble sport of hunting, and celebrated boisterous festivals at court. A few miniatures and marginal decorations in her personal prayer book indicate her favorite pastimes. For example, a full-page miniature is dedicated to the hunting of a deer and the depiction of small, sprightly angelic figures is reminiscent of a dancing community festival.
A Young Master Proves Himself
The recently-turned 18-year-old Augsburg illuminator by the name of Narziß Renner (1502–36) is responsible for the design of the prayer book. The unbelievably talented and limitless creative painter oriented himself on famous examples, e.g. Hans Burgkmaier and Lucas Cranach for the furnishing of his book. Renner appears to be especially influenced by the works of the graphic designer from Regensburg Albrecht Altdorfer. Renner was even able to exceed his ideal through his fresh naturalness and wealth of ideas. He combined various artistic influences with one another, e.g. he presents his bordure decoration in the Flemish, Italian, and German styles of illumination. Décor consisting of colorful flowers, fruits, and small animals alternate with depictions of cornucopias and atlases, as was typical in the Italian Renaissance. Acanthus tendrils with golden pollens in the Gothic style of Augsburg show that he also dealt with German artistic styles that existed long before his birth.
Splendid Color and Gold Adornment in Excess
Nearly every page of the precious manuscript shines with a splendid variety of color. The expressive pictures and pages of text are framed by elaborate golden bordures. The imaginative miniatures of the prayer book show, as previously mentioned, private details of the life of Susanna von Bayern. The work opens up with portraits and escutcheons of Margrave Casimir and his wife. Frolicking angelic figures could be seen as an allegory for the vivaciousness of the young bride and a few depictions show members of her royal household, e.g. a dwarf feeding a trained raven. Numerous local saints from the Franconian region of southern Germany who were venerated by Susanna are pictured. The prayer book was composed in vernacular at her personal request. So the book is not just a breath-taking illustrated magnum opus of German illumination. It also affords a glimpse into the personality of a historical figure, which usually remains concealed from us.
Codicology
Alternative Titles

Deutsches Gebetbuch der Markgräfin von Brandenburg

Size / Format

378 pages / 15.2 × 10.8 cm

Origin

Date

1520

Epochs

Style

Genre

Language

Illustrations

A total of 214 picture and text pages are framed by Flemish, Italian or German-inspired borders. 47 richly gilded miniatures und numerous gold initials

Patron

Casimir, Margrave of Brandenburg-Bayreuth (1481–1527) and his wife, Susanna of Bavaria (1502–43)

Artist / School

Narziß Renner (1502–36)
---
Available facsimile editions: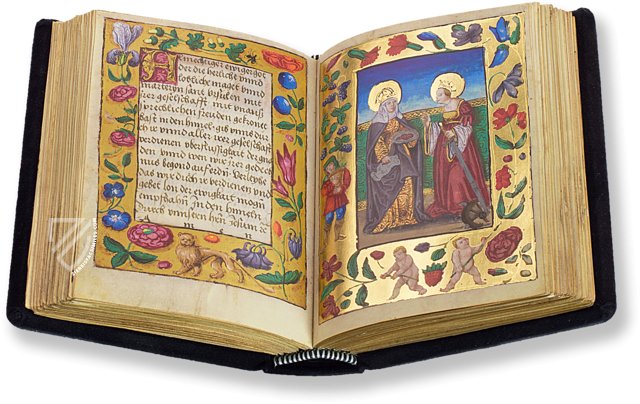 Faksimile Verlag
– Lucerne, 2002
Limited Edition:
980 copies
Detail Picture
German Prayer Book of the Margravine of Brandenburg
The Resurrection
According to the Gospels, Christ was resurrected three days after his death and walked out of his tomb. This scene was popularly used by medieval artists to portray contemporary soldiers – and mercenaries in particular – in a negative light, highlighting their rapaciousness and generally amoral behavior. The artist has used silver leaf for the arms and armor of the soldiers, who are equipped with halberds, open-faced helmets, cuirasses, poleyns, and vambraces.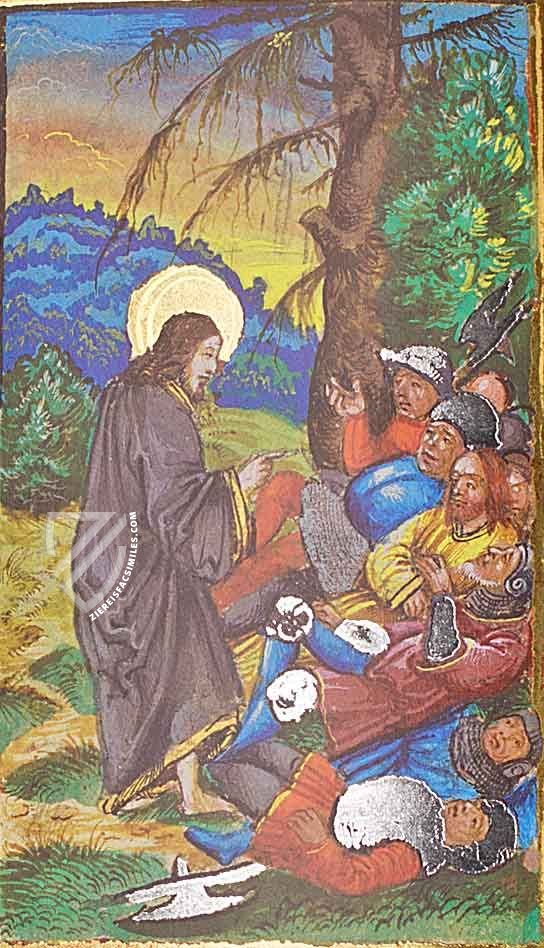 Single Page
German Prayer Book of the Margravine of Brandenburg
Portrait while Deer Hunting
Susanna von Bayern (of Bavaria) was a vivacious and unique German noblewoman and niece of Emperor Maximilian I. Hunting was among the activities Susanna enjoyed, which are depicted throughout the manuscript in addition to the typical biblical scenes.
This hunting scene has a festive feel normally reserved for revelries and reflects the social importance hunts had among the aristocracy. The stag has been chased into a river by the hunting dogs while the hunters have formed on a bridge hoping to snatch it from the water. The detailed depiction of individual faces is quite impressive, and subtle pen strokes with gold ink highlight both the figures and the fauna in the scene. Susanna is likely the central figure wearing a yellow cloak.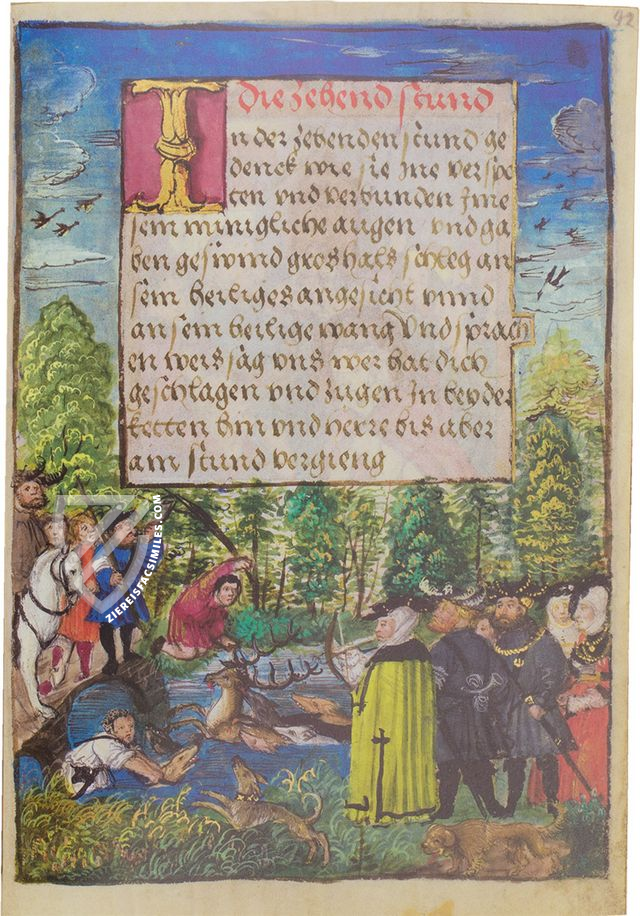 Facsimile Editions
#1

Deutsches Gebetbuch der Markgräfin von Brandenburg

Limited Edition:

980 copies

Binding:

Black suede binding, each with four decorative buttons and a medallion set in silver with the Bavarian coat of arms on the front and back covers. The pages are decorated with gilt edges. Facsimile and commentary volume come in a protective acrylic slipcase.

Commentary:

1 volume (512 pages) by Ulrich Merkl, Ute Obhof, and Michaela Neidl
Languages: French, German

1 volume: Exact reproduction of the original document (extent, color and size)

Reproduction of the entire original document as detailed as possible (scope, format, colors). The binding may not correspond to the original or current document binding.