Hessian Chronica
Description
In 1605, a chronicle was published by the master builder, engineer, block-cutter, engraver, draftsman, topographer, and military theorist Wilhelm Dilich (born Scheffer), who described himself as "Geographus and Historicus" and had been in the employ of Landgrave Moritz of Hesse-Kassel since 1592. It is prized not only for its historic worth but is also of outstanding importance due to its pictorial decoration, the numerous engravings of Hessian towns, castles, palaces and monasteries, its traditional costumes, portraits of princes and maps, the subtleties and ingenuity of which are reminiscent of Dürer and Aldegrever. The first part describes the entire country between the rivers Werra, Kinzig, Main, Rhine, and Lahn while the second part covers the history of the country according to the contemporary state of knowledge including portraits of Hessian princes. 126 cityscapes, 7 single-page maps, 6 double-page maps, and 18 portraits/costume illustrations illustrate this splendid codex.
Codicology
Alternative Titles

Hessische Chronica




Hessische Chronica 1605

Size / Format

374 pages / 20.0 × 15.5 cm

Origin

Date

1605

Epochs

Style

Language

Illustrations

157 copper engravings and woodcuts with illustrations, maps, cityscapes, and portraits

Artist / School

Wilhelm Dilich (author)
Wilhelm Wessel (printer)
Detail Picture
Hessian Chronicle
Gemunda
A farmer naps under a tree with his hands behind his head in the foreground of this woodcut depicting the village of Gemunda, which is modern day Gemünda in Oberfranken near the city of Coburg. Beginning in the lower-right corner, a road leads through open fields and thickets of trees to the city itself. The most prominent feature of the cityscape is the 35-meter-high tower of the Lutheran parish church of St. John's, which was added to the structure between 1566 and 1568.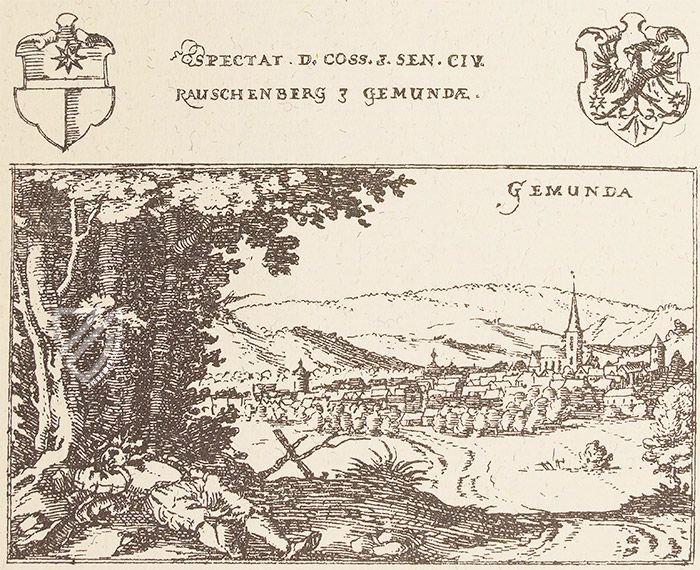 Single Page
Hessian Chronicle
Hanau
Located on the river Main, Hanau is most famous for being the birthplace of the Brothers Grimm. The upper register shows its location on a map as well as the coat of arms of the counts of Hanau-Münzenberg. Although depicted here in detail, Hanau is unrecognizable today because the old city was almost entirely destroyed by allied bombing raids during the Second World War.
Although town walls were built at the beginning of the 14th century, the town quickly outgrew them and it was not until Count Philip II of Hanau-Münzenberg ordered the construction of fortifications in 1528 that the entire settlement was enclosed. They were designed by Albrecht Dürer according to the newest technical standards of the Renaissance and were completed in 1560.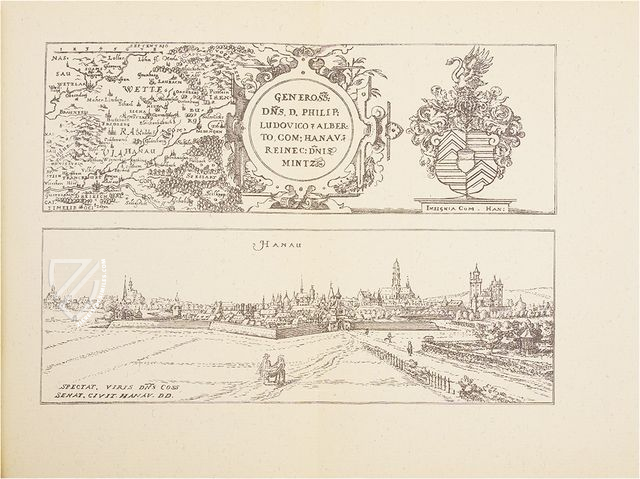 Facsimile Editions
#1

Hessische Chronica 1605