Hours of Engelbert of Nassau
Description
Hours of Engelbert of Nassau
This richly decorated book of hours was created by the famous Master of Mary of Burgundy for an unknown original commissioner but was finished at the behest of Count Engelbert II of Nassau (1451–1504), a soldier, courtier, and major patron of the arts who was once the leader of the Privy Council of the Duchy of Burgundy. Created in the 1470's or 1480's, it has 7 full-page miniatures and 31 half-page miniatures with intricate frames full of flowers, fruits, insects, animals, people, coins, medallions, jewels, vases, and ostrich feathers. This splendor inspired other illuminated manuscripts such as the Heures Voustre Demeure. The selection of figures who are presented in the manuscript – Saint Sebastian, Saint Christopher, and David the warrior – and the exultation of chivalry reflect Engelbert's character as a warrior and general while the sophistication of the work speaks to his tastes as a patron of the arts.
Codicology
Alternative Titles

Stundenbuch des Engelbert von Nassau

Origin

Date

ca. 1470–1490

Epochs

Style

Genre

Language

Artist / School

Master of Mary of Burgundy
Claas Spierinc (?)
---
Available facsimile editions:
Facsimile Editions
#1

A Book of Hours for Engelbert of Nassau
Commentary:
1 volume by Jonathan Alexander
Language: English
1 volume: This facsimile is not complete.
Reproduction of 115 pages of the original document as detailed as possible (scope, format, colors). The binding may not correspond to the original or current document binding.
You might also be interested in: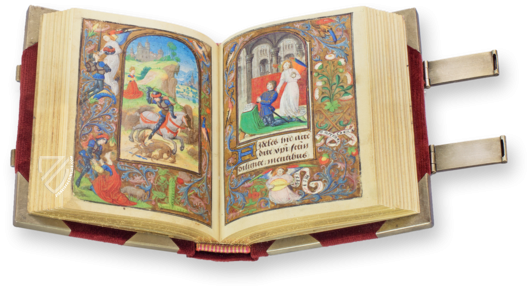 Prayer Book of Charles the Bold
Flanders – 1469, ca. 1471 and ca. 1480–1490
With three portraits of the Burgundian Duke: a splendidly decorated masterpiece of Burgundian illumination made for one of the richest men of his time
Experience More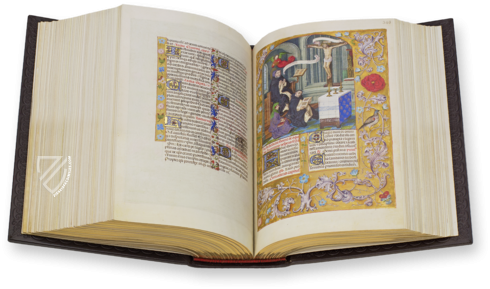 Isabella Breviary
Flanders – Last decade of the 15th century
She sent Christopher Columbus exploring: one of the most beautiful and – with 1,000 pages – most extensive Flemish manuscripts for the Queen of Spain
Experience More
Blog articles worth reading