Karlsruhe Tulip Book
Description
The Margraves of Baden had a family passion for botany that went back centuries and is still manifested today by the splendor of the Karlsruhe Palace Garden, which was originally modeled on the gardens of Versailles in 1717. This Baroque garden had many exotic plants, tulips in particular, which were planted on what is now the square in front of the palace and surrounded by the expanded grounds of the English landscape garden. In order to record the splendor of this botanical collection, Margrave Karl III Wilhelm left behind a collection of ca. 6,000 watercolors, more than 5,300 of which depicted tulips, which were converted into 20 large folio volumes known as the Karlsruhe Tulip Books ca. 1730. Tragically, 16 of them were destroyed in a fire that ravaged the Baden State Library as the result of a bombing raid during the night of September 2-3, 1942. One of the four surviving volumes is presented here with 36 beautiful and realistic watercolors of different varieties of tulips and is a true delight for professional botanists and amateur gardeners alike.
Codicology
Alternative Titles

Karlsruher Tulpenbuch

Size / Format

144 pages / 46.7 × 33.2 cm

Origin

Date

1730

Epochs

Style

Illustrations

36 colored plates

Patron

Margrave Karl Wilhelm von Baden-Durlach

Artist / School

Various artists, among others Philipp Andreas Eichrodt, Georg Dionysius Ehret und Heinrich Lihl
---
Available facsimile editions: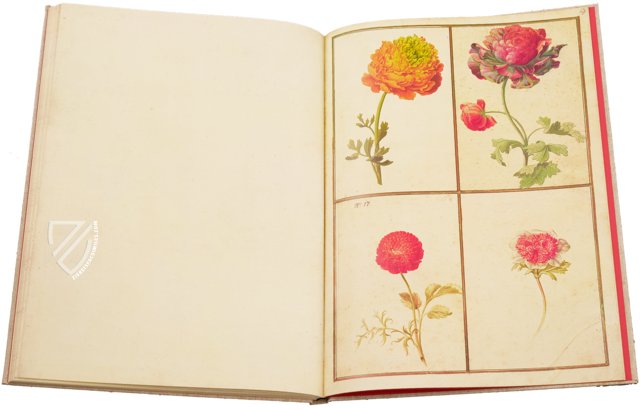 Landeskreditbank Baden-Württemberg
– Karlsruhe, 1982
Limited Edition:
400 copies
Detail Picture
Karlsruhe Tulip Book
Parrot Tulip: Peroquet Rouge
Characterized by their whimsical shape and resemblance to the large and colorful birds native to tropical and subtropical regions around the world, parrot tulips were developed from mutations of certain late-flowering tulips. This beautifully designed illustration, labelled "Red Parrot" in French, exhibits a masterful play of light and shade as well as making use of a various shades of red and yellow. The ragged edges of the pedals are depicted in such a way that it appears as though the flower was caught in the wind of a humid tropical storm.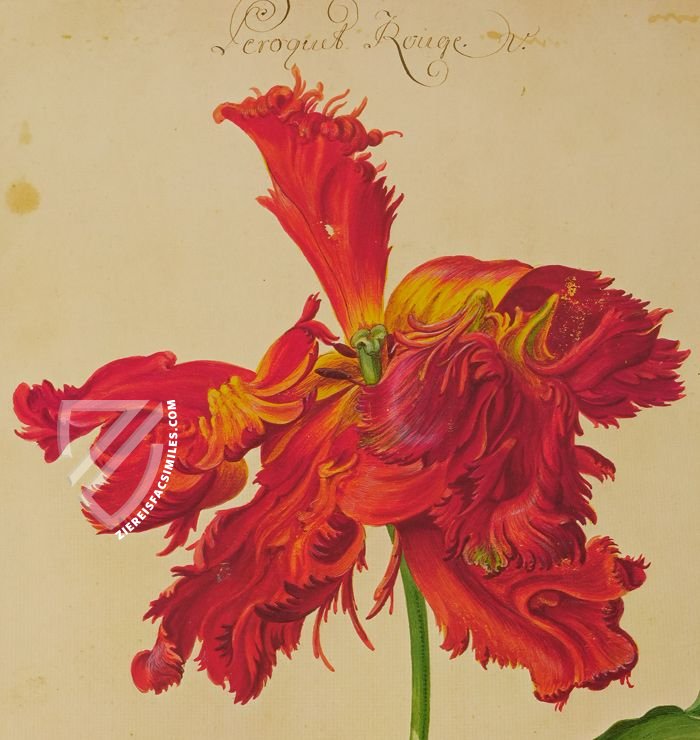 Single Page
Karlsruhe Tulip Book
Kaiser's Crown
Native to a wide stretch of Eurasia ranging from the Anatolian plateau in Turkey to the foothills of the Himalayas, Fritillaria imperialis is a variety of lily cultivated around the world and has been naturalized in Sicily, Austria, and Washington State, USA. Its naturally red-orange flowers, when cultivated, can range from deep scarlet to various shades of orange and yellow and furthermore, is one of the few flowers to be pollinated by a bird, specifically the Eurasian blue tit.
The plant's common name is a reference to its appearance, which is similar to an imperial crown, especially those worn by German Kaisers. In Iran, where it is believed to have originated and has tremendous cultural importance, its nodding flowers are said to be bowed in mourning for the death of a mythological or religious figure and the drops of nectar dripping from the flowers are described as tears.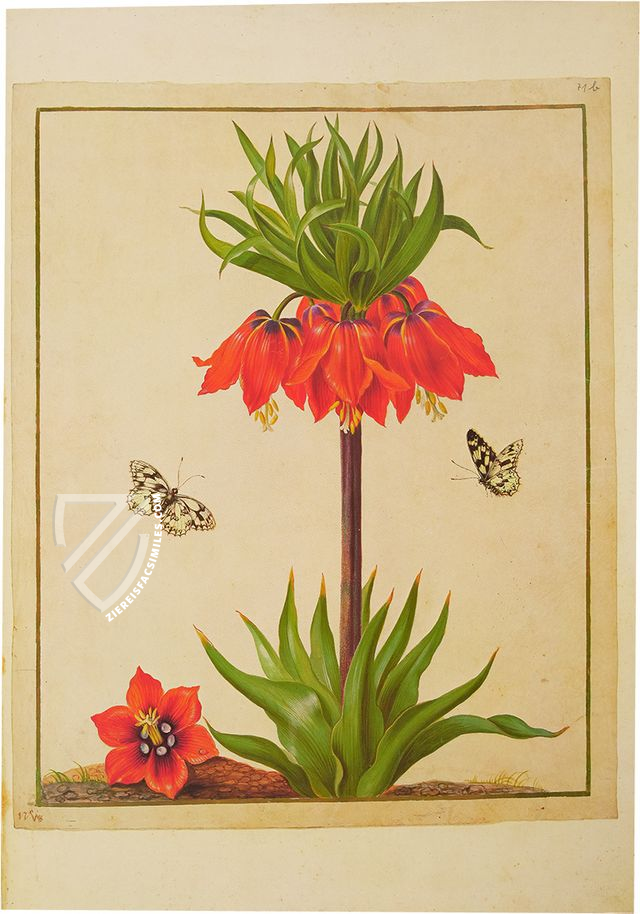 Facsimile Editions
#1

Karlsruher Tulpenbuch

Limited Edition:

400 copies

Commentary:

Introduction by Gerhard Stamm
Language: German

Facsimile Copy Available!

Price Category: €€
(1,000€ - 3,000€)