Lawbook of the City of Herford
Msc. 1
Kommunalarchiv Herford (Herford, Germany)
Description
Lawbook of the City of Herford
The Lawbook of the City of Herford is the most precious item stored in the city archives of Herford, Germany (not to be confused with Hereford, England) today. Written ca. 1375, it is based in part on the Sachsenspiegel by Eike von Repgow and various court cases from the city are listed in the last pages of the codex. The document is significant for both the legal and cultural history of the area. Written in Middle Low German, it summarizes the rights and duties of the citizens on 27 sheets of parchment and was created for the purpose of empowering the citizens of Herford by providing them with legal securities and guidelines for their behavior. The beautiful adornment of the manuscript with decorative initials and two colorful full-page miniatures in the Gothic style attests to the prosperity and self-confidence of the community of Herford.
Codicology
Alternative Titles

Rechtsbuch der Stadt Herford




Rechtsbuch der Stadt Herford: vollständige Faksimile-Ausgabe im Original-Format der illuminierten Handschrift aus dem 14. Jahrhundert

Size / Format

54 pages / 35.5 x 23.5 cm

Origin

Date

1375

Epochs

Style

Language

Illustrations

2 full-page miniatures and decorative initials
---
Available facsimile editions:
Detail Picture
Lawbook of the City of Herford
Recording Court Proceedings
Surrounded by jurors debating the verdict of a trial, a court clerk records the proceedings while seated in front of the table, on which lies the court sword, a symbol of the authority to punish capitol offenses, and a reliquary, upon which oaths were sworn. The scribe wears a simple tunic and tights in comparison to the richly dressed burghers who are serving as jurors. He is believed to be the author of this manuscript – the initials "S" and "H" on his tunic identify him as Siffridus Hanteloye.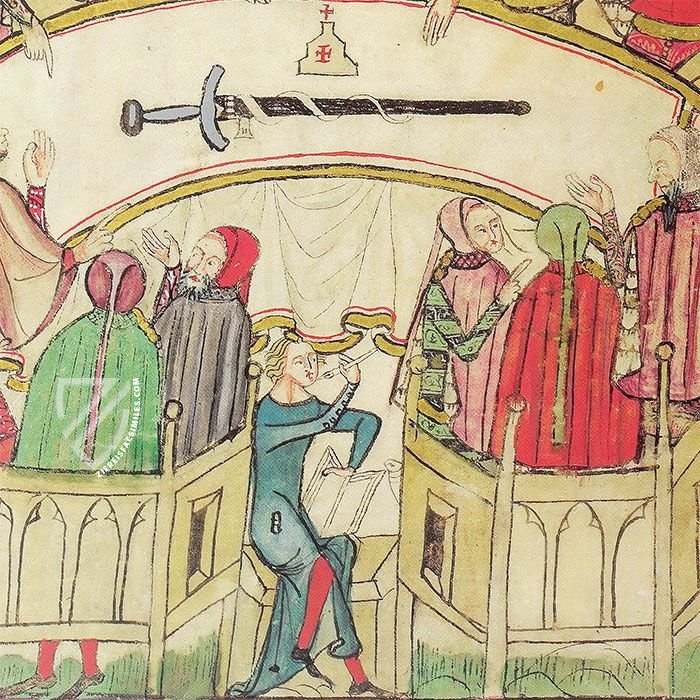 Single Page
Law Book of the City of Herford
The Elder Wise Man
This lawbook claims legitimacy from Cicero, Cato, and Aristotle and draws from their teachings on the advantages of city life and the rights and responsibilities of the community. The allegorical figure of a scholar found at the beginning of the manuscript embodies these sentiments and he is positioned as the foundation of the cityscape depicted above.
He is seated in front of a blue-and-gold checkerboard background and is dressed in a long green patterned tunic, a red cloak, and a hat. A banderole that frames him reads: "Oh, my dear citizens, be of one mind, for the citizens' harmony is the cities' best fortification". The beautiful décor of the manuscript, including numerous decorative initials, is an expression of urban self-confidence.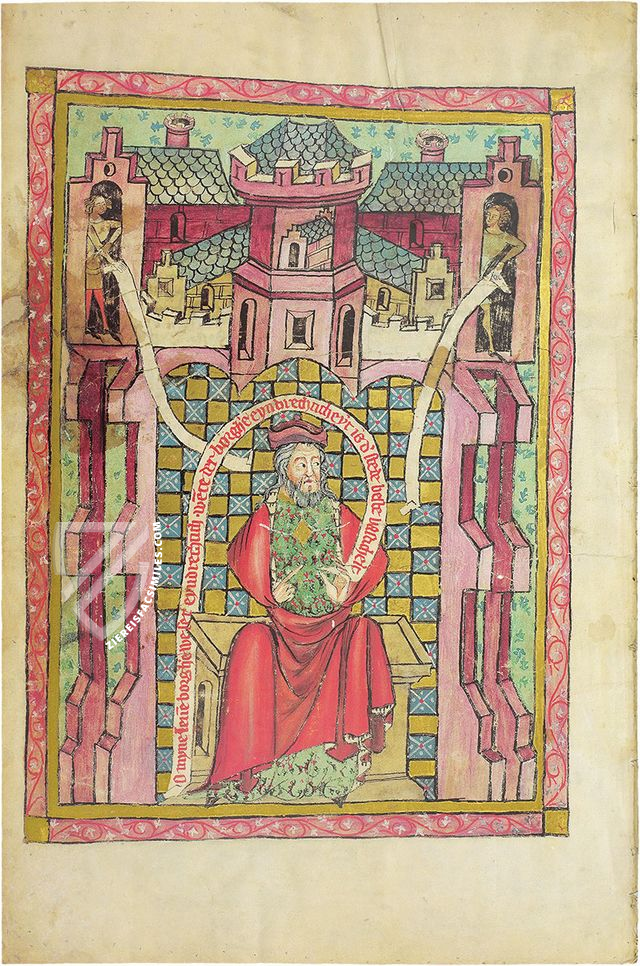 Facsimile Editions
#1

Rechtsbuch der Stadt Herford: vollständige Faksimile-Ausgabe im Original-Format der illuminierten Handschrift aus dem 14. Jahrhundert

Limited Edition:

380 copies

Commentary:

1 volume by Theodor Helmert-Corvey with contributions by Wolfgang Fedders, Ulrich Weber, Heinrich Rütting, Wolfgang Schild and others

1 volume: Exact reproduction of the original document (extent, color and size)

Blind embossed cowhide leather cover