Life of Saint Benedict
ms. 239 B.4.13
Biblioteca Comunale Teresiana di Mantova (Montava, Italy)
Description
Born shortly after the collapse of the Western Roman Empire in Nursia (modern day Norcia), Italy, Saint Benedict is renowned for authoring the Rule of Saint Benedict in 516 and for founding Montecassino Abbey in 529. As such, he is regarded as the Father of Western Monasticism and one of the most important figures of the early church who had a long-lasting impact. His life story is told in this manuscript illustrated by 87 pen and ink drawings of the highest quality, which was created in Italy during the 1460's. Aside from the life of the saint, the manuscript is an impressive testimony to monastic life during the 15th century. The miniatures offer glimpses of not only church interiors but also communal rooms, loggias, living quarters, chapter houses, gardens, refectories, and kitchens. Aside from monks in flowing robes, laypeople from various classes are depicted dressed in the fashions of contemporary Italy and many cityscapes also serve as artful backgrounds.
Life of Saint Benedict
Created over 900 years after his death, this gorgeously designed manuscript artfully illustrates the life of Saint Benedict (480–540), the revered Father of Western Monasticism, and attests to the lasting impact he had on the Church. Information on the life of Saint Benedict primarily comes from two sources, one comes from Book 2 of St. Gregory the Great's Dialogues, which is supposedly based on the accounts of four of Benedict's disciples, and the other a poem created by a monk at Montecassino after his death. This manuscript and its 87 masterful pen and ink drawings depict both historically reliable events and popular legends from the life of the saint and sets them in the splendor of the Italian Renaissance.
The World of Saint Benedict
Benedict was born into a noble Roman family in modern Norcia, Italy on March 2nd, 480. The general Odoacer had deposed the last Roman Emperor – a 12-year-old named Romulus Augustulus – four years earlier with the support of the Senate. He was the nominal client of the Eastern Roman Emperor Zeno but effectively ruled as the autonomous King of Italy until he betrayed his master, causing Constantinople to call upon its ally, the Ostrogothic King Theodoric, who defeated and supplanted Odoacer in 493. Rather than introducing a Dark Age, Theodoric the Great not only maintained the legal administration and scholarly culture of Rome but patronized major building projects, restored hegemony over most of the former Western Roman Empire, and promoted Christianity. As such, Benedict lived in a period of cultural revival in the West and did not flee the Eternal City and abandon his studies ca. 500 because of instability but rather left in disgust with the licentiousness of Rome.
The Road to Sainthood
After initially moving to the nearby town of Enfide, modern Affile in Metropolitan Rome, with his old nurse and servant, he found an isolated cave above a lake, took vows as a monk at a local monastery where he received a monk's habit, and spent the next three years as a hermit near Subiaco. After unsuccessful attempts at living with other monks that resulted in two attempted poisonings, both of which Benedict avoided by performing miracles, he went on to found twelve monastic communities in the vicinity of Subiaco from his own followers. It was during this period that he wrote the Rule of Saint Benedict.
In 530, he selected a strategic hilltop between Rome and Naples as the site for Montecassino Abbey, which would go on to be one of the most important and influential religious and cultural centers of medieval Europe. Benedict performed one of his final miracles during the invasion of Totila in the 540's when the Gothic king had one of his generals wear his royal robes, but Benedict immediately detected the ruse and Totila was thoroughly impressed. In the end, he not only attained sainthood, but was eventually named one of the patron saints of Europe and his Rule is still the most common and influential among monastic communities.
Late Antiquity Set in the Renaissance
This manuscript originated during the 1460's and as was customary, the events are illustrated in contemporary garments, architectures, tools, and everyday objects. Although the 87 pen and ink drawings are uncolored, they are first rate nonetheless and exhibit the technical skills of the anonymous Italian artist or artists involved in creating them. Not only do they realistically depict space and perspective, but they also often represent multiple events within the same image, sometimes sequentially and sometimes concurrently.
The interior spaces of some churches exhibit vaulted sealings supported by columns and windows with quatrefoil traceries and mullions while others have simpler wooden roofs or windows secured with iron bars. Some buildings have exteriors designed in the newer Renaissance style inspired by antiquity and one scene even shows a monk half-buried in bricks from a collapsed wall during construction. Garments are depicted in great detail with natural falls of folds from the flowing robes of the monks to the simple garments of the farmers to the fashionably dressed merchants and noblemen.
Codicology
Alternative Titles

Leben des Heiligen Benedikt




Vita di San Benedetto composta da Gregorio Magno

Size / Format

116 pages / 21.0 × 29.0 cm

Origin

Date

1460-1470

Epochs

Style

Genre

Language

Illustrations

87 pen and ink drawings

Content

Book 2 of the "Dialogues" of Gregory the Great, which deals with the life of St. Benedict
---
Available facsimile editions:
Detail Picture
Vita di San Benedetto
Benedict Departs for the Desert
Richly dressed like an Italian Renaissance prince, St. Benedict walks along the bank of a stream in front of a reclining lion and the crenelated walls of a city as he seeks a more spiritual life in the desert. Benedict was the son of a Roman nobleman in Umbria who abandoned his studies in Rome ca. 500 when he was disappointed with life there. The word "desert" was used to describe any barren wilderness in the Middle Ages, and Benedict actually went to a gloomy valley about 40 miles from Rome.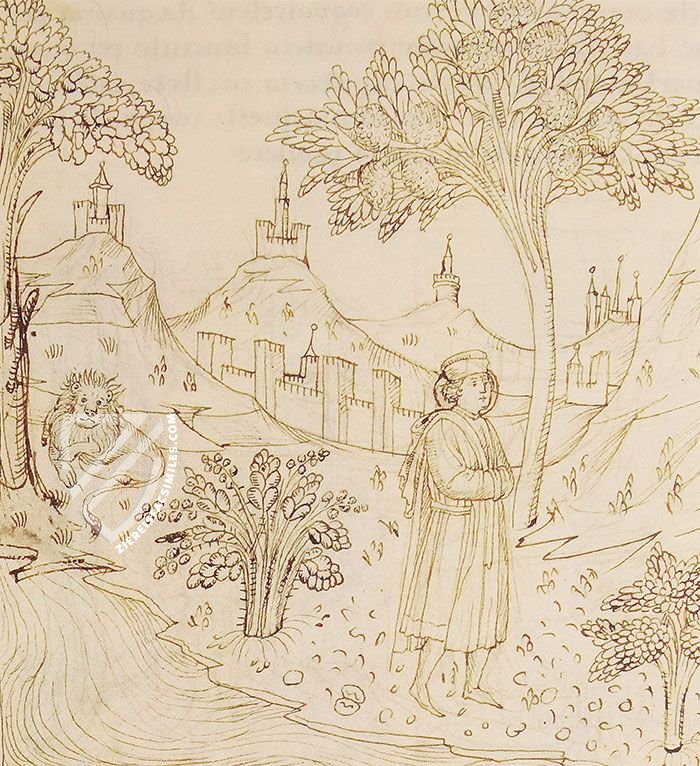 Single Page
Vita di San Benedetto
The Chastised Monk
On the left, Benedict is adorned by a halo and leads eight tonsured monks in prayer, including Maurus of Glanfeuil and Placidus of Sicily. They are kneeling behind two arches, beneath a hanging lamp, and in front of a draped altar with a chalice and crucifix, but one looks back at the portal, where a winged demon pulls a monk by his habit past a hexagonal font with an aspergil and a meticulously pruned tree.
The monk who would not stay at his prayers is depicted on the right kneeling and stripped to the waist, revealing bleeding wounds on his back. Benedict stands over him with a scourge raised above his head. Both scenes are depicted with wooden ceilings, architectural frames, and use forced perspective to create a sense of space and depth.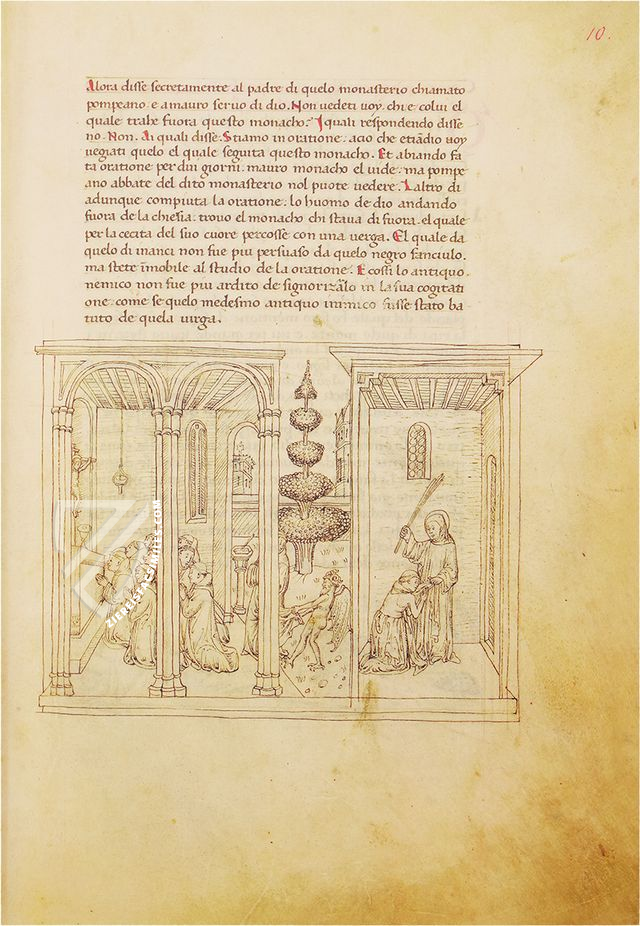 Facsimile Editions
#1

Vita di San Benedetto

Limited Edition:

480 copies

Binding:

Replica of the 18th century embossed leather binding with small brass studs and 2 clasps; the leaves are trimmed by hand; commentary volume in silk case

Commentary:

1 volume by Eleonora Cipolla
Language: Italian

Reproduction of of the entire original document as detailed as possible (scope, format, colors).