Madrid Hours of William Lord of Hastings
Description
Madrid Hours of William Lord of Hastings
William Hastings, 1st Baron of Hastings (ca. 1431–1483) was Lord Chamberlain to King Edward IV (1442–83). This excellent Flemish manuscript was made at the behest of the powerful English nobleman, and is a wonderful specimen of late medieval illumination. A variety of contemporary influences from across Europe are present in the décor of the codex. The codex is especially famous for a haunting miniature that depicts a death vigil, in which the artist made full use of his creative talents.
Madrid Hours of William Lord of Hastings
William Hastings, 1st Baron of Hastings (ca. 1431–1483) was an English nobleman in the service of the House of York during the Wars of the Roses. He rose to become an important courtier of King Edward IV (1442–83), serving as Lord Chamberlain to the King, with whom he was also close friends. Richard III (1452–85), Edward's brother and successor, executed Lord Hastings on suspicion of treason at the Tower of London. Ironically, his stunning Flemish book of hours contains two scenes referring to death: the resurrection of Lazarus, a common scene, and another whereby the miniaturist was able to express his full artistic genius. The calendar at the beginning of the text features the personal saints of both Edward IV and Richard III, although the latter was insufficient to save Lord Hastings from suspicion of treason. Today, this fine manuscript is stored in Madrid's Museo de la Fundación Lázaro Galdiano under the shelf mark inv. 15503. It is housed in a 17th century binding of rose-colored velvet adorned with 4 metal corner pieces with cherubs and grotesque masks.
A Striking Death Scene
The somber interior scene precedes the Commendationes animarum and depicts a pale, skeletal figure in bed surrounded by mourners without any perceptible sign of salvation. Although originating from Bruges in the late 15th century, the influence of English illumination from Sarum or Salisbury is clear in the manuscript's 34 full-page miniatures. Hasting's coat-of-arms is also pictured on a full-page. At the same time, parts of the manuscript resemble works from the Vienna Master of Mary of Burgundy and the Master of Vienna, especially in the miniature with the vigil of death mentioned above. Intricate patterns are featured throughout the Madrid Hours of William Lord of Hastings, something which began to appear in miniatures in the 1470's. From the figures to the perspective of the space, it is a masterpiece of Flemish illumination.
Codicology
Alternative Titles

Madridstundenuch des William Lord von Hastings




Libro de Horas de Hastings

Size / Format

592 pages / 12.4 × 9.0 cm

Origin

Date

Ca. 1475–1479

Epochs

Style

Genre

Illustrations

33 full-page miniatures
---
Available facsimile editions:
Facsimile Editions
#1

Libro de Horas de Hastings

Limited Edition:

495 copies

Binding:

17th century rose velvet binding; 4 metal corner pieces incised with putti and grotesque masks

Commentary:

1 volume by Elisa Ruiz García
Language: Spanish

1 volume: Exact reproduction of the original document (extent, color and size)

Reproduction of the entire original document as detailed as possible (scope, format, colors). The binding may not correspond to the original or current document binding.

Facsimile Copy Available!

Price Category: €€€
(3,000€ - 7,000€)
You might also be interested in: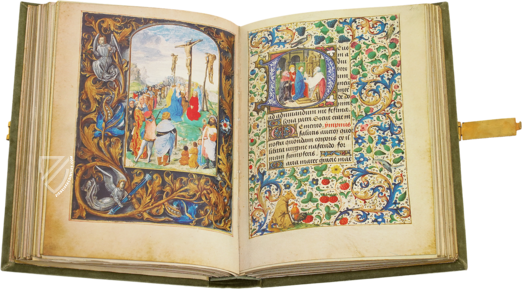 Hours of Mary of Burgundy
Ghent or Bruges (Belgium) – 1470–1480
Overflowing splendor for the daughter of Duke Charles the Bold: golden script and vivid miniatures as testimony to the wealth and artistic sophistication of the Burgundian court, but also to Mary's deep devoutness
Experience More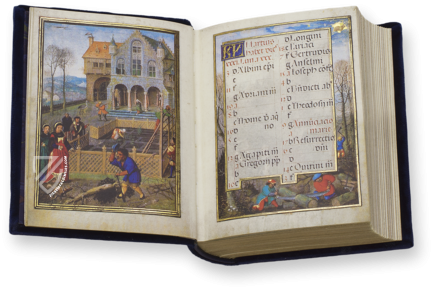 Munich-Montserrat Hours
Bruges (Belgium) – 1535
Furnished with Simon Bening's famous calendar representations: a masterful book of hours for the influential secretary of Emperor Charles V
Experience More
Blog articles worth reading