Manuscripts of the Institut de France
Description
Manuscripts of the Institut de France
As a part of the great National Edition of the Manuscripts and Drawings by Leonardo da Vinci, this twelve-volume compendium from the Institut de France was published: 12 of Leonardo's small and large notebooks conveying the life and work of the famous universal genius. Personal notes, spontaneous ideas, and deep reflection on such diverse themes as geometry, art, natural philosophy, and much more unite here into a unique artifact!
Manuscripts of the Institut de France
Leonardo da Vinci (1452–1519) is considered to be one of the most significant universal geniuses of the Italian Renaissance. Active as a painter and sculptor, architect, theorist, and researcher in numerous fields, he created masterpieces in all of these fields. He recorded the results and testimonials of his restless genius in private notebooks, which would become a precious source for the through study of his person.
As Though from the Hand of the Master
Leonardo recorded his thoughts and ideas for posterity in numerous notebooks along with fleeting and spontaneous ideas, personal notes, but also a full-length treatise. A compendium of twelve of these books is stored today in the collection of the Institut de France in Paris. These notebooks originate from the years 1492–1516 and present themselves in their entirety and in their original condition as a unique artifact for the study of the life and works of the Renaissance's excellent universal genius: Leonardo da Vinci. Under Napoleon, it came to Paris in 1795 from the Biblioteca Ambrosiana in Milan.
A Wide-Ranging Thematic Spectrum
The twelve volumes are contained in nearly 2,000 pages - each designated with the letters A-M - geometric treatises, explanations of mechanical problems, physical experiments, but also reflections on artwork and literature or on the "things that move the soul". This is all permeated with autobiographical comments and is often authored in an almost literary fashion. In the larger volumes, Leonardo recorded well thought-out, elaborate texts on numerous scientific experiments and theories. Masterful drawings – quick sketches and detailed observations – additionally make the small pocket notebooks wonderful testimonials to Leonardo as a gifted draftsman.
Codicology
Alternative Titles

I Manoscritti dell'Institut de France




Manuskripte des Institut de France

Type

Origin

Date

1492–1516

Epochs

Style

Genre

Language

Artist / School

Leonardo da Vinci (1452–1519)

Previous Owners

Biblioteca Ambrosiana (Milan, Italy)
---
Available facsimile editions:
Detail Picture
Manuscripts of the Institut de France
Study of a Centrally Planned Building
Early Christian churches were not based on Roman temples, which were designed only for use by those initiated in the secret rituals – the pagan faithful waited outside. As such, late antique and early medieval churches were based on the basilica, a public space for meetings, markets, and law courts. The revival in classical architecture in Renaissance Italy led to a reintroduction of the centrally planned basilica style, such as this impressive sketch created by Leonardo between 1487 and 1490.
Single Page
Manuscripts of the Institut de France
Design of a Flying Machine
Of the twelve Leonardo da Vinci notebooks found in the collections of the Institut de France, manuscript B is the oldest. Originating from 1487–89, it offers a sample of Leonardo's interest in war machines, civilian and military architecture, submarines, or in this case, flying machines. Leonardo used his distinctive "mirror writing" to record the 16th century Italian text, either to make them difficult to read or simply because he was left handed.
This strange diagram depicts a man standing amidst a series of wheels, pulleys, pedals, and levers, which move the four flapping wings of the devise. Presumably, the idea was to mimic a dragonfly or some similar insect. How this individual was supposed to generate enough energy to power it remains unclear.
Facsimile Editions
#1

I Manoscritti dell'Institut de France

Limited Edition:

998 copies

Binding:

Twelve leather-covered Solander boxes with gold tooling contains the facsimiles and commentary volumes

Commentary:

1 volume (ca. 2,000 pages) by Augusto Marinoni
Languages: English, Italian

1 volume: Exact reproduction of the original document (extent, color and size)

Reproduction of the entire original document as detailed as possible (scope, format, colors). The binding may not correspond to the original or current document binding.
You might also be interested in: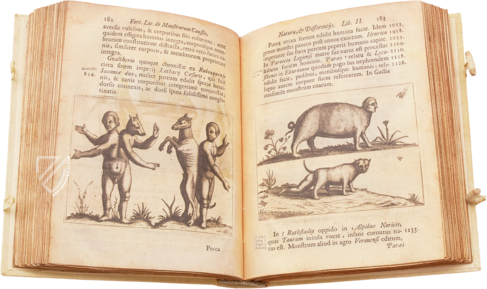 Forster Codices
Italy – 1493–1505
Three of Leonardo da Vinci's private notebooks: the personal, autobiographical notes and spontaneous thoughts of one of the greatest geniuses in human history
Experience More
Blog articles worth reading