Mariner's Mirror
Description
Lucas Janszoon Waghenaer was a major figure from the Golden Age of Netherlandish Cartography whose first work was published in 1584 – the Spieghel der Zeevaerdt or "Mariner's Mirror" in Dutch. The work was the first of its kind, combining nautical charts with instructions for sailing and navigation, and an instant bestseller with a second part published the next year followed by editions in English, German, Latin, and French. This fine cartographic codex presents the German edition, Spiegel der Seefahrt, which was published by Cornelis Claesz in 1589. It is furnished with 47 double-page copperplates by Jan von Deutecum, which depict the Atlantic, North Sea, and Baltic coasts of Europe. These sea charts not only contain practical information for sailors – such as depth and tide charts as well as navigational instruments – but also capture the adventurous and fantastic nature of the seas, which are filled with ships, whales, and sea monsters. The gorgeously designed manuscript is a delight for sailors, map collectors, geographers, and art historians alike!
Codicology
Alternative Titles

Spiegel der Seefahrt

Size / Format

244 pp. / 42 x 29.5 cm

Origin

Date

1589

Epochs

Style

Genre

Illustrations

Coloured allegorial title-pages, 47 double-page major maps in color with tables and descriptions

Content

Geographic descriptions and instructions for sailing and navigation

Artist / School

Author: Lucas Janszoon Waghenaer
Translator: Thomas Slotboem
Printer: Cornelius Claesz
Engraver: Jan von Deutecum
Detail Picture
Mariner's Mirror
Depth Charts
This map depicts the Wash, a bay and estuary where Norfolk meets Lincolnshire on the North Sea coast of England, specifically the stretch of land going from Burnham in Norfolk to Sutton, Boston, and Leake in Lincolnshire. The rivers of this flat region flow and deposit sediment into the Wash and as such many of the towns depicted on the coast here have now "moved" inland. It is a generally shallow body of water with many shoals that are exposed at low tide and present a hazard to shipping. Here, clusters of dots identify the shoals, numbers indicate depths of the shipping lanes between them, and anchors indicate where ships can safely moor themselves to the seabed.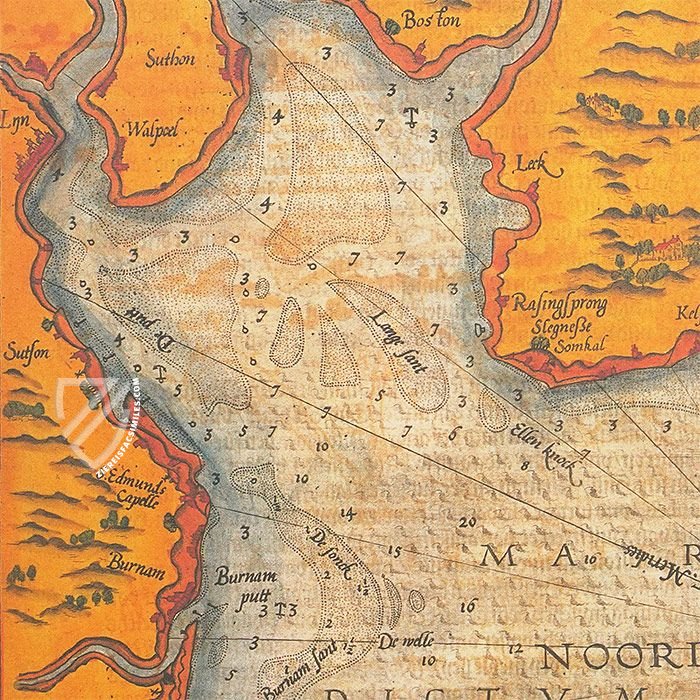 Single Page
Mariner's Mirror
Southwest Coast of England
An exemplary sea chart from this work: the coast of England from Plymouth in Devon to the Isles of Scilly off the tip of Cornwall is depicted in detail including local farms with sheep, horses, and cows while the waters are filled with sailing ships. Some are engaged in a sea battle with blazing canons next to the English royal coat of arms while another below the Isles of Scilly fires its canon at an attacking sea monster.
At the bottom of the page, two legends flank the compass rose, which indicates that the map is oriented in a northwesterly direction to make everything appear neatly squared. The legend on the left decorated by human figures contains the original explanatory Dutch text, which is translated into German at the top of the map. On the right, compass calipers are mounted on top of a legend with the map's scale.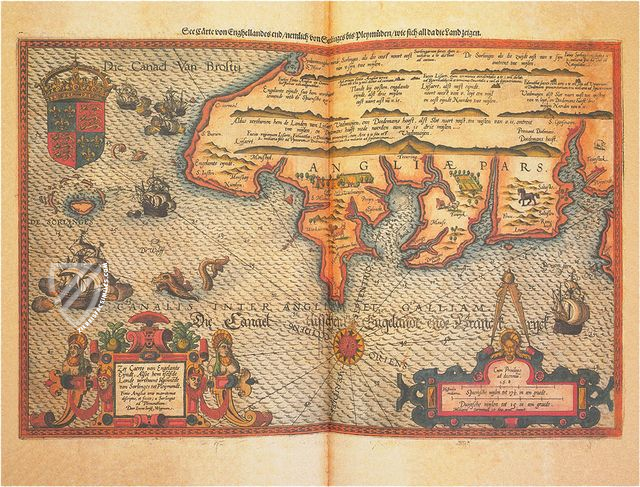 Facsimile Editions
#1

Spiegel der Seefahrt

Limited Edition:

890 copies

Commentary:

1 volume by Albrecht Sauer
Language: German

1 volume: Exact reproduction of the original document (extent, color and size)

Reproduction of of the entire original document as detailed as possible (scope, format, colors). The binding may not correspond to the original or current document binding. 2 parts in 1 volume.