Mayer van den Bergh Breviary
Description
Mayer van den Bergh Breviary
Although little is known about the history of this extraordinary Flemish manuscript from ca. 1510–15, its high quality and the instructions in Portuguese it contains point to King Manuel I of Portugal as a possible patron or recipient. This masterpiece was purchased by the art dealer and collector Fritz Mayer van den Bergh in 1898 for the enormous sum of 35,500 francs. The Mayer van den Bergh Breviary has survived to the present in remarkably pristine condition, indicating that it was little used and remained safely stored for most of the last 500 years. Its artistic program consists of about 80 miniatures including 36 full-page miniatures, 12 labors of the month in the calendar, 148 decorative borders, 9 historiated initials, and countless smaller initials. This splendor is the result of the collective efforts of some of the finest miniaturists of the Ghent-Bruges school including the Maximilian Master, Master of James IV of Scotland, Gerard Horenbout, and Gerard David.
Codicology
Alternative Titles

Mayer van den Bergh Brevier




Breviarium Mayer van den Bergh




Breviary of the Mayer van den Bergh

Size / Format

1412 pages / 22.4 × 16.0 cm

Origin

Date

1495–1510

Epochs

Style

Genre

Language

Illustrations

36 full-page miniatures, 12 illuminated calendar pages, 20 small miniatures, 9 historiated initials, 148 decorative borders

Artist / School

Maximilian Master
Master of James IV of Scotland
Gerard Horenbaut
Gerard David

Previous Owners

Martin Heckscher
Kunstgewerbemuseum in Berlin
Fritz Mayer van den Bergh
H. Wareham Harding
---
Available facsimile editions: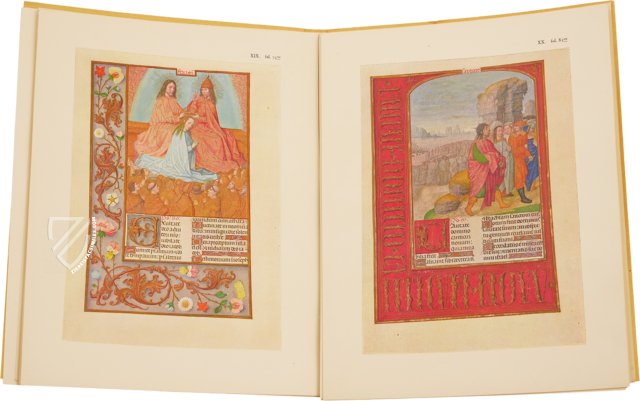 C. Weckesser
– Brussels, 1932
Limited Edition:
300 copies
Detail Picture
Mayer van den Bergh Breviary
Joseph is Sold by His Brothers
Angered by their father Jacob's favoritism toward his eleventh son, Joseph's half-brothers began to plot against him. They first threw him into a dry well with the intention of killing him but changed their minds when they saw a camel caravan of merchants carrying spices to Egypt and decided to sell their brother to them for twenty shekels of silver instead. Joseph is depicted here struggling with two of his brothers as they pull him up out of the well and hand him over to the merchants.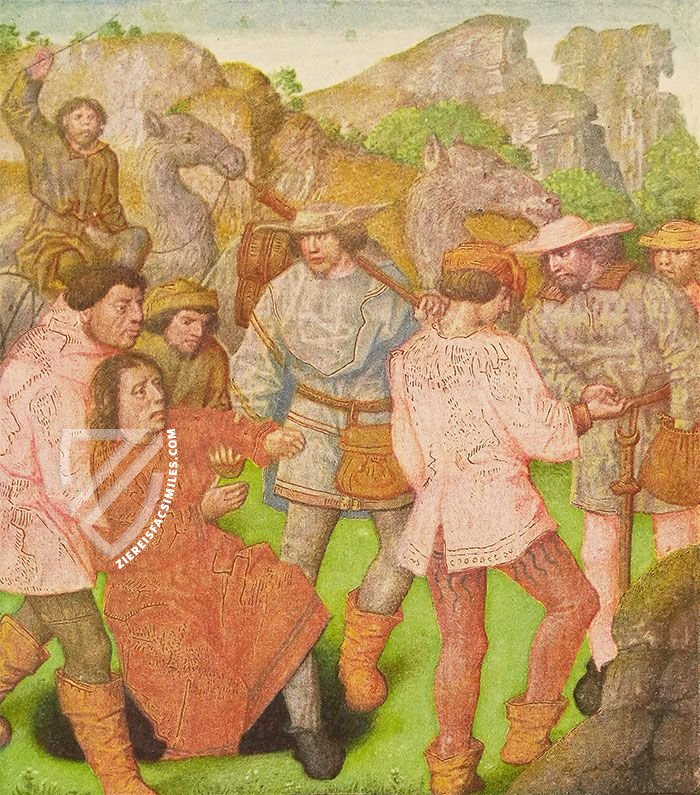 Single Page
Mayer van den Bergh Breviary
Saint Catherine
This magnificent full-page miniature is a fine testimonial to the great skill of Gerard David, who was a true master when it came to depicting garments such as St. Catherine's flowing dress. She is seated on the ground next to two of the symbols associated with her: the spiked breaking wheel upon which she was to be tortured but shattered at her touch and the sword with which she was finally executed.
As is typical, the unmarried girl is shown with long, unbound blonde hair and is richly dressed and crowned befitting her rank as a princess. Catherine is attended by a crowd of angels, the "celestial court". Presented in a splendid floral frame with a strawberry and butterfly, the scene is set in the inner courtyard of a castle.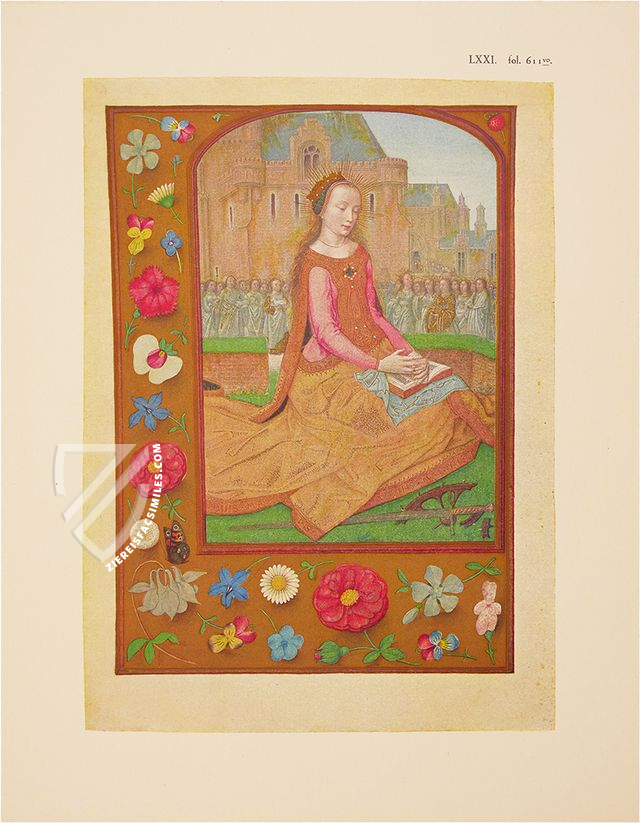 Facsimile Editions
#1

The Breviary of the Mayer van den Bergh

Limited Edition:

300 copies

Commentary:

1 volume by Camille Gaspar, Martin Heckscher and E. M. Haynes
Language: English

1 volume: This facsimile is not complete.

Reproduction of the miniature pages
You might also be interested in:
Blog articles worth reading