Mayer van den Bergh Breviary
Description
Mayer van den Bergh Breviary
Although little is known about the history of this extraordinary Flemish manuscript from ca. 1510–1515, its high quality and the instructions in Portuguese it contains point to King Manuel I of Portugal as a possible patron or recipient. This masterpiece was purchased by the art dealer and collector Fritz Mayer van den Bergh in 1898 for the enormous sum of 35,500 francs. The Mayer van den Bergh Breviary has survived to the present in remarkably pristine condition, indicating that it was little used and remained safely stored for most of the last 500 years. Its artistic program consists of about 80 miniatures including 36 full-page miniatures, 12 labors of the month in the calendar, 148 decorative borders, 9 historiated initials, and countless smaller initials. This splendor is the result of the collective efforts of some of the finest miniaturists of the Ghent-Bruges school including the Maximilian Master, Master of James IV of Scotland, Gerard Horenbout, and Gerard David.
Mayer van den Bergh Breviary
The Mayer van den Bergh Breviary representsone of the greatest masterpieces from the last flowering of European manuscript art before it was almost entirely replaced by printed books. It is an exemplary specimen of the so-called Ghent-Bruges style, which has been studied inter alia for the links it had to panel painting and for the insights it allows researchers into the practices of late medieval artists' workshops. Around 80 miniatures, 149 decorative borders, and numerous decorative initials from some of the finest artists of the period adorn the text, which was masterfully written by skilled scribes working in competition with the printing press. The manuscript appears to have been completed in two stages, possibly finished by a second owner after the original commission was cancelled. It is believed to have originated from a commission by a member of the Portuguese royal family.
A Mysterious Patron
Due to the lavish adornment of the manuscript and the inscription written in Portuguese, it has long been theorized that King Manuel I of Portugal (1469–1521) either commissioned the work or received it as a gift. However, there are no obvious indications of a book made for the King – neither his coat of arms, the insignia of the Templar Order (of which he was grand master), nor an emphasis on Manuel's patron saint, Jerome, are found in the manuscript. There are indications of a patron sympathetic to the Franciscans and Augustinians, which applied to various members of the Portuguese royal family, but there are even more indicators of a female patron. The large number of miniatures depicting the Virgin Mary suggests that Manuel's wife, Maria of Aragon and Castile (1482–1517), may have been the original owner, but all this remains only an unproven theory. Nonetheless, the work is a manuscript of the highest quality which was commissioned either by or for a member of the Portuguese royal family or possibly a high-ranking courtier.
The Last Flowering of Flemish Illumination
The Ghent-Bruges school represents the last and most prolific episode in Flemish manuscript production, which is distinguished by a new style characterized by lavish, innovative, and imaginative illuminations making use of the most recent artistic techniques of the Italian Renaissance, which spread to the Low Countries through trade via Bruges. Even as overall manuscript production declined during the 16th century, the upper echelons of the European nobility as well as wealthy members of the emerging bourgeoisie continued to commission luxury manuscripts. Breviaries originated from the Liturgy of the Hours and were originally used by monks and priests, but lay breviaries emerged in the Late Middle Ages as members of the upper nobility employed chaplains to perform private masses. Lay breviaries evolved into prestige objects rather than practical texts for daily use, as evidenced by the pristine state of the Mayer van den Bergh Breviary.
An All-Star Team of Artists
This manuscript has been hailed as the pinnacle of the Ghent-Bruges school and is attributed to some of the leading miniaturists of the period. The Maximilian Master and his workshop appear to have created the majority of the miniatures as well as the decorative frames and initials. Their style is marked by male figures with powerful figures and calm, serious faces with heavy eyebrows, defined cheekbones, and a protruding upper lip. Meanwhile, female figures have oval faces with pale skin and narrow chins. All figures are depicted with long, graceful hands. The Master of James IV of Scotland contributed five miniatures to the manuscript, which are distinguishable by similarly robust figures but with livelier and more expressive faces. Gerard David (ca. 1460–1523) is credited with at least three and possibly four miniatures characterized by their masterfully painted faces with transparent layers of white and soft pink as well as a sense of depth created with soft grey tones. Two miniatures, which are completely different stylistically from the rest of the manuscript, appear to have been created by Gerard Horenbout (ca. 1465 – ca. 1541). They are highly detailed with special attention paid to garment fall of folds and a wonderful sense of depth and space.
Contents of the Great Tome
This large breviary is made of 706 vellum folia measuring 224 x 160 mm. A breviary is essentially an expanded book of hours containing all the prayers of the liturgical year arranged chronologically. They always begin with a calendar, which in the case of this manuscript is furnished with corresponding zodiac signs and seasonal activities or so-called labors of the months. The next section is a Psalter, followed by a series of hymns, and a temporal containing prayers for all the liturgical feasts of the year beginning with Advent and ending with the Easter season. Following this is the proprium sanctorum, commune sanctorum with general offices for saints, and finally a number of unchanging divine offices that could be celebrated throughout the year.
A Mysterious Ownership History
All the manuscript's contents are remarkably well preserved thanks to the apparent neglect of the manuscript over the centuries. There is virtually no record of the manuscript between 1500 and the end of the 19th century, when it resurfaced in England. It was sold to Martin Heckscher, an art collector in Vienna, after whose death the manuscript was exhibited in the Kunstgewerbemuseum in Berlin. It was auctioned at Christie's in London on May 4, 1898 and was bought for £1420, considered a high price for a manuscript at the time, by H. Wareham Harding, a representative of Fritz Mayer van den Bergh (1848–1901).
Codicology
Alternative Titles

Mayer van den Bergh Brevier




Breviarium Mayer van den Bergh




Breviary of the Mayer van den Bergh




Brevier des Mayer van den Bergh

Size / Format

1412 pages / 22.4 × 16.0 cm

Origin

Date

1510–1515

Epochs

Style

Genre

Language

Illustrations

36 full-page miniatures, 12 illuminated calendar pages, 20 small miniatures, 9 historiated initials, 148 decorative borders

Patron

King Manuel I of Portugal (1469–1521) (?)

Artist / School

Maximilian Master
Master of James IV of Scotland
Gerard Horenbaut
Gerard David

Previous Owners

Martin Heckscher
Kunstgewerbemuseum in Berlin
Fritz Mayer van den Bergh
H. Wareham Harding
---
Available facsimile editions: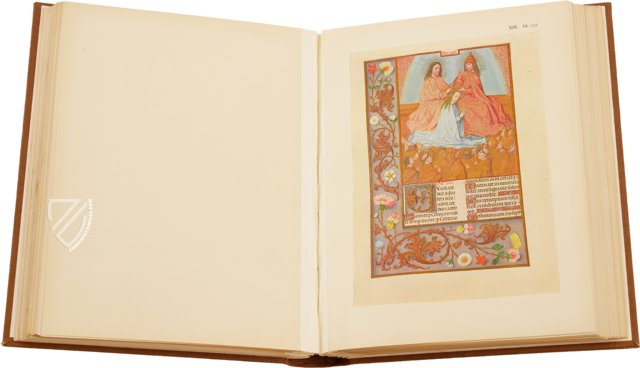 C. Weckesser
– Brussels, 1932
Limited Edition:
300 copies
---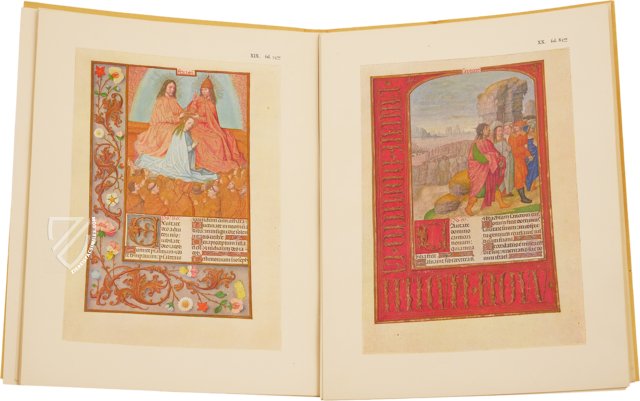 C. Weckesser
– Brussels, 1932
Limited Edition:
700 copies
Detail Picture
Mayer van den Bergh Breviary
Joseph is Sold by His Brothers
Angered by their father Jacob's favoritism toward his eleventh son, Joseph's half-brothers began to plot against him. They first threw him into a dry well with the intention of killing him but changed their minds when they saw a camel caravan of merchants carrying spices to Egypt and decided to sell their brother to them for twenty shekels of silver instead. Joseph is depicted here struggling with two of his brothers as they pull him up out of the well and hand him over to the merchants.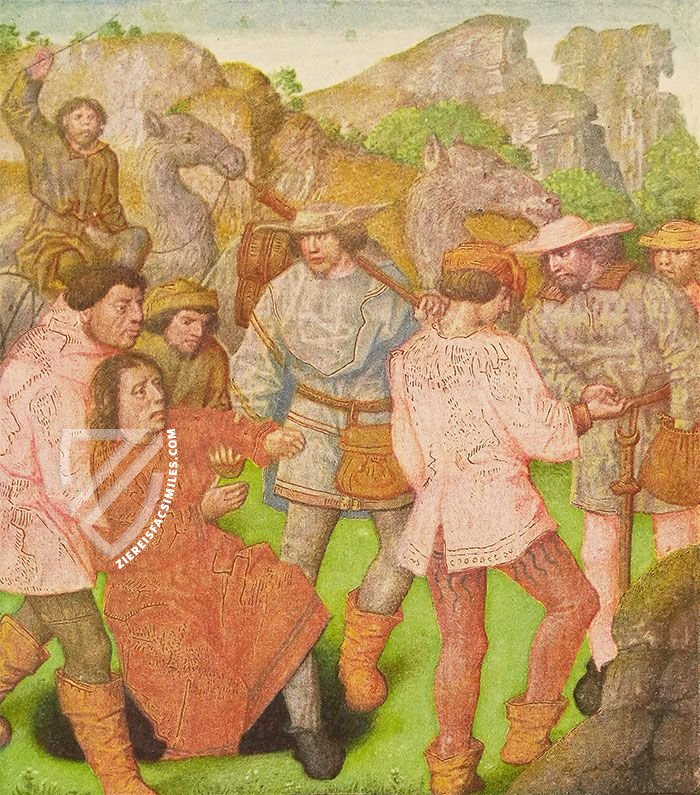 Single Page
Mayer van den Bergh Breviary
Saint Catherine
This magnificent full-page miniature is a fine testimonial to the great skill of Gerard David, who was a true master when it came to depicting garments such as St. Catherine's flowing dress. She is seated on the ground next to two of the symbols associated with her: the spiked breaking wheel upon which she was to be tortured but shattered at her touch and the sword with which she was finally executed.
As is typical, the unmarried girl is shown with long, unbound blonde hair and is richly dressed and crowned befitting her rank as a princess. Catherine is attended by a crowd of angels, the "celestial court". Presented in a splendid floral frame with a strawberry and butterfly, the scene is set in the inner courtyard of a castle.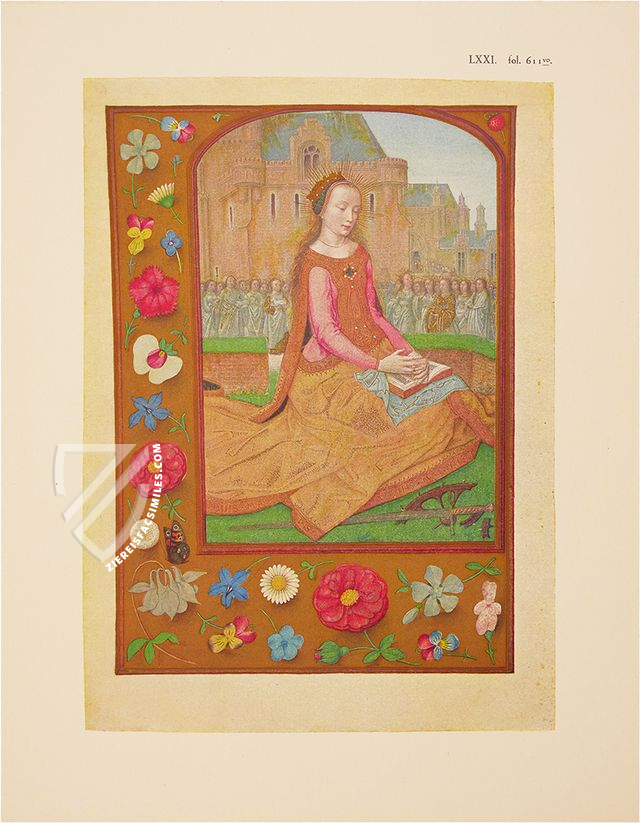 Facsimile Editions
#1

The Breviary of the Mayer van den Bergh

Limited Edition:

300 copies

Binding:

Dark brown linen binding

Commentary:

1 volume by Camille Gaspar, Martin Heckscher and E. M. Haynes
Language: English

1 volume: This facsimile is not complete.

Reproduction of the miniature pages
---
#2

The Breviary of the Mayer van den Bergh

Limited Edition:

700 copies

Commentary:

1 volume by Camille Gaspar, Martin Heckscher and E. M. Haynes
Language: English

1 volume: This facsimile is not complete.

Reproduction of the miniature pages
You might also be interested in: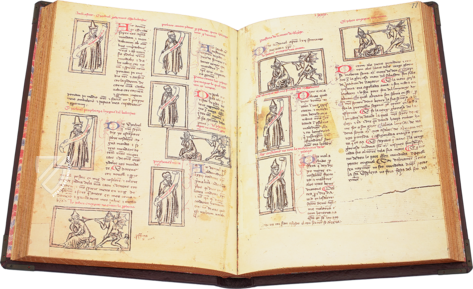 Breviari d'Amor
Valencia (Spain) – 15th century
A poetic monument to love: the masterpiece by the famous monk and poet Matfre Ermengaud with more than 150 poignant grisaille miniatures of the 15th century
Experience More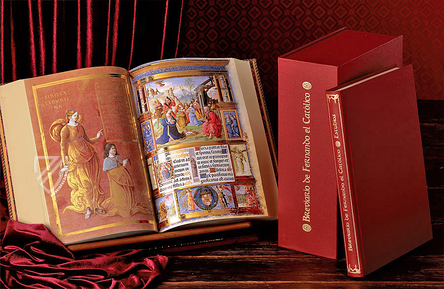 Blog articles worth reading