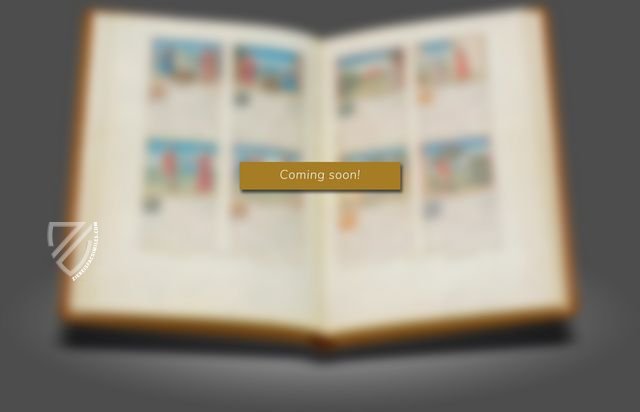 Miscellany of Alchemy
Padua (Italy) — Ca. 1470
Alchemists were not only interested in the transmutation of substances, but of the soul as well

It was believed that the same substance that could transform a base metal into gold could also grant immortality

This is a rare alchemical manuscript because practitioners of the esoteric art were secretive by nature
Miscellany of Alchemy
Alternative Titles:
Miscelánea De Alquimia
Sammlung der Alchemie
Short Description
The key word of alchemy is "transmutation" and alchemists were concerned with changing both substances, i.e. turning base metals into gold, and perfecting humans both body and soul. A legendary substance capable of doing both was referred to as the "philosophers' stone", and is also a symbol of perfection and universal truth. This comprehensive Gothic alchemy manuscript was gorgeously adorned with enigmatic watercolors by Francesco da Barberino.
Miscellany of Alchemy
The now-debunked science of alchemy is concerned with the transmutation of substances, particularly the creation of gold from base metals. Nonetheless, the labors of the alchemists gave birth to modern chemistry and other sciences. Alchemists were also concerned with the heavens, the macrocosm, and its reflection in man, described as the microcosm. As such, they sought an elixir of immortality, panaceas to cure any disease, and other substances to perfect the human body and soul. Their belief in an all-encompassing knowledge, a universal truth, is perhaps best represented by the search for the philosophers' stone, a legendary substance capable of changing base metals into noble metals or granting immortality. The philosophers' stone has come to be a symbol of perfection, enlightenment, and heavenly bliss. The manuscript at hand, stored under the shelf mark MS Ashburnham 1166 in Florence's Biblioteca Medicea Laurenziana, attributed to Johannes von Teschen, or Ticinensis. It is famous for a representation of a dying man shot with an arrow and being used as soil by a tree growing up from his genital area, and is named after its last private owner, Bertram Ashburham. The text is adorned with gorgeous, enigmatic watercolors attributed to Francesco da Barberino (1264–1348).
Codicology
Alternative Titles

Miscelánea De Alquimia




Sammlung der Alchemie

Origin

Date

Ca. 1470

Epochs

Style

Language
1 available facsimile edition(s) of "Miscellany of Alchemy"
Miscelánea De Alquimia Facsimile
Miscelánea De Alquimia Facsimile
1 volume: Exact reproduction of the original document (extent, color and size)
Publisher

Ediciones Grial – Valencia, 2004

Limited Edition

821 copies

Commentary

1 volume by Demetrio Santos, Ida Giovanna Rao
Language: Spanish

More Information

Reproduction of the entire original document as detailed as possible (scope, format, colors). The binding may not correspond to the original or current document binding.
Matching Works
Theatrum Sanitatis
Created to improve hygiene standards among the nobility: more than 200 large miniatures illustrating the famous text by the physician Ibn Butlan in an illuminated manuscript from Lombardy
Experience More
Matching Background Articles