Napoleon's Will
Description
One's will is an intensely personal document and divulges details from one's life in a way that few others can. Such documents are particularly fascinating when they belong to famous people, because the more famous someone is, the more their true character is obscured by their public and historical personas. There are few names more famous today than that of Napoléon Bonaparte, and few people whose legacies are more hotly debated. Those who read his last will and testament can decide for themselves.
Napoleon's Will
"It is my wish that my ashes may repose on the banks of the Seine, in the midst of the French people, whom I have loved so well"
Few historical figures have attained the level of fame enjoyed by Napoléon Bonaparte (1769–1821), who is remembered as one of the greatest military geniuses of all time, and one of the most debated political legacies in history. His culturally legacy is enormous, but the document at hand is concerned with his personal legacy, that is to say his last will and testament. It was written on the British island of St. Helena in the middle of the South Atlantic, where he was exiled after his final defeat at the Battle of Waterloo on June 18th, 1815. It is written in his own hand, with several copies made by his assistant, General Charles Tristan, marquis de Montholon (1783–1853), in the event that the British would destroy the original. After initially making some patriotic statements and some personal statements addressed directly to various family members, he also takes the time to insult various people, from the governor of St. Helena, Hudson Lowe (1768–1844) to Tallyrand (1754–1838) to Lafayette (1757–1834). The will goes into great detail in describing how Napoléon's assets were to be distributed among his family, family, servants, and the various generals who served him, or their families in case they were dead. He lists practically all of his personal property and to whom his personal property was to be distributed, from an alarm clock that once belonged to King Frederick II of Prussia (1712–1786) to his hand washing stand, complete with jug. Such was the former emperor's generosity, that he even sought to disperse property that he did not own. The will truly reflects the self-image of the incredibly ambitious Corsican.
Codicology
Alternative Titles

Testament Napoleons

Type

Size / Format

27 leaves / 34.0 × 23.0 cm

Origin

Date

Ca. 1820

Epochs

Style

Language

Illustrations

Handwritten will with Napoleon's personal signature on several pages
Detail Picture
Napoleon's Will
Napoleon's Signature
This example of the signature of one of the greatest generals in history appears on a small sheet that is part of his will's addenda. The line above states that it was signed at Longwood House, the mansion on the Island of St. Helena where Napoleon spent the last years of his life, on the 23rd of April 1821, a little more than a week after the main body of documents were written. It appears alongside a modern stamp from the French National Archives, its modern repository, and an original wax seal with Napoleon's coat of arm that has deteriorated to the point of being unrecognizable.
Single Page
Napoleon's Will
List A
Like the rest of the will, this page is written in Napoleon's hand and its title reads "List A. Annexed to my Will / Longwood, Island of St. Helena, this, 15th April 1821". It consists of six points detailing a list of some of his most prized possessions, all of which are to be bequeathed to his son "when he shall attain the age of sixteen years" and is signed at the bottom with a large "Napoleon" with a thick underline.
Most of the items are personal mementos such as the sword Napoleon wore at the Battle of Austerlitz, which is regarded as one of his greatest tactical masterpieces, as well as the gold dressing-case he used on campaign, uniforms, medals, field-beds, a telescope, saddles, bridles, and spurs. The list also includes other more typical items that get passed down in families such as fine China, a library of 400 volumes, and religious objects.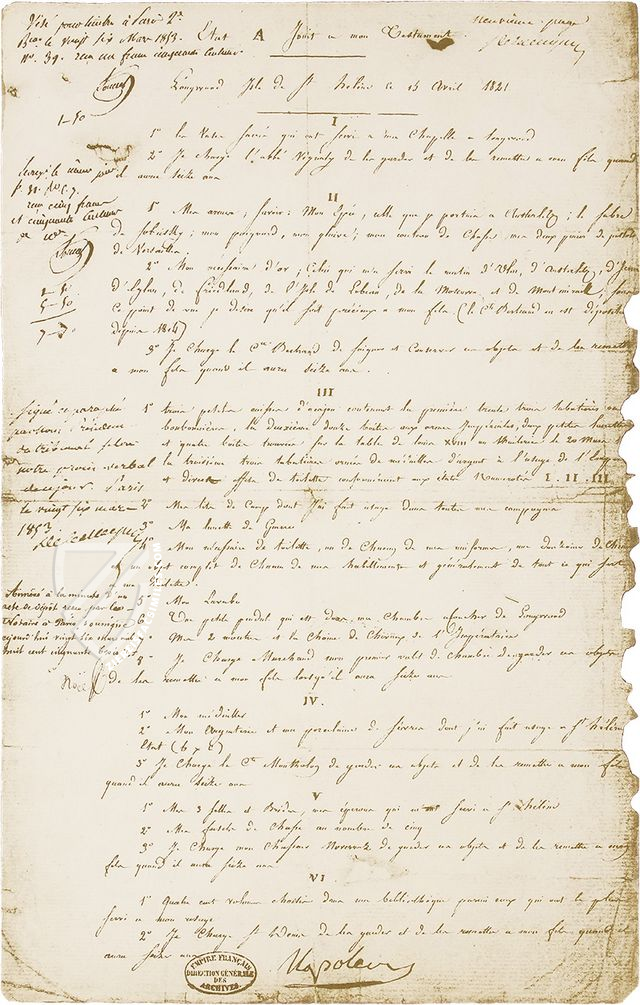 Facsimile Editions
#1

Das Testament Napoleons

Commentary:

1 volume by Jean-Pierre Babelon
Language: French, German

The commentary volume contains, among other things, the transcription of the original text

1 volume: Exact reproduction of the original document (extent, color and size)

Reproduction of the entire original document as detailed as possible (scope, format, colors). The binding may not correspond to the original or current document binding.