Oxford Decameron
Description
A wonderful 15th century Italian manuscript luxuriously frames one of the most famous works of world literature: Boccaccio's Decameron, a richly and diverse collection of stories from the mid–14th century. At the behest of Teofilo Calcagnini, the Ferrara miniaturist Taddeo Crivelli completed a masterpiece of his art with gorgeous miniatures and impressive ornamentation, a variety of forms and compositions!
Boccaccio's Decameron
This wonderful testimonial to 15th century Italian illumination is stored today in the Bodleian Library in Oxford. The shelf mark MS. Holkham misc. 49 refers to its provenance: the manuscript resided centuries long in Holkham Hall in Norfolk, the famous country home of Thomas Coke, First Earl of Leicester, with his famous library with books from his grand tour of Italy. It was surely there that the Earl acquired the impressive Decameron manuscript originating from Ferrara ca. 1467.
In the Circle of the Court of Ferrara
The manuscript originated at the behest of Teofilo Calcagnini, an official at the court of Borso d'Este. Taddeo Crivelli (active in Ferrara 1451–1479), a gifted miniaturist, was responsible for the Ferrara-style Renaissance illumination. Under the rule of Borso d'Este, Crivelli worked both for noble as well as institutional patrons. One of his significant works was surely the Bible of Borso d'Este, one of the primary works of Italian Renaissance illumination.
The Famous Ten-Day-Work
Taddeo Crivelli created a splendid manuscript of the famous Decameron by Giovanni Boccaccio (1313–1375) for the court official. The collection of short stories by the humanist-influenced author of the Italian Renaissance is considered to be one of the most important works of world literature. Originating around the middle of the 14th century, Boccaccio narrates 100 stories altogether – told by ten people over ten days – with the plague in Florence as a backdrop.
The Diverse Book Decoration
Every page of the manuscript is wonderfully designed – and each differently. A variety of ideas and concepts are presented here. The text in two columns is often framed by colorful ornamental friezes, adorned with floral ornamentation, or illustrated with miniatures of the content. This diverse, colorful adornment inter alia is taken from mythology and from the Decameron itself. Artful initials round out the accomplished pictorial adornment.
Codicology
Alternative Titles

Der Oxforder Dekameron




Boccaccio's Decameron




Holkham Hall Codex




Le Centonovele de Meser Zohane Bochazo, del magnifico Meser Teophilo de Chalchagnini

Size / Format

340 pages / 35.6 × 26.5 cm

Origin

Date

Around 1467

Epochs

Style

Genre

Language

Patron

Teofilo Calcagnini

Artist / School

Giovanni Boccaccio (author)
Teofilo Calcagnini (illuminator)

Previous Owners

Francescani Osservanti
Thomas Coke, Duke of Leceister
---
Available facsimile editions: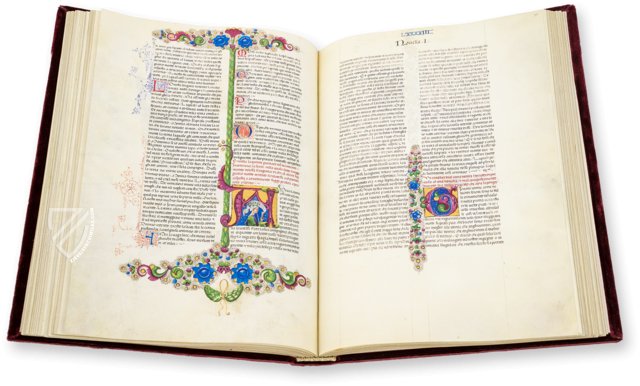 Istituto dell'Enciclopedia Italiana - Treccani
– Rome, 2013
Limited Edition:
599 copies
Detail Picture
Oxford Decameron
Beginning of Giornata II
This historiated initial consists of a portrait of a young lady in profile who is identified as "Phylomena" by the inscription. Adorned with a leafy pattern, the green "S" is set within a gold leaf frame with a deep red background that contrasts nicely with Phylomena's blue dress. Her white headdress is complimented by a laurel wreath. Additional laurel leaves on the left are punctuated with the blue face of a cherub, which is followed by filigree decoration with gold coins, flowers, and leaves.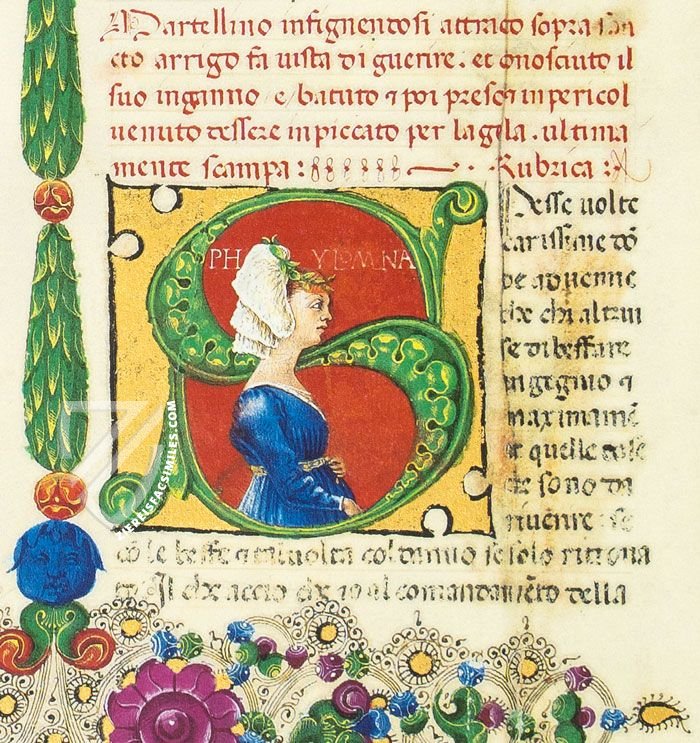 Single Page
Oxford Decameron
Opening Page
Introduced by a lavish "H" initial, the opening page of the text is framed by panels with flowers, cherubs' heads, and gold coins. The upper margin depicts scrolls and doves that flank a medallion with the Italian word fido or "trust" behind a fence. Medallions in the right margin contain a swan with a knotted neck and a banderole as well as a splendid 12-point stag who is resting in the grass.
The bas-de-page miniature depicts six ladies seated in a circle in front of a carved altarpiece in the church of Santa Maria Novella in Florence. A seventh greets three young men who enter on the right, the first of whom wears a blue, fur-trimmed coat. All are identified by banderoles. The ceiling is painted blue with a checkerboard pattern of gold stars.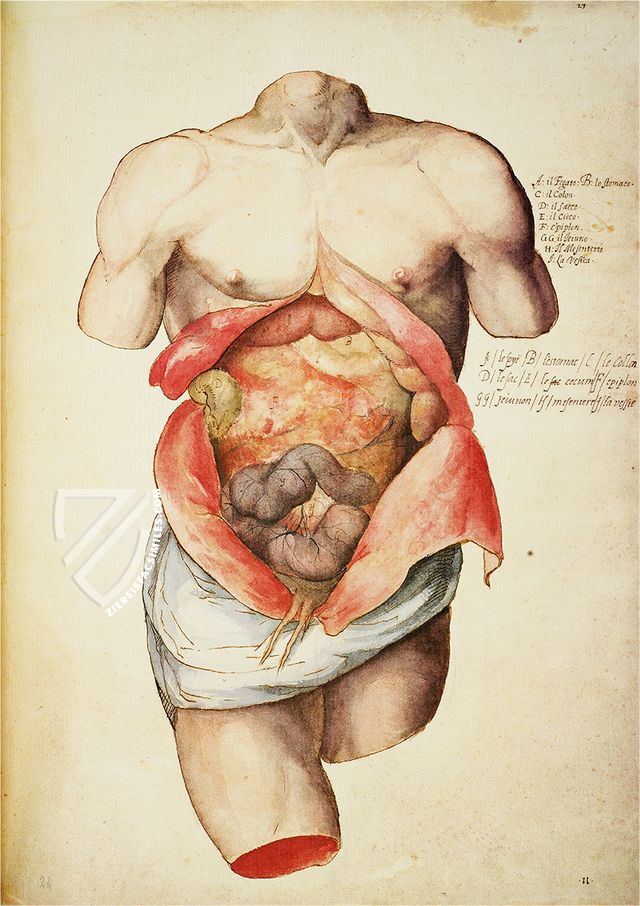 Facsimile Editions
#1

Oxford Decameron

Limited Edition:

599 copies

Binding:

Red silk velvet with gold stamping

Commentary:

1 volume by Federica Toniolo, Marco Cursi e Teresa Nocita


1 volume: Exact reproduction of the original document (extent, color and size)

Reproduction of the entire original document as detailed as possible (scope, format, colors). All folios are cut according to the original. The binding may not correspond to the original or current document binding.