Piante di Popoli e Strade
Description
Piante di Popoli e Strade
While most maps created in the 16th century were concerned with maritime travel, some were attempting to improve overland travel as well. Here we have a compendium of 49 watercolors that attempted to create a scale atlas of Florentine territory for the first time.
Piante di Popoli e Strade
The Pianta di Popoli e Strade dei Capitani di Parte Guelfa or "Plan of Peoples and Roads of the Captains of the Guelf Party" is an incredibly significant document attesting to the growing field of cartography in the 16th century. This document represents the first systematic attempt to create a scale atlas of Florentine territory and is stored in the State Archives of Florence today. It takes the form of 49 watercolors that depict roads, waterways, and faithful axonometric depictions of villages, villas, churches, monasteries, rural buildings, tabernacles, and more. These maps, created at the end of the 16th century, are remarkable for both their accuracy and their artistry.
Codicology
Type

Origin

Date

1580–1595

Epochs

Style

Genre

Language
Facsimile Editions
#1

Piante di Popoli e Strade

Commentary:

1 volume by Giuseppe Pansini, Leonardo Rombai, Ludovico Branca, Matteo Barbarulo, Gian C. Garfagnini
Language: Italian

1 volume: Exact reproduction of the original document (extent, color and size)

Reproduction of the entire original document as detailed as possible (scope, format, colors). The binding may not correspond to the original or current document binding.
You might also be interested in: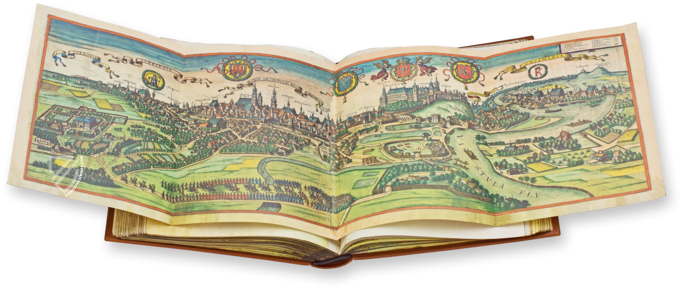 Civitates Orbis Terrarum
Cologne (Germany) – 1572–1617
Regarded today as an invaluable source of history and architecture before the destruction of the Thirty Years' War: the mammoth work by Georg Braun and Frans Hogenberg with 600 beautiful, realistic, and detailed cityscapes from all over the world
Experience More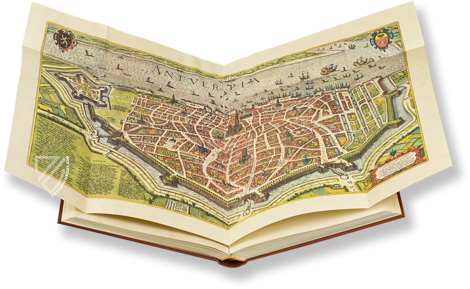 Blog articles worth reading