Prayer Book of Michelino da Besozzo
Description
Prayer Book of Michelino da Besozzo
Named after the artist who created it, the Prayer Book of Michelino da Besozzo is a richly illuminated manuscript originating from Milan ca. 1430. Its contents consist of 47 prayers arranged liturgically and dedicated to various feasts taken from the Temporal and Sanctoral cycles of the church year and is adorned by 22 full-page miniatures, 1 large historiated initial, and 46 illuminated initials. Both the miniatures and 47 of the text pages are framed by delicate floral borders, but it is believed that at least half of the original miniatures and parts of the texts are missing. Michelino was highly esteemed by his contemporaries, called "the supreme painter" and "the most excellent of all painters in the world". This small prayer book, with its generous use of gold leaf and rich color palette, is considered today to be his masterpiece. One of the highlights of the manuscript is the Evangelist portrait of St. Luke, which is one of the first Western depictions to show the patron saint of painters and painters' guilds putting the finishing touches on a panel painting of the Madonna and Child, an image that became increasingly popular in the course of the next century.
Codicology
Alternative Titles

Gebetbuch von Michelino da Besozzo




Bodmer Hours




Offiziolo Bodmer




Hours of Michelino da Besozzo




Stundenbuch von Michelino da Besozzo

Type

Origin

Date

ca. 1430

Epochs

Style

Genre

Language

Artist / School

Michelino da Besozzo (ca. 1370 – ca. 1455)
---
Available facsimile editions:
Facsimile Editions
#1

The Prayer book of Michelino da Besozzo
Commentary:
1 volume by Colin T. Eisler and Patricia Corbett
Language: English
1 volume: Exact reproduction of the original document (extent, color and size)
Reproduction of the entire original document as detailed as possible (scope, format, colors). The binding may not correspond to the original or current document binding.
You might also be interested in: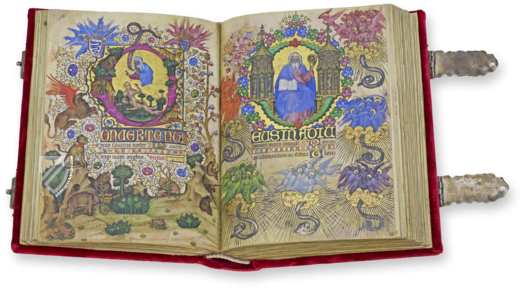 Visconti Book of Hours
Probably Milan (Italy) – Around 1390, completed after 1428
Created by Giovannino de' Grassi and Belbello da Pavia: an expressive illuminated prayer book in two volumes for the Duke of Milan
Experience More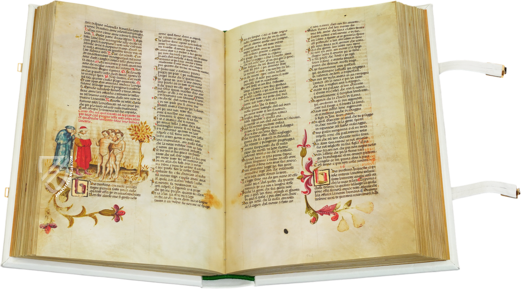 Blog articles worth reading