Ptolemaei Tabulae Cosmographicae
Description
Ptolemaei Tabulae Cosmographicae
Johann Reger was a printer and agent representing the interests of the Venetian bookseller and publisher Justus de Albano in Ulm. When Lienhart Holl ran into financial difficulties in 1484, he sold the printing press, typefaces, plates, etc. that he had used to make the first German Ptolemy print in 1482 to de Albano. Reger was then commissioned by de Albano with the creation of a second print in 1486, which differs from the first edition only with respect to the color of the water: Holl's map is dark blue while Reger's is golden brown, which was probably intentional. They are based on an Italian manuscript of Ptolemy's Geography, which was edited by the cosmographer Donnus Nicolaus Germanus and was in the possession of the Truchsesses or stewards of Wolfegg Castle ca. 1470 before it was acquired by Holl. The beautifully illustrated printed codex served as the basis for the modern development of German cartography.
Codicology
Size / Format

412 pages / 40.0 × 29.0 cm

Origin

Date

1486

Epochs

Style

Genre

Language

Illustrations

Numerous illustrations, some double-page maps

Artist / School

Printer: Johann Reger
Detail Picture
Ptolemaei Tabulae Cosmographicae
Crete
The island of Crete is one of the most historically significant locations in the world. First inhabited over 130,000 years ago, it was the home of Europe's earliest advanced civilization, the Minoans, whose influence on other early Mediterranean civilizations through their extensive maritime trade network is still exhibited by a distinctive style of pottery. The mountainous island with many natural harbors is depicted here in detail with dozens of settlements identified.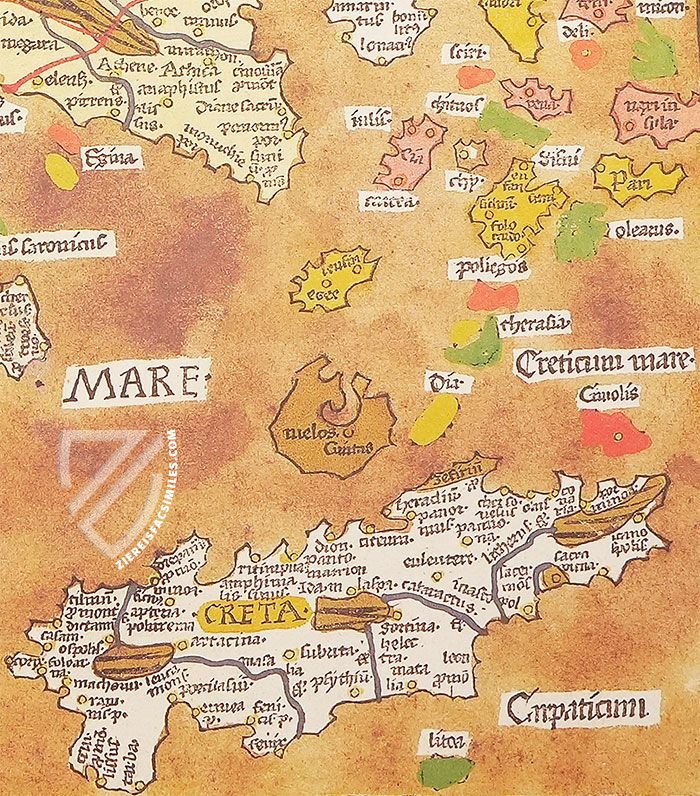 Single Page
Ptolemaei Tabulae Cosmographicae
Ecumene
The ecumene or oecumene is an ancient Greek word used for the known world and came to refer to civilization itself under the Roman Empire. Today, it is used in the context of ecumenism, a concept seeking to reconcile the various Christian denominations, and in cartography to describe a category of medieval world maps from Late Antiquity and the Middle Ages.
Printed more than 1,300 years after Ptolemy first wrote his Geography, this codex and others containing this iconic engraving of the Grecco-Roman worldview attest to the lasting influence of the ancient Greek polymath's most famous work. Unfortunately for early explorers, the image underestimates the Earth's circumference while overestimating the width of the Eurasian continent.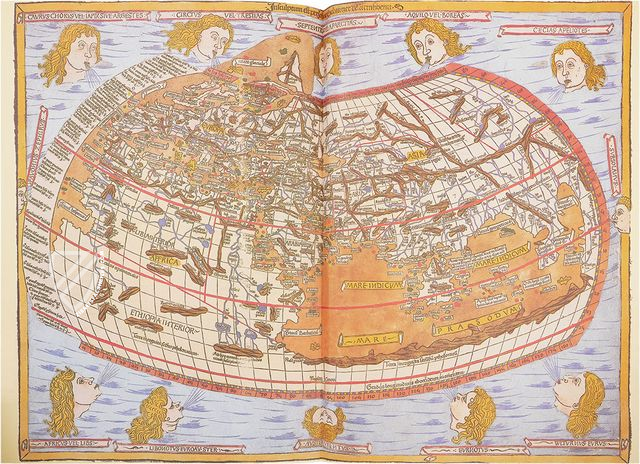 Facsimile Editions
#1

Ptolemaei Tabulae Cosmographicae

Limited Edition:

2999 copies

Commentary:

1 volume (307 pages) by Sante Bortolami
Language: Italian