Small Book of Hours of Philip II
Description
Small Book of Hours of Philip II
Every now and then, a chance discovery is made that electrifies historians and manuscript lovers, reminding us that there is still much to learn about the Middle Ages, and that more wonderful artifacts are waiting to be discovered. Such a discovery was made in 1882: a splendid 16th century book of hours that once belonged to a French princess who became a Spanish queen.
Small Book of Hours of Philip II
In 1882, a wonderful discovery was made in the bowels of the Museo Arqueológico Nacional in Madrid: a small gem of late medieval illumination originating from France sometime between 1525 and 1550 in the Workshop of the Hours of 1520. Today, the tiny manuscript represents a highlight of the museum's collection. The codex is attributed to the Master of the Getty Epistles and, measuring only 5 x 7.7 cm but comprising 304 pages altogether, it is the smallest manuscript produced by this atelier. Often referred to as the Diminuto Devocionario or Tiny Devotion, the manuscript is actually part of the rich tradition of the book of hours. It is believed to have made its way to Spain in the possession of Elisabeth de Valois (1545–68), third wife and queen consort of King Philip II of Spain (1527–98). The 12 miniatures in the codex are of high artistic value as evidenced by the refinement of the artistry, including the frames, and the delicate color palette. A true-to-original blue leather binding features an embossed diamond pattern and gold stars. The manuscript stands today as a wonderfully preserved specimen attesting to the influence of the Italian Renaissance in France.
Codicology
Alternative Titles

Das kleine Stundenbuch Philipps II.




Diminuto devocionario




Diminuto devocionario del Museo Arqueológico Nacional




Book of Hours of Philip II




Libro de Horas de Felipe II

Type

Date

Second half of the 16th century

Epochs

Style

Genre
---
Available facsimile editions:
Facsimile Editions
#1

Diminuto devocionario

Limited Edition:

1110 copies

Commentary:

1 volume by Ana Domínguez Rodríguez
Language: Spanish

1 volume: Exact reproduction of the original document (extent, color and size)

Reproduction of the entire original document as detailed as possible (scope, format, colors). The binding may not correspond to the original or current document binding.
You might also be interested in: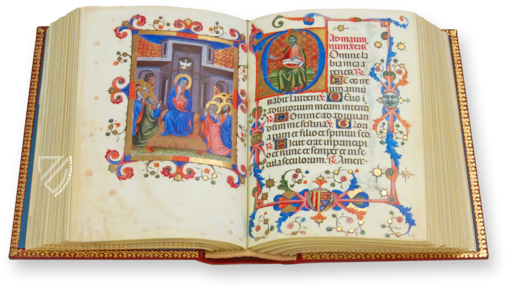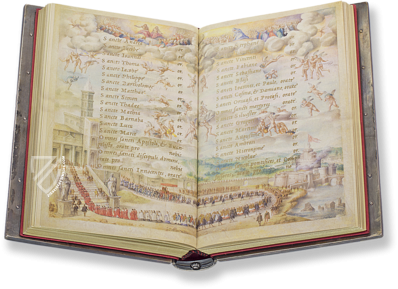 Farnese Hours
Rome (Italy) – 1537–1546
26 full-page painting-like miniatures commissioned by Cardinal Alessandro Farnese: a unique fusion of Renaissance painting and Mannerism, created by Giulio Clovio, one of the greatest miniaturists of all time
Experience More
Blog articles worth reading