Stammheim Missal
Description
The finest work of German Romanesque illumination: the Stammheim Missal. A missal contains all the prayers and chants required for the performance of mass, and this is a particularly fine example thereof. Originating from Lower Saxony, it was made in the scriptorium of St. Michael's Abbey in Hildesheim ca. 1170. Not only were the finest materials used in abundance for this manuscript, but its well-designed image program has produced miniatures expressing a rare degree of theological complexity. The resulting work of art is an incredible blend of dynamism, vibrancy, and majesty that has survived in a remarkably well-preserved state.
Stammheim Missal
This exquisitely designed, remarkably complete, and artistically whole manuscript is the greatest masterpiece of German Romanesque illumination. The Stammheim Missal has the power to leave one awed and speechless. Its artistic execution is gorgeous, its materials second to none, and its image program was perfectly planned. These symmetrical miniatures are richly adorned with gold leaf and tempera pigments, and the manuscript is gorgeously and holistically illuminated from the first page to the last. A missal contains all the prayers and chants required for the performance of mass, but unlike most missals, this does not appear to have been intended for regular use during mass, but rather as a biblical treasure or liturgical shrine for the monastery. Thankfully, the precious codex is incredibly well-preserved and represents one of the greatest treasures of the J. Paul Getty Museum in Los Angeles.
A Romanesque Masterpiece
Created ca. 1170 in the scriptorium of St. Michael's Abbey in Hildesheim, this is arguably the finest and purest expression of the Romanesque style. This splendid manuscript was commissioned to promote the canonization of the founder of Hildesheim Abbey, Bernward of Hildesheim (ca. 960–1022), which occurred in 1193. He is pictured in a gorgeous full-page miniature on fol. 156r towards the end of the codex. Its miniatures are not only perfectly executed – possessing an incredible blend of dynamism, vibrancy, and majesty – but were designed with a rare degree of theological complexity. Their liveliness is found in the postures, gestures, and gazes of the figures while their monumental character comes from Byzantine influences: geometric frames, symmetrical image structures, and burnished gold leaf backgrounds. Thus, the manuscript can be counted among the finest illuminated manuscripts to have survived from the Middle Ages to the present.
The Art of the Historiated Initial
The elaborately decorated initials of this manuscript are as perfect in their execution as the miniatures and are consistent with their symmetry, color, and overall aesthetic. Larger historiated initials can range from 5 to 18 lines and contain figurative scenes inhabited by humans, animals, and mystical creatures. Smaller decorative initials have no figural elements but even the simplest boast elegant geometric designs. The largest and most ostentatious is a "B" initial found on folio 58r that precedes a chant sung for the feast of St. Michael, patron saint of the abbey. The letter itself comes together in the mouth of a dragon and is filled with figures involved in the harvesting and making of wine. A man at the top cuts a vine with a small sickle, another at the bottom reaps grapes by hand, a third sticks a long handled spoon into a bucket of grapes. Meanwhile, two other men preoccupy themselves with fending off various animals that are eating the harvest – one draws back on a bow while another raises a club over his head.
Jealously Protected through the Centuries
The bright colors and gold leaf of the Stammheim Missal are almost as radiant as when it was created nearly 850 years ago. It was stored at Hildesheim until 1803, when the last prince-bishop of Hildesheim, Franz Egon Freiherr von Furstenberg (1737–1825), took it into his personal care. It remained in the private library of Schloss Stammheim in Cologne, after which it is named, for almost two centuries before being acquired by the Getty Museum in 1997. This manuscript has been preserved in near-perfect condition thanks to the fact that it only had three owners across eight centuries, all of whom meticulously cared for the precious codex. Thanks to their efforts, modern beholders of this work of art can experience it in all of its original, undiluted glory.
Codicology
Alternative Titles

Stammheimer Missale

Size / Format

368 pages / 28.2 × 18.9 cm

Origin

Date

Ca. 1170

Epochs

Style

Genre

Language

Illustrations

12 full-page miniatures; 3 richly decorated incipit pages; 37 large and hundreds of smaller decorated and historiated initials; 10 half-page ornamental initials; 12 calendar pages; 29 pages with painted arcades

Previous Owners

Saint Michael's Abbey
Franz Egon Freiherr von Furstenberg
---
Available facsimile editions:
Detail Picture
Stammheim Missal
The Creation of the World
This gold and silver disc from the opening page of the German Romanesque masterpiece is perfectly balanced geometrically and painted with deep primary colors. In the center we see the hand of God creating Eve from Adam's rib as he sleeps. They are surrounded by six medallions depicting the Creation of the World with inscriptions from Genesis describing the events of each day, beginning in the upper left quadrant with Fiat lux et facta est lux (Let light be made and light was made).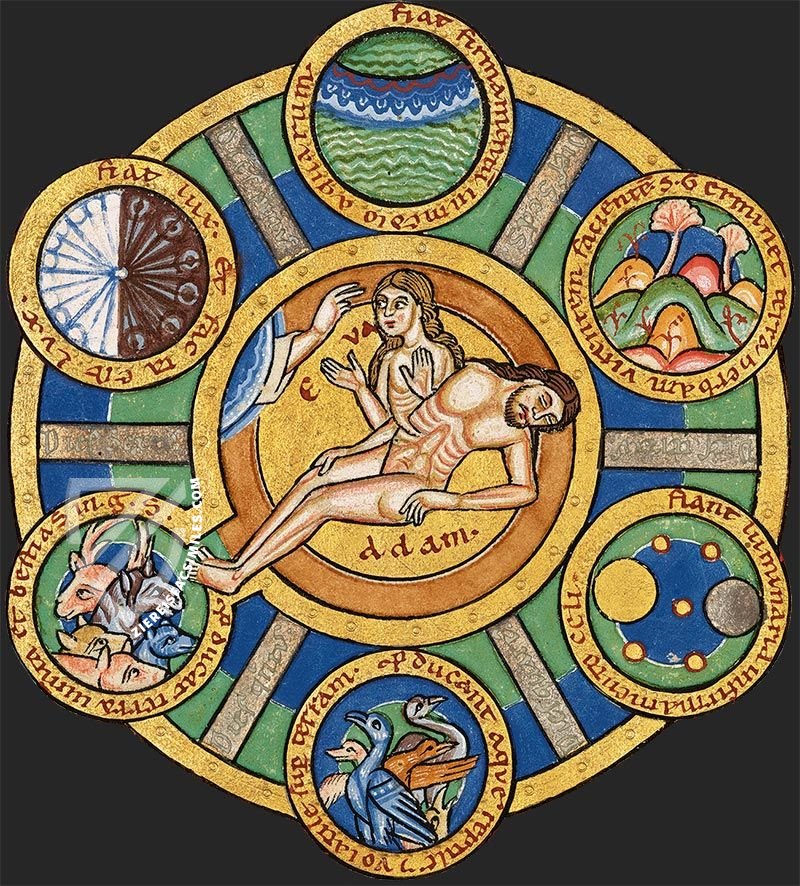 Single Page
Stammheim Missal
"A" Initial: David and Companion Musicians
This elaborate initial page introduces the chants sung at Mass for the first Sunday of Advent and depicts the Bible's most famous musician, King David, who is shown playing a lyre in the roundel at the top of the page. He is accompanied by two other musicians, one playing a violin and the other blowing on a horn as a nude man slays dragons among the colorful tendrils.
The vine scroll forms a colorful and dynamic pattern of swirls and entanglements with a background of gold and silver leaf. Swirling tendrils, often featuring dragons and other animals, is a feature of Insular art that was carried over into this Romanesque manuscript. The identity of the nude dragon slayer is less clear as he resembles neither St. George nor the Archangel Michael.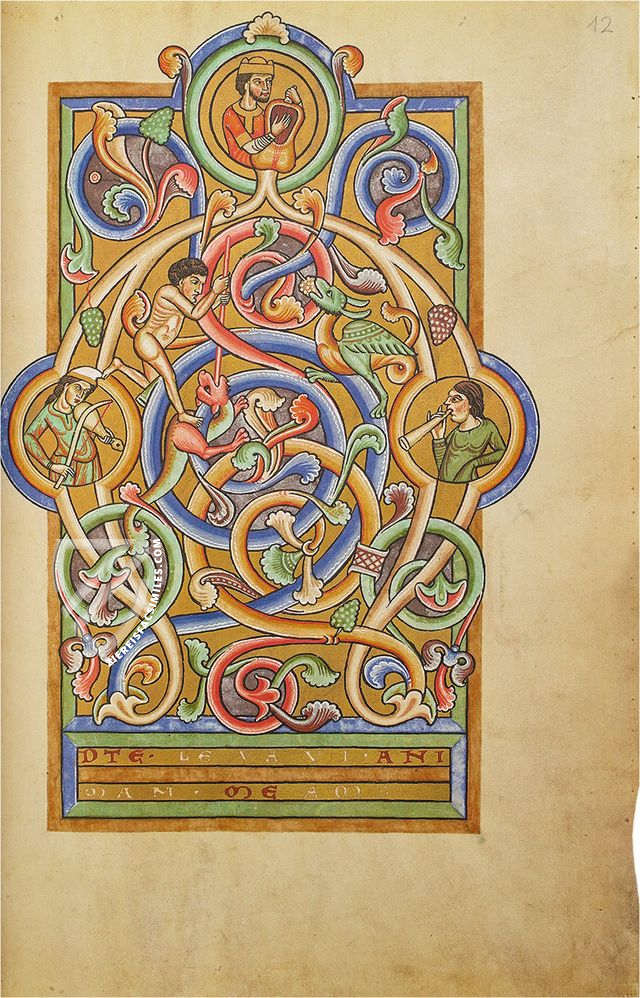 Facsimile Editions
#1

Das Stammheimer Missale

Limited Edition:

480 copies

Binding:

Bright leather binding with rich blind embossing and brass closing

Commentary:

1 volume by Elizabeth Teviotdale, Christine Sciacca, Nancy Turner, Kirsten Collins and Gerhard Lutz
Languages: German, English

1 volume: Exact reproduction of the original document (extent, color and size)

Reproduction of the entire original document as detailed as possible (scope, format, colors). The binding may not correspond to the original or current document binding.
You might also be interested in: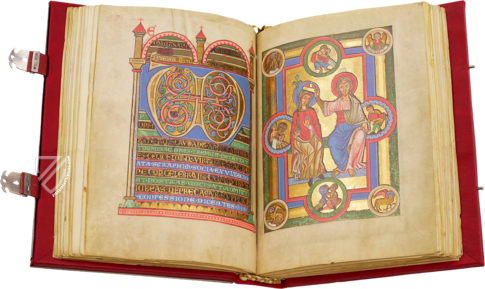 Hainricus Missal
Monastery of Weingarten (Germany) – Ca. 1217
Created in the famous scriptorium of Weingarten, equipped with magnificent miniatures and imaginative decorated initials: one of the most beautiful and imaginative masterpieces of the German Gothic period
Experience More
Blog articles worth reading