The Royal Library
Description
The Royal Library brings together three of the finest works of medieval illumination. Among them is the Prayer Book of the wise and learned Pope Benedict XIV, created in the 15th century by an unknown Flemish master and decorated with an extremely magnificent calendrical. In addition, the library still contains the precious Office of the Virgin Mary of Barbara of Austria, Austrian Archduchess and, as wife of Alfonsso II d'Este, Duchess of Ferrara, who used this treasure as a private devotional book. The third work is the impressive Office of the Virgin Mary of Cardinal Ippolito d'Este and presents itself as a beautiful testimony of Milanese book illumination around 1500. The history of the manuscript is closely linked to the tragic life of Anna Sforza, the first wife of Ippolito's brother Alfonso d'Este. 12 Large-format miniatures and countless imaginative ornamental initials adorn this private devotional book, which beautifully displays the artistry of the Milanese court painter Francesco Binaso, commissioned by the Este cardinal.
Codicology
Alternative Titles

Die Königliche Bibliothek




La Biblioteca Reale

Size / Format

278 pages 332 pages 156 pages / 24.0 × 14.0 cm 17.5 × 12.0 cm 19.5 × 13.0 cm

Origin

Date

Late 15th Century

Epochs

Style

Genre

Language

Script

Littera bastarda Gothic Textura

Illustrations

Many fullpage miniatures

Patron

Ippolito I d'Este (1479–1520), cardinal and archbishop of Milan

Artist / School

French Gothic style of Jean Bourdichon

Previous Owners

Archduchess Barbara of Austria (1539–1572)
---
Available facsimile editions:
Facsimile Editions
#1

La Biblioteca Reale

Publisher:

Imago

– Bologna, 2019

Limited Edition:

225 copies

Binding:

Velvet binding with stones

Commentary:

1 volume
Language: German

Reproduction of the entire original document as detailed as possible (scope, format, colors). The binding may not correspond to the original or current document binding.
You might also be interested in: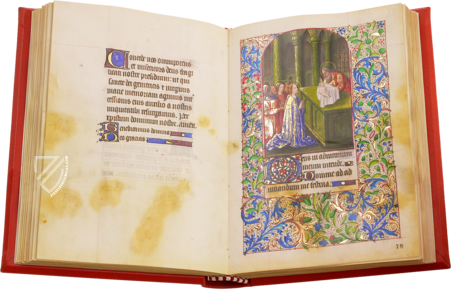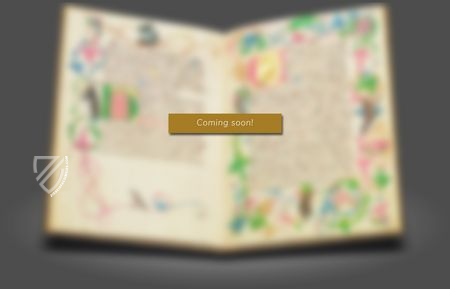 Hours of the Master of Guillebert de Mets
France – 14th Century
A lovingly realistic view in lively colors of the story of Jesus, Mary, and St. Barbara: an extremely charming masterpiece of 15th century Flemish illumination created for the court of Duke Philip the Good in Burgundy
Experience More
Blog articles worth reading