Ulman Stromer - Püchel von meim geslecht und von abentewr
Description
Ulman Stromer - Püchel von meim geslecht und von abentewr
Ulman Stromer was a German merchant, wholesaler, manufacturer, and councilman in Nuremberg who built the first paper mill north of the Alps in 1390. His family's mercantile network reached as far as Barcelona, Genoa, Milan, Kraków, Riga, Lviv, and Azov. Active in politics, Ulman offered financial support to Rupert II, Count Palatine of the Rhine in his efforts to depose King Wenceslaus IV of Bohemia and replace him with his son, also named Rupert, which occurred in 1400.
Regarded as one of the first autobiographical works to be written in the German language, his Püchel von meim geslecht und von abentewr, which translates into English as "Small Book of My Family and Adventures", was written between 1360 and 1401 and is also considered to be the beginning of the medieval historiography of the city of Nuremberg. The work addresses three closely interwoven subjects: his family and their communications (geslecht) as well as political events and economic information (abentewr). Ulman is surprisingly dispassionate and fair in his treatment of events – even those closely affecting him and his relatives – and historians have confirmed most of his claims.
Ulman Stromer - Püchel von mein geslecht und von abentewr
This work by Ulman Stromer (1329-1407) marks the beginning of the historiographical writing of Nuremberg and is considered *an early work with "autobiographical" features in the German language. The earliest family book from Nuremberg also provides important information about the patrician class of the imperial city during the second half of the 14th century. It contains information concerning his entrepreneurial and councilor family – "mein geslecht" – as well as an accounting of the political and economic events of Nuremberg – "abentewr". Ulman claims to have begun his record in 1360 with the bulk of the entries dating from 1385-95 a final major supplement from the year 1400.
The three main subjects of this work – family, politics, and economics – are so closely intertwined that they cannot be separated from each other because "Stromer was at the same time a politician, a merchant, and he was a member of the influential, highly respected Nuremberg Stromers – the one conditioned the other" (Schneider). Stromer is remarkably impartial as a chronicler and notably omits some events in which he was directly involved, presumably to maintain objectivity. However, the reliability of Stromer's reporting decreases in proportion to how far he was separated from an event by time or distance. The entries in his chronicle are somewhat arbitrary and filled with countless cross-references.
Family
Information on the Stromer Family includes their ministerial origins as well as long lists of names of family members and deceased relatives of the other councilor families, most of whom were related to the Stromers. The reason for these listings is given by Ulman himself: "ir wirt vil vergessen, di niht geschriben warden" – "you will forget much that is not written". Other details from the author's family life include the purchase of a large estate north of the Frauenkirche and a dispute with the Nützel family over their shared coat of arms. It was decided by the city council in 1380 that they could both use the same coat of arms, which they did until 1548.
Politics
Stromer records political events both within the city of Nuremberg and throughout the Holy Roman Empire from 1349 to 1401 with his typical sobriety and objectiveness. Imperial affairs include the deposition of Wenceslaus IV as King of Germany in favor of Rupert von Wittelsbach, which Stromer supported, and a war between cities in which Nuremberg joined the Swabian League. Notable events from within Nuremberg include the infamous Jewish pogrom of 1348 and the construction of a wall around Nuremberg Castle with the support of Holy Roman Emperor Charles IV. Both Stromer and his closest relatives were personally involved in most of these events.
Economics
A series of bullet-point lists present economic data including customs, standard weights and measures, as well as information on coinage from as far away as Iberia in the West and the Sea of Azov in the East. Much of this information is also useful for reconstructing details from the early years of Stromer's life. The history of his family's paper mill, which is reproduced in the manuscript, is presented along with the contracts of several employees. This gives us precious insight into the emerging European paper making industry as well as the nature of working relationships during the 14th century.
The Püchel as a Source
Stromer's work enjoyed success in Nuremberg during his lifetime and can thus be considered the basis of medieval historiography in the city. As a source, Ulman's work testifies above all to the pronounced self-confidence of the Nuremberg patrician class in the 14th century, which experienced an unparalleled political and social rise during this period. A scholarly edition was published in the 1st volume of the Chroniken der Deutschen Städte by Karl Hegel, which was published in 1862. Since then, it has been regularly consulted as an authoritative source on the history of Nuremberg. However, there is some debate as to how to classify it as a source. While it is certainly autobiographical in nature, labelling it an autobiography is problematic, but it is also more than a historical work or a simple family book because of the economic considerations made by Stromer. Therefore, recent research has classified it as a "memorial book" with an "equally weighted combination of commercial, family and historical-political records" (Schneider).
Codicology
Size / Format

48 pages / 22.0 × 15.0 cm

Origin

Date

1360-1400

Epochs

Style

Language

Artist / School

Author: Ulman Stromer
---
Available facsimile editions: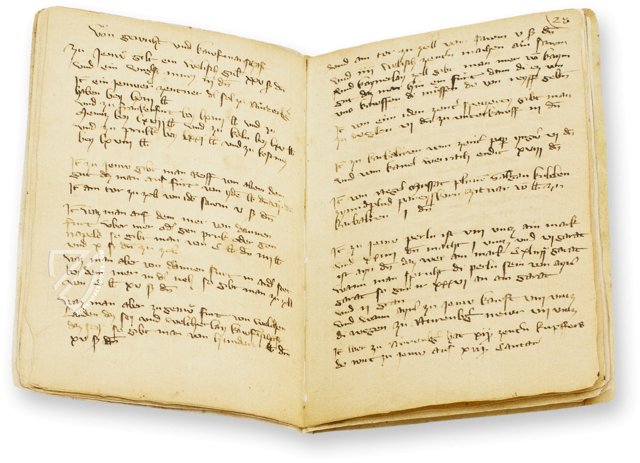 Müller & Schindler
– Stuttgart, 1990
Limited Edition:
200 copies
Facsimile Editions
#1

Ulman Stromer: Püchel von meim geslecht und von abentewr

Limited Edition:

200 copies

Commentary:

1 volume (277 pages) by Lotte Kurras, Lore Sporhan-Krempel, Wolfgang Stromer von Reichenbach and Ludwig Veit

Facsimile Copy Available!

Price Category: €€
(1,000€ - 3,000€)