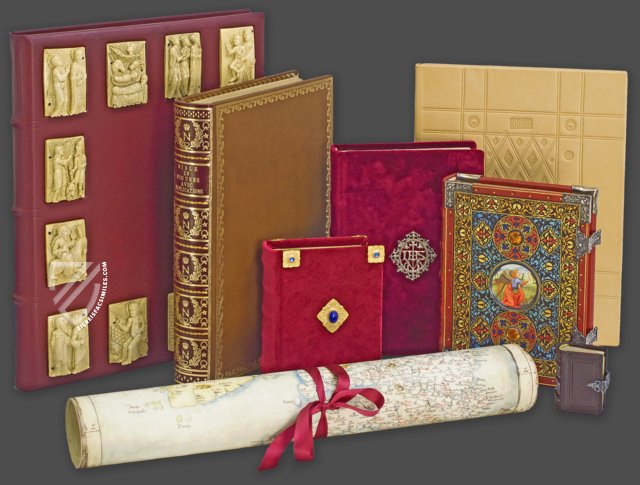 Vidal Mayor
MS. LUDWIG XIV 6
The Getty Museum (Los Angeles, USA)
Short Description
The Vidal Mayor represents the first compilation of the Fueros de Aragón, the laws and regulations of the Kingdom of Aragon. It was commissioned in 1247 by King James I of Aragon and Catalonia following years of successful campaigns that earned him the nickname "the Conqueror" and was completed in 1252 by the bishop of Huesca, Vidal de Canellas. The original Latin text was then translated into Navarro-Aragonese vernacular in the manuscript at hand, made between 1290 and 1310. Although created in northeastern Spain, the influence of French illumination is unmistakable, especially in the hundreds of historiated initials that embellish the text. This manuscript is the only surviving copy of the medieval law code to survive today, making it both an important document in the legal history of Spain, as well as an important demonstration of the increased movement of both artists and manuscripts from one European court to another that would eventually lead to the emergence of the International Gothic style in the late 14th century.
Codicology
Origin

Date

1290–1310

Epochs

Style

Genre

Language

Content

Vidal de Canellas' Latin text (laws)

Artist / School

Michael Lupi de Çandiu (scribe)
1 available facsimile edition(s) of "Vidal Mayor"
Vidal Mayor: Estudios Facsimile
Vidal Mayor: Estudios Facsimile
1 volume: Exact reproduction of the original document (extent, color and size)
Commentary

1 volume by Antonio Ubieto Arteta
Language: Spanish

More Information

Reproduction of the entire original document as detailed as possible (scope, format, colors). The binding may not correspond to the original or current document binding.
Matching Background Articles
Gothic

Gothic illumination is some of the most spectacular and iconic imagery of medieval art and first emerged in Northern...

Experience more

13th Century

Despite ongoing religious wars and the threat of Mongol invasion from the East, this is a time of great personalities,...

Experience more

Chronicles

Take a deep dive into history with a medieval chronicler, trace the history of the world or focus on the history of a...

Experience more