Abrogans Codex
Description
Known as Abrogans, German Abrogans, or Codex Abrogans this Middle Latin – Old High German glossary is considered to be the oldest surviving book in the German language and contains ca. 3,670 words and 14,600+ examples and phrases in Old High German. The title is based on the first entry: abrogans = dheomodi (modest, humble). Bishop Arbeo of Freising (d. 783/4) or a Benedictine monk named Kero are theorized to have authored the work. It was likely based on a Latin-Latin glossary compiled in Italy, possibly in the important southern Italian monastery of Vivarium, from various late antique and early medieval glossaries. This compilation was finally translated into German in the old Bavarian bishopric of Freising, which was under the jurisdiction of Bishop Arbeo beginning in 764. Although the original manuscripts produced in the mid-8th century no longer exist, three copies from ca. 800 have survived including this manuscript housed in the Abbey Library of St Gall in Switzerland.
Abrogans Codex
The Abrogans Codex is the oldest surviving book written in the German language, and one of only three surviving specimens from ca. 800 of a now-lost 8th century original. It is particularly important for containing the earliest version of the Lord's Prayer written in Old High German as well as the Niceno-Constantinopolitan Creed, which was adopted in 381 and is also translated into Old High German. Appearing on the last two pages of the manuscript, they are the third of three texts compiled in the manuscript. Written by the priest and historian Gennadius of Massilia (died c. 496), the second text concerns dogma and faith. The first and largest text, taking up the vast majority of the manuscript, is a 300-page-dictionary/thesaurus that explains the meaning of more difficult-to-understand Latin terms with synonyms in more common Latin and translates both terms into Old High German. It is a rich source for linguists that includes 700 words not found in any other Old High German text.
Codicology
Alternative Titles

Die Abrogans




Abrogans deutsch




German Abrogans

Size / Format

320 pages / 17.0 × 11.0 cm

Origin

Date

Late 8th century

Epochs

Style

Content

Latin-Old High German glossary; Liber ecclesiasticorum dogmatum by Gennadius of Marseille; St. Gall Paternoster and Credo
Facsimile Editions
#1

Die "Abrogans"

Commentary:

1 volume by Bernhard Bischoff, Johannes Duft und Stefan Sonderegger
Languages: English, German

1 volume: Exact reproduction of the original document (extent, color and size)

Reproduction of the entire original document as detailed as possible (scope, format, colors). The binding may not correspond to the original or current document binding.
You might also be interested in: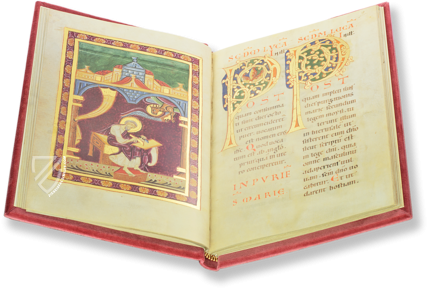 Golden Book of Pfäfers
Monastery of Reichenau (Germany); Pfäfers (Switzerland) – Ca. 1070–1450
An ongoing work for centuries: splendid Romanesque and Gothic illumination and an important testimony to medieval monastic life
Experience More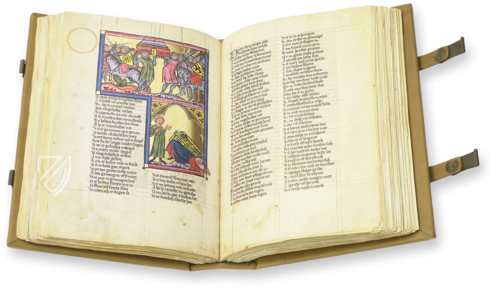 Blog articles worth reading