Bach's Calov Bible
Description
Johann Sebastian Bach was one of the greatest composers of liturgical music in the modern era, and has enjoyed sustained popularity since the revival that his work enjoyed in the course of the 19th century. One of the most important discoveries related to the great composer was made thousands of miles away from Germany in 1934: a splendid three-volume Bible with various notes from Bach's own hand was found in a private residence in Michigan.
Bach's Calov Bible
During the 17th century, a three-volume Bible was printed containing the famous German translation and commentary by Martin Luther (1483–1546) with an additional commentary by Abraham Calovius (1612–86), a professor of theology in Wittenberg. A copy of this beautifully-printed Bible, named after the aforementioned theologian, was owned by the famous composer Johann Sebastian Bach (1685–1750), which is attested to by Bach's signature on the title page, dated to 1733.
Discovered in an Attic in Michigan
Bach's copy of the Bible was discovered in 1934 by Christian G Riedel, a Lutheran pastor, while visiting his cousin Leonard Reichle in Frankenmuth, Michigan. Riedel immediately recognized Bach's signature in a volume of the work and Reichle searched his attic for the other two, which the family had owned since the 1830's and also featured Bach signatures on their respective title pages. All three volumes were donated to the Concordia Seminary Library in St. Louis, Missouri in 1938, but were not paid proper scholarly attention until after World War II. The three-volume Bible is filled with evidence of the Baroque composer's personal use including 348 underlined sections, marks of emphasis, and marginal notes in Bach's hand. Often times, Bach simply corrected typographical or grammatical errors in the text. This Bible represents a remarkable inside view into the mindset of one of the most important composers of church music in the West.
Codicology
Alternative Titles

Die Heilige Bibel




Calov Bible




Bach's Bible




Bachs Calov Biebel

Origin

Date

1681–1682

Epochs

Style

Genre

Language

Content

Bible text with two commentaries by Martin Luther and Abraham Calovius

Patron

Abraham Calovius

Previous Owners

Johann Sebastian Bach
---
Available facsimile editions:
Detail Picture
Bach's Calov Bible
Portrait of Abraham Calovius
Born in the Duchy of Prussia and educated as a theologian in Königsberg, Abraham Calovius (1612–86) was a leading champion of Lutheran orthodoxy in the 17th century. Although he had few equals as a writer of polemics, his most popular work was his three-volume Bible with both Martin Luther's commentary as well as his own. Calovius is depicted in this engraving with a Van Dyke beard, which was popular at the time, and dressed in typical Lutheran vestments with an amice draped over his shoulders.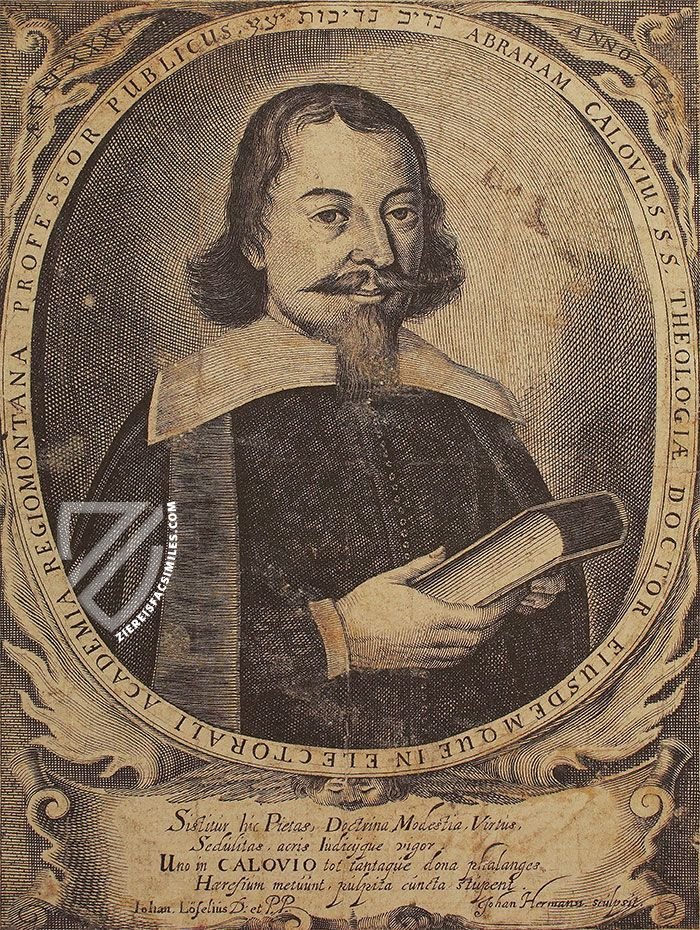 Single Page
Bach's Calov Bible
Signed Title Page
Printed in an elegant Fraktur script with black and bright red ink, this title page presents the typical information one would expect to find including the authors, publisher, edition, and date of publication. What is less typical is the specification that the work was created 5,681 years after the creation of the world and contains "the Evangelicals lone saving truth".
However, it is the small signature in the bottom-right corner that is significant: "Bach 1733". The signature is easy to miss and clearly many people did because it was not until 1934, when the Bible found its way to the United States, that anyone realized this copy of the Calov Bible had once belonged to the famous Baroque composer Johann Sebastian Bach (1685–1750).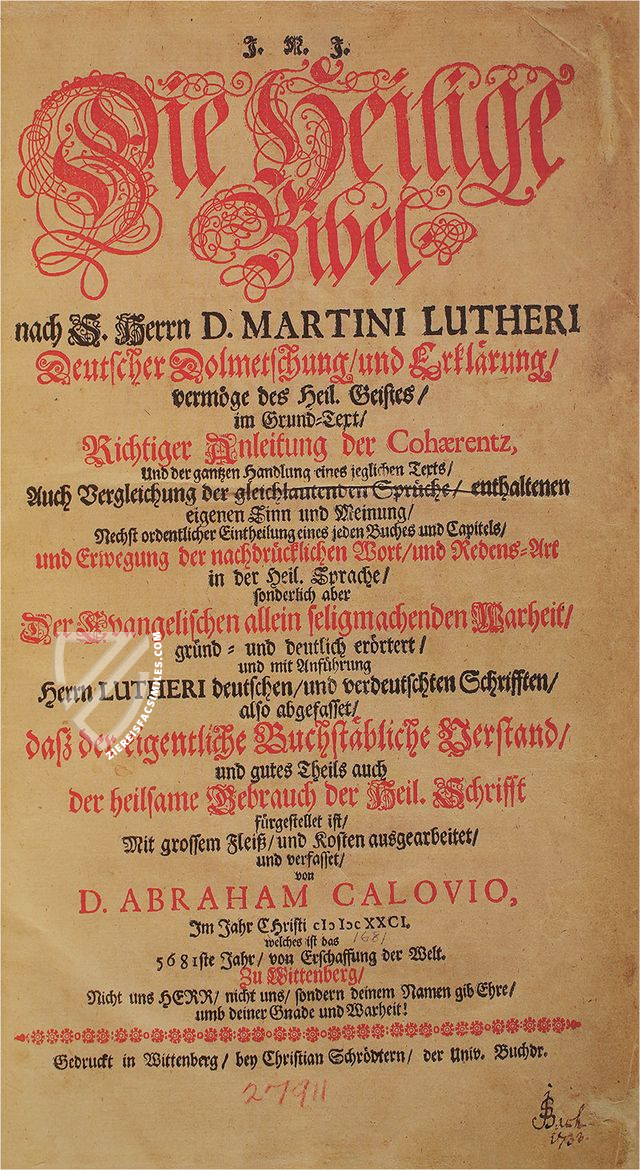 Facsimile Editions
#1

Bach's Calov Bible

Limited Edition:

1000 copies

Commentary:

1 volume by Albert Clement, Christoph Wolff, Mary Greer, Tassilo Erhardt, Marcel Zwitser, and Peter Wollny
Languages: English, German, Dutch abstract, Japanese abstract

1 volume: Exact reproduction of the original document (extent, color and size)

Reproduction of the entire original document as detailed as possible (scope, format, colors). The binding may not correspond to the original or current document binding.

Facsimile Copy Available!

Price Category: €€€
(3,000€ - 7,000€)
You might also be interested in: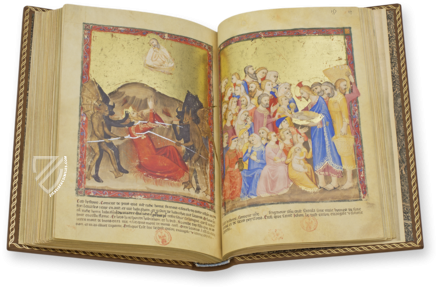 Bible moralisée of Naples
Naples (Italy) – Ca. 1340–1350
Image strips for the Old Testament and full-page miniatures for the New Testament: a pictorial masterpiece with more than 200 golden miniatures, created by the greatest artists of the early Italian Renaissance
Experience More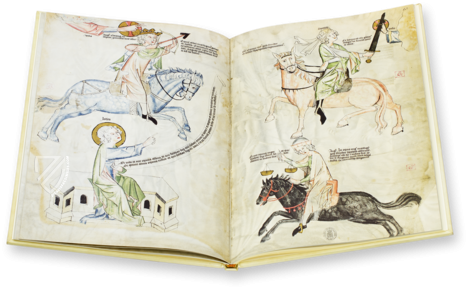 Blog articles worth reading