Bible moralisée of Naples
Description
Bible moralisée of Naples
The Bible moralisée of Naples was commissioned between 1340 and 1350 by Robert of Anjou, also known as the Wise and King of Naples. The decoration of the 384-page codex can best be described as royal: no less than 204 elaborate full-page miniatures with a lavish gold background illuminate selected stories from the New and Old Testaments. A section with a typological picture program usual for a bible moralisée is followed by an impressive picture cycle of 76 astonishing miniatures with depictions from the life of Christ, which are particularly valuable in terms of art history. This Trecento masterpiece became a popular model for many other copies of the popular genre and thus had a significant influence on the art of the bibles moralisées. Today, the manuscript is one of the gems of the rich collections of the Bibliothèque nationale de France.
Bible Moralisée of Naples
The term Bible moralisée indicates a type of very splendidly illuminated Gothic manuscript. In this work, the illustrations from the Bible were confronted respectively with typologically "moralized" (meaning interpreted) images. This type of book originates from the French court ca. 1220/30. An astoundingly artistic Bible moralisée originates from Naples between 1340 and 1350. The codex contains 204 elaborately designed miniatures, which are richly embellished with gold.
A Trademark of the French Sovereign
The Bible moralisée was commissioned by Robert the Wise of the House of Anjou, King of Naples. With this book type, which had its roots in France, the sovereign wanted to remind himself of his French heritage. Numerous French rulers had bibles made for them according to this template. The illuminated manuscript was decorated by a highly talented master, who collaborated with the famous Italian painter and sculptor Giotto di Bondone.
New Stylistic Impulses
The text of the Bible moralisée, like other codices of this type, contains selected biblical passages from the Old and New Testaments. Even so, the illuminator carried out modifications from earlier examples in the design of the work. The first 128 illuminations are full-page miniatures divided into two registers. Each of the upper registers presents an Old Testament biblical story, while the lower register shows the New Testament typological equivalent. Every one of these artistically valuable miniatures is framed by colorful bordures patterned with plant tendrils. Following this picture cycle are 76 astonishing paintings, which show scenes from the New Testament and the life of Christ. Each one of these images has a costly gold background and are strongly reminiscent of the paintings of the great masters of the Italian Trecento. The significance of this second picture cycle is especially emphasized by art historians. Altogether, the Bible moralisée from Naples represents a masterpiece of medieval book art.
Codicology
Alternative Titles

Bible moralisée aus Neapel




Biblia de Nápoles




Bibbia di Napoli

Size / Format

384 pages / 29.5 × 20.0 cm

Origin

Date

Ca. 1340–1350

Epochs

Style

Genre

Script

Gothic Textura Rotunda Gothic Textura Semiquadrata

Illustrations

204 gold-decorated miniatures, either full-page or arranged across the page in multiple pictorial strips

Content

Bible moralisée (text incomplete) with a picture cycle on the Vita Christi

Patron

Robert of Anjou (the Wise), King of Naples (1278–1343)

Artist / School

Master of Giovanni Barrile (illuminator)
Influences from Pietro Cavallini and the circle of Giotto

Previous Owners

Joanna I of Naples (1328–1382)
Duchess Yolande of Aragon (1381–1442)
Margaret of Austria (1480–1530)
Charles de Croy
Mary of Hungary (1505–1558)
Bibliothèque Royale de Bourgogne
---
Available facsimile editions:
Detail Picture
Bible moralisée of Naples
St. Joachim and the Shepherds
This is one of the shepherds who St. Joachim, father of the Virgin Mary, spent time with in the desert while he was fasting and doing penance after his sacrifice was rejected. The French illuminators have styled him as a shepherd in the mid-14th century: he wears a cap with a pointed brim and has a trimmed beard, his purple-grey tunic has a hood and goes down to his knees, revealing red tights tucked into brown calf-length books. A ram sniffs at his stick curiously as he drives the herd.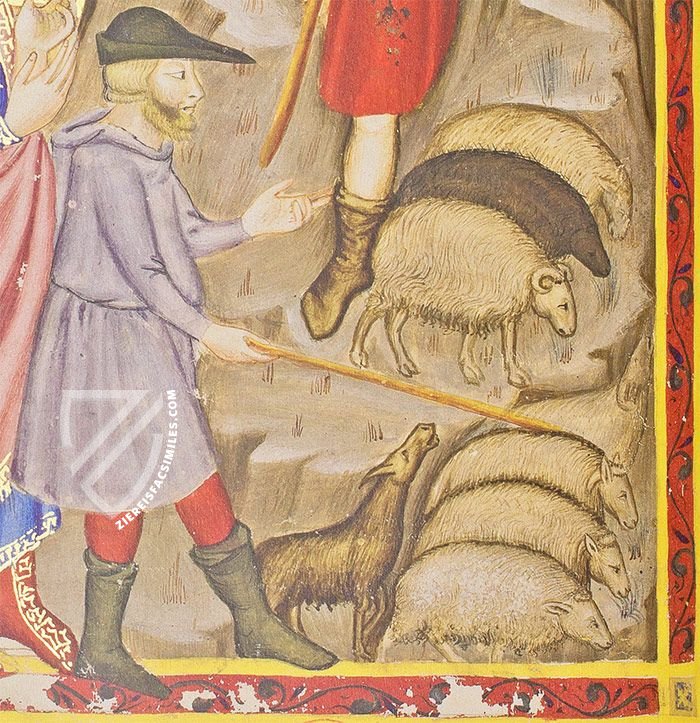 Single Page
Bible moralisée of Naples
Pilate Washing his Hands
"When Pilate saw that he could prevail nothing, but that rather a tumult was made, he took water, and washed his hands before the multitude, saying, I am innocent of the blood of this just person: see ye to it." (Matt. 27:24). Thus begins the final and brutal chapter of the Passion. This miniature combines the above scene with that of Christ taking up his cross.
The arrangement of the miniature gives a sense drama as Pilate symbolically washes his hands of responsibility at the same time as Christ is led off to Golgotha by soldiers equipped with silver helmets and red shields typical of the 14th century. Their leader holds a rope that is tied around the Messiah's neck, while another prevents a weeping Mary from getting close to her son, who is looking back at her.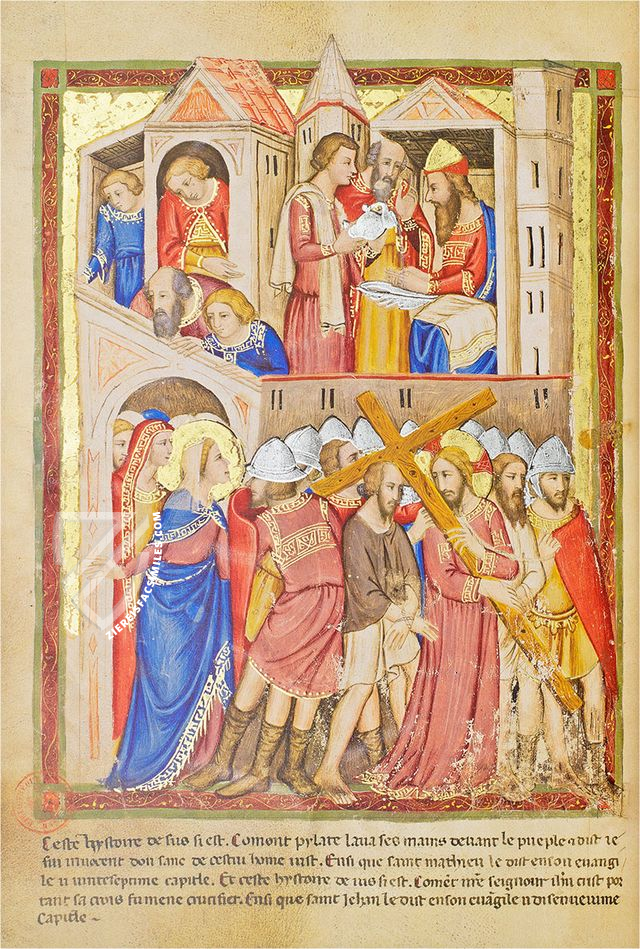 Facsimile Editions
#1

Biblia de Nápoles

Limited Edition:

987 copies

Binding:

Brown leather with gold tooling Red leather slipcase

Commentary:

1 volume by Marianne Besseyre and Yves Christe
Language: Spanish

1 volume: Exact reproduction of the original document (extent, color and size)

Reproduction of the entire original document as detailed as possible (scope, format, colors). The binding may not correspond to the original or current document binding.