Book of Hours of Ferdinand II of Aragon
Description
Book of Hours of Ferdinand II of Aragon
Together with his wife Queen Isabella I of Castile, Ferdinand II of Aragon co-ruled Spain as its de facto king while reigning over an empire stretching across the Mediterranean from the shores of Iberia to the Italian Peninsula and most of the islands in between as well as serving as the Grandmaster of four Spanish military orders. Largely regarded as the founder of the Spanish Empire, he was naturally a man of great power and wealth who did much to promote education in Spain. Therefore, it is no surprise that he would have owned such a splendid specimen of Italian Renaissance illumination as this.
Created ca. 1500–10 by a team of artists trained in Rome, the manuscript contains an ecclesiastical calendar, prayers, Psalms, canticles, Lauds, and sequences of the Holy Evangelists. 81 magnificent miniatures, including 4 on purple-dyed pages, as well as numerous decorative initials, friezes, elaborate frames with vases, fruits, precious stones, adorn the manuscript. Between its rich color palette, generous application of gold, and incredible naturalistic and graceful human figures, the Book of Hours of Ferdinand II of Aragon is a true treasure of illumination.
Book of Hours of Ferdinand II of Aragon
Although the modern unified country of Spain and the historic voyages of Columbus are the most famous legacies of King Ferdinand II of Aragon (1452–1516), he was also one of the most sophisticated rulers of his day. Raised from a young age by his ambitious mother to succeed his childless uncle as King of Aragon, Ferdinand II (1452–1516) was destined for greatness and was named after his paternal grandfather, who has been one of the greatest heroes in the history of the Reconquista. His own father regarded young Ferdinand as a child prodigy and by the age of eight the boy could supposedly beat both of his parents and other members of the court in chess and never lose. Ferdinand was also gifted with great physical prowess that enable him to distinguish himself as a warrior. However, for all of his grandness and despite already being a proven commander and shrew diplomat at the age of 17, he had a reputation for humility and respect toward the common people as well as for being magnanimous in victory.
Patron of Education
Although the instability and warfare of his youth did not allow Ferdinand the time to become a true man of letters, he never lost his appreciation for learning and devoted much of his later reign, when he was not fighting with successive kings of France over control of Italy, to the promotion of education. No less than six institutions of higher education were established during his reign with the University of Valencia, established in 1502, being foremost among them. Although a devout man personally, he was fairly liberal in comparison to his zealous wife and was above all a pragmatist who did not let religion dictate his policies. Ferdinand was in many ways the model of a Renaissance prince.
European Royalty and Books of Hours
Personalized books of hours were the most popular kind of manuscript during the Late Middle Ages, when book production and artistry reached its zenith. Intended to be carried on one's person for use throughout the day when praying the Liturgy of the Hours or Divine Office. Created in the secular ateliers of artists for a mostly lay clientele and were also worn as luxurious accessories with elaborate bindings attached to one's person with decorative chains to display not only one's piety, but one's wealth and sophistication as well.
The most sumptuously adorned of these works were often commissioned by or for members of royal families, particularly monarchs like Ferdinand II. Even as the overall production of illuminated manuscripts waned during the 15th and 16th centuries due to the spread of the printing press, Europe's wealthiest clients continued to patronize artists and workshops specializing in the production of luxuriously furnished and personalized manuscripts, books of hours being the most popular among them.
Codicology
Alternative Titles

Stundenbuch König Ferdinands II. von Aragon




Il libro d'ore di Ferrante d'Aragona

Size / Format

462 pages / 22.9 × 17.0 cm

Origin

Date

Between 1455 and 1482

Epochs

Style

Genre

Illustrations

81 artistically, partly gold-decorated miniatures, 4 leaves in purple

Content

Ecclesiastical calendar, prayers, Psalms, canticles, Lauds, sequences of the Holy Evangelists

Patron

Ferdinand II of Aragon (1452–1516)

Artist / School

Artists of the Roman school

Previous Owners

Count Paolo Gerli
---
Available facsimile editions:
Detail Picture
Book of Hours of Ferdinand II of Aragon
Salvator Mundi
The iconographic image of Christ as the "savior of the world" first became popular in Northern Europe and this miniature follows the standard form with Christ holding a globus cruciger in his left hand while raising his right hand as though he were about to bless the beholder, whom He looks directly in the eyes with a compassionate expression on His face. The luminous blue background makes it appear as though Christ, dressed in beautiful flowing robes, has stepped out from the firmament and his globus cruciger is masterfully depicted as a transparent crystal ball wrapped with gold bands that attach a cross to it.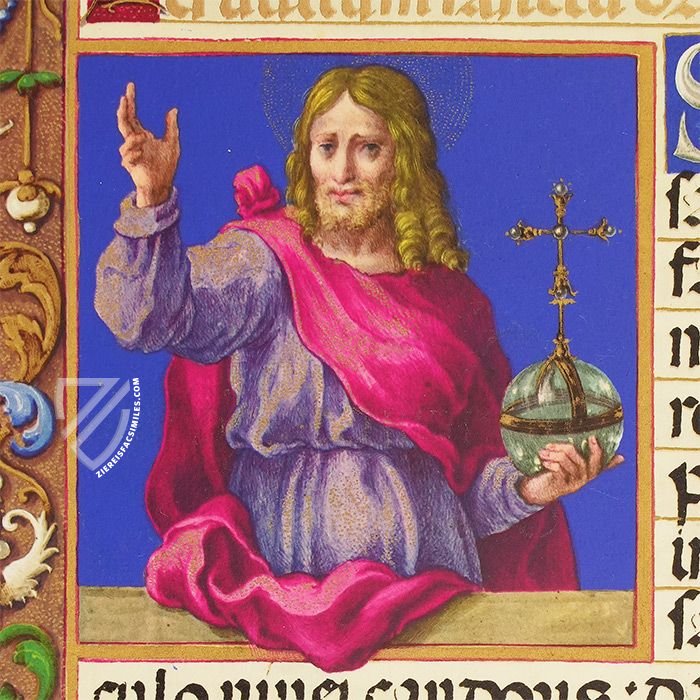 Single Page
Book of Hours of Ferdinand II of Aragon
Patron Portrait
King Ferdinand II of Aragon and his wife Queen Isabella I of Castile are often referred to as "the Catholic Monarchs" because in 1494, Pope Alexander VI officially bestowed on them the title of Rex Catholicissimus. This was done in recognition of their deep personal piety, completion of the Reconquista, and the forced conversion and expulsion of Jews and Muslims in an attempt to make Spain a purely Catholic kingdom.
With his distinctive long black hair now turned grey, Ferdinand is dressed in rich cloth of gold brocade with a fur collar as he kneels with his hands held up in prayer before an angel standing next to a broken column holding a crown and flail. The figure in the bas-de-page holds a banderole that says: "make a crown of a kingdom, which you may understand to signify honor and work of fortitude".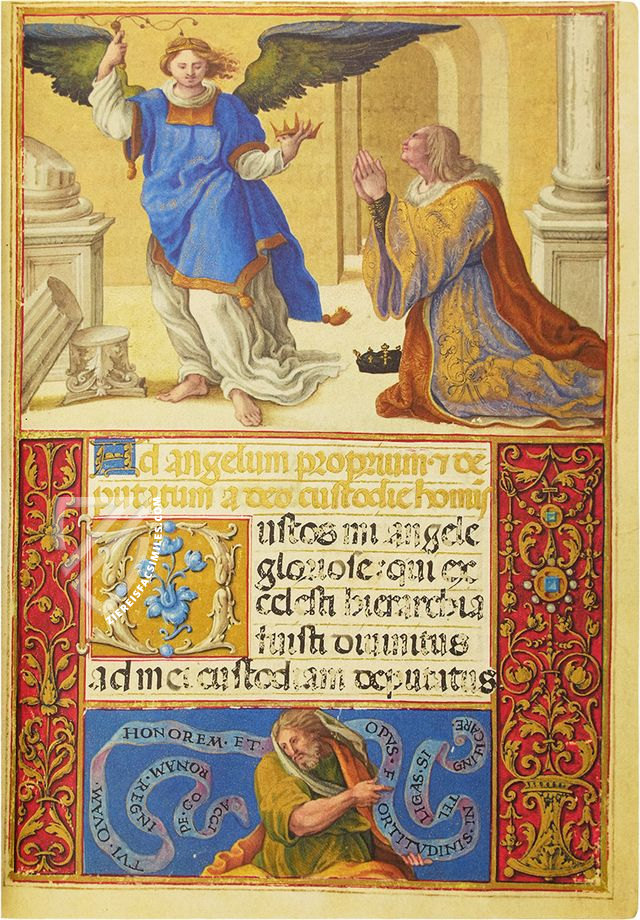 Facsimile Editions
#1

Il libro d'ore di Ferrante d'Aragona

Publisher:

ILte

– Turin, 1960

Limited Edition:

1025 copies

Binding:

Leather binding with framed miniatures on front and back covers. In slipcase with acanthus leaves and dolphins forming a gilded metal clasp.

1 volume: Exact reproduction of the original document (extent, color and size)

Reproduction of the entire original document as detailed as possible (scope, format, colors). The binding may not correspond to the original or current document binding.

Special Offer until 01/31/2024 (like new)

1,499

€
You might also be interested in: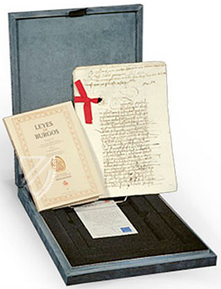 Burgos Laws and Decrees
Burgos (Spain) – 1512
35 laws against the brutality of colonial exploitation in the New World: the result of a commission set up by King Ferdinand II, motivated by the harsh criticism of various clerics
Experience More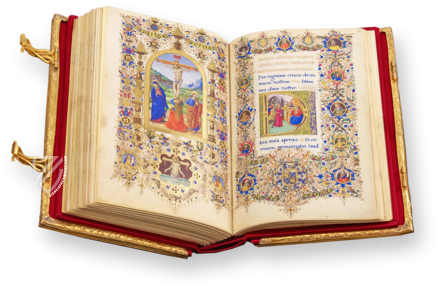 Prayer Book of Lorenzo de' Medici
Florence (Italy) – 1485
Italian Renaissance art in filigree perfection: Lorenzo the Magnificent's wedding gift to his eldest daughter Lucrezia in a gilded silver binding with ornate enamel decoration
Experience More
Blog articles worth reading