Book of Hours of Ferdinand II of Aragon
Description
Book of Hours of Ferdinand II of Aragon
Together with his wife Queen Isabella I of Castile, Ferdinand II of Aragon co-ruled Spain as its de facto king while reigning over an empire stretching across the Mediterranean from the shores of Iberia to the Italian Peninsula and most of the islands in between as well as serving as the Grandmaster of four Spanish military orders. Largely regarded as the founder of the Spanish Empire, he was naturally a man of great power and wealth who did much to promote education in Spain. Therefore, it is no surprise that he would have owned such a splendid specimen of Italian Renaissance illumination as this. Created ca. 1500–10 by a team of artists trained in Rome, the manuscript contains an ecclesiastical calendar, prayers, Psalms, canticles, Lauds, and sequences of the Holy Evangelists. 81 magnificent miniatures, including 4 on purple-dyed pages, as well as numerous decorative initials, friezes, elaborate frames with vases, fruits, precious stones, adorn the manuscript. Between its rich color palette, generous application of gold, and incredible naturalistic and graceful human figures, the Book of Hours of Ferdinand II of Aragon is a true treasure of illumination.
Codicology
Alternative Titles

Stundenbuch König Ferdinands II. von Aragon




Il libro d'ore di Ferrante d'Aragona

Size / Format

464 pages / 16.0 x 22.9 cm

Origin

Date

1500-1510

Epochs

Style

Genre

Illustrations

81 illuminations, 4 purple sheets

Content

Ecclesiastical calendar, prayers, Psalms, canticles, Lauds, sequences of the Holy Evangelists

Artist / School

Artists of the Roman school

Previous Owners

Count Paolo Gerli
Detail Picture
Book of Hours of Ferdinand II of Aragon
Salvator Mundi
The iconographic image of Christ as the "savior of the world" first became popular in Northern Europe and this miniature follows the standard form with Christ holding a globus cruciger in his left hand while raising his right hand as though he were about to bless the beholder, whom He looks directly in the eyes with a compassionate expression on His face. The luminous blue background makes it appear as though Christ, dressed in beautiful flowing robes, has stepped out from the firmament and his globus cruciger is masterfully depicted as a transparent crystal ball wrapped with gold bands that attach a cross to it.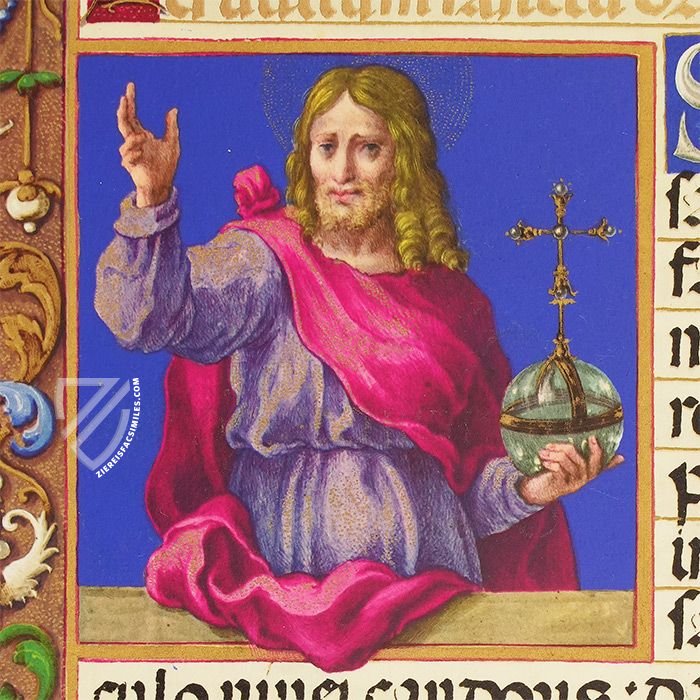 Single Page
Book of Hours of Ferdinand II of Aragon
Patron Portrait
King Ferdinand II of Aragon and his wife Queen Isabella I of Castile are often referred to as "the Catholic Monarchs" because in 1494, Pope Alexander VI officially bestowed on them the title of Rex Catholicissimus. This was done in recognition of their deep personal piety, completion of the Reconquista, and the forced conversion and expulsion of Jews and Muslims in an attempt to make Spain a purely Catholic kingdom.
With his distinctive long black hair now turned grey, Ferdinand is dressed in rich cloth of gold brocade with a fur collar as he kneels with his hands held up in prayer before an angel standing next to a broken column holding a crown and flail. The figure in the bas-de-page holds a banderole that says: "make a crown of a kingdom, which you may understand to signify honor and work of fortitude".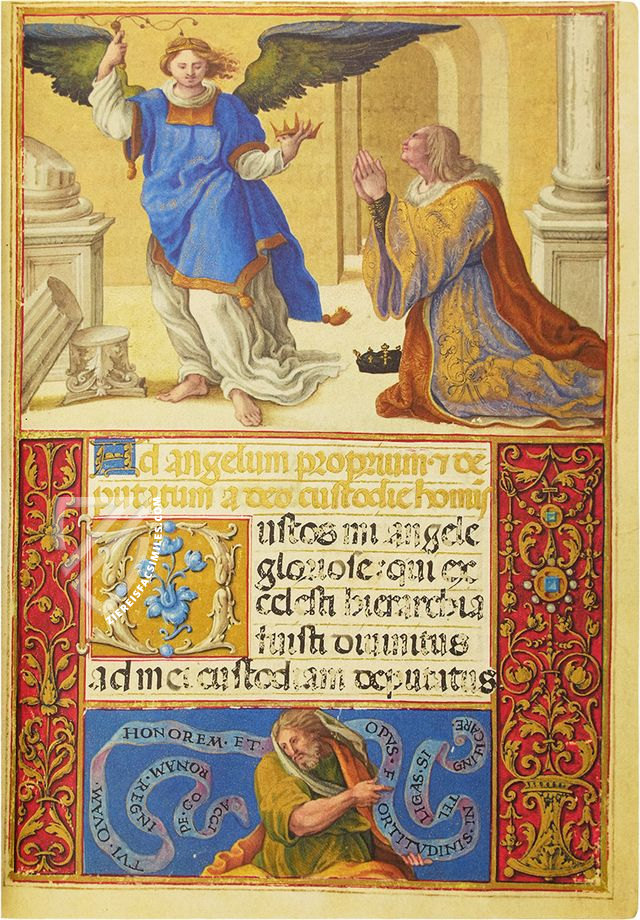 Facsimile Editions
#1

Il libro d'ore di Ferrante d'Aragona

Limited Edition:

1025 copies

Binding:

Sturdy slipcase with acanthus leaves and dolphins forming a gilded metal clasp

1 volume: Exact reproduction of the original document (extent, color and size)

Reproduction of the entire original document as detailed as possible (scope, format, colors). The binding may not correspond to the original or current document binding.